Description
Global Women Power brings to you Garba Nights to come dance to the rhythm of traditional Garba beats.
Join the Navratri Festival in Fremont and make the best of your Garba night.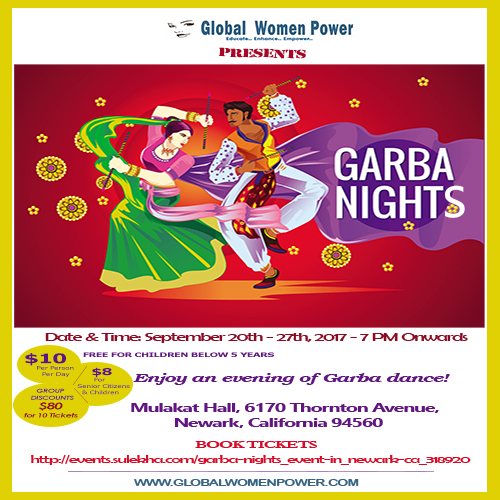 LEARN FROM EXPERTS AND DANCE TO THE TUNE OF GARBA!
Dance class for 30 minutes every day from Sept 20th to 27th, 2017.
$10 Per Person Per Day
$8 Senior Citizens
FREE ENTRY for Children below 5 Years.
Group Discounts - $80 for 10 tickets.
Buy your tickets today.
events.sulekha.com/garba-nights_event-in_newark-ca_318920
Venue:
Mulakat Hall
6170 Thornton Avenue, Newark, California 94560
For More Details, Call Us on 510-830-8771