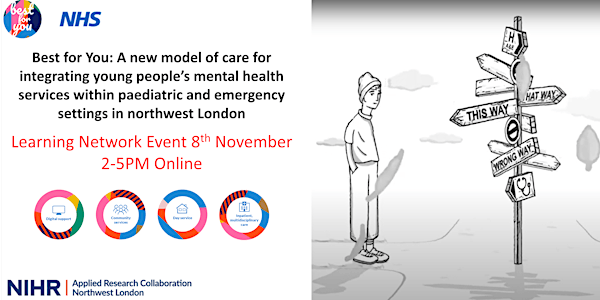 Best for You: Learning Network Event
Find out more about a new and innovative service that addresses the needs of young people experiencing a mental health crisis in London
About this event
Best for You: A new model of care for integrating young people's mental health services within paediatric and emergency settings in northwest London
The Service
Currently, young people in mental health crisis often experience delays in assessment of their needs, onward referrals and appropriate treatment and care. Best for You introduces a reconfigured service aimed at supporting young people in mental health crisis across Northwest London through the delivery of a range of novel interventions and care pathways addressing both mental and physical health issues.
The evaluation
The programme is in the early stages of planning and implementation and the evaluation team would like to invite you to come along and hear about the new services, plans for the future and some of the challenges that have been encountered on the way.
The event
The aim of the first event is to share learning with clinicians, managers, researchers and policymakers who may be thinking about different approaches to tackle the challenges ahead.
Link to event: https://teams.microsoft.com/l/meetup-join/19%3ameeting_N2QxNGI4ZWQtMmQ3ZC00N2E4LWIyZmQtYzhkMDAwZmZmZjUy%40thread.v2/0?context=%7b%22Tid%22%3a%222b897507-ee8c-4575-830b-4f8267c3d307%22%2c%22Oid%22%3a%2277bad6ee-99d4-440f-bfeb-3679ddaf13dd%22%7d