Event Information
Refund Policy
Refunds up to 7 days before event
Description
Why a Best Ever Talent Workshop?
Employee Talent is the highest value Intangible Asset. The consequences of a poor choice can be very damaging to the organization. Our benchmark and assessment change your organization for the better, we like to say, "You'll never go back to the way you were hiring - never."
What's In It For Me?
Only one reason: Top Talent = High Business Value and Health
How Can This Help My Business
Most leaders are not prepared for many of the decisions and choices they have to make when it comes to personnel. We can help in many personnel areas, but here we want to focus on the first important choice a leader must make about personnel, and we argue that this is the most important choice - the choice of whom to hire.
There is a very large information gap when a choice is made to hire. Generally most hiring decisions made by business leaders are determined by at most three areas of information:
Hard Skills

- do they have the hard skills required to do the job (e.g. experience),

Education & Training

- do they have the knowledge required to do the job,

IQ

-

are they smart enough, reasoning that if a person is smart enough they can learn or reason through whatever they need to be successful,

Gut

- it is estimated that even with the above information more than 50% of hires are decided on a "Gut Feelings". (Come on. We might agree some women leaders may have this skill, but men…really?)
All of these bits of information are suspect when you consider the sources:
A resume

which we know today are at the least fabricated (some or a bunch) from on-line templates - at best they give us some information about hard skills, education and experience.

References

which mostly confirm little more than the fact that worked at their previous company, but not much else. We know from most references that their friends or family believe they are wonderful people, but leaves us wondering why their father didn't respond back.

An interview

which is mostly subjective with too few real qualifying questions asked, and too much gut and biased assumptions.
How's This Working?
Not too good!
High cost of turnover (by the way, in an improving economy this cost is multiplied for every poor hiring choice),

High costs and high levels of aggravation for leadership and employees due to disengagement,

And more…
Reason?
How many employees have you fired because of poor skills, or not smart enough? Maybe 10% or so?

How many employees have you fired because of poor behaviors or attitude? All the rest with a few exceptions?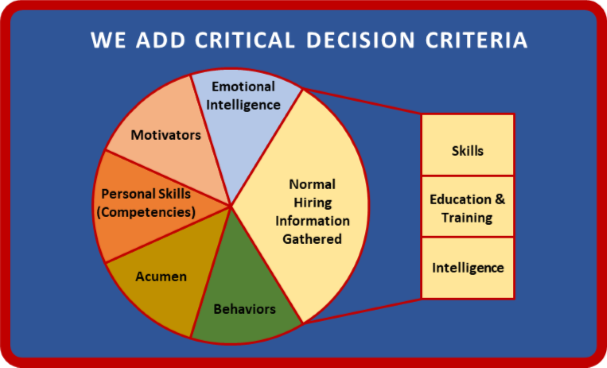 So why are you hiring the way you are?
There is a Better Way?
Yes there is - it is called Benchmarking which minimizes bias and provides a clear objective and collective voice to what behaviors, motivators and skills the job needs.
What is a Benchmark?
Through a patented process we focus the business on the JOB - we call it "Letting the job speak". We first work with a group of stakeholders in the organization to develop the top Key Accountabilities of the job, and then through a patented process and software we develop a Job Benchmark which adds 55 behaviors, motivations, acumen, and capabilities to the basic knowledge of skills, knowledge and such.
By utilizing TTI SI's patented Benchmarking Process of establishing Key Accountabilities, this allows your client is able to create 3-5 reasons why a job exists through the brainstorming of Subject Matter Experts, those who know the job the best.
The Subject Matter Experts then respond to a survey based on competencies, rewards, and behaviors of a job using these 3-5 Key Accountabilities to eliminate personal bias. Think of a benchmark as a "360 Survey" but one that is not asking about a person but a job, completed by those that know the job best. The end results (the Multiple Respondent Job Report) will tell you:
The behaviors most needed for a job

The motivators the job rewards

The skills required to perform at a superior level.
Other Benefits of this Workshop:
Click Here for more information about the 5 sciences used for this process.

Click Here for more information about the assessment we use for your employees.
FAQs
How can I contact the organizer with any questions?
Please feel free to email Mike directly with any questions - he will be glad to help. Mike@WeGetBiz.com

What other workshops are available?
Click Here to review a summary of each workshop now open.

What's the refund policy?
100% Satisfaction Guaranteed - for details please Click Here.

Save
Refund Policy
Refunds up to 7 days before event