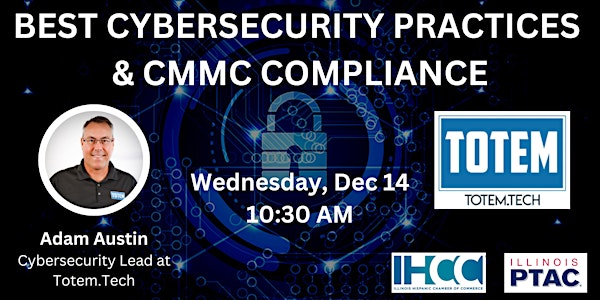 Best Cybersecurity Practices & CMMC Compliance
In this webinar, you will learn the best cybersecurity practices for small business in general, as well as the basics of CMMC compliance.
About this event
All organizations, no matter the size or industry, face the growing threat of cyber-attack. The best way to reduce the risk of such an attack is to build a cybersecurity program by implementing cybersecurity safeguards. However, some cybersecurity safeguards require prioritization over others.
Derived from recommendations by leading security organizations, Totem Technologies maintains the Totem Top 10™: our take on the 10 most important cybersecurity safeguards small businesses should put in place right away. Whether you company is pursuing NIST 800-171/CMMC compliance or are just looking to establish a cybersecurity program to reduce overall risk, the Totem Top 10™ provides you with the most relevant and cost-effective controls to get started.