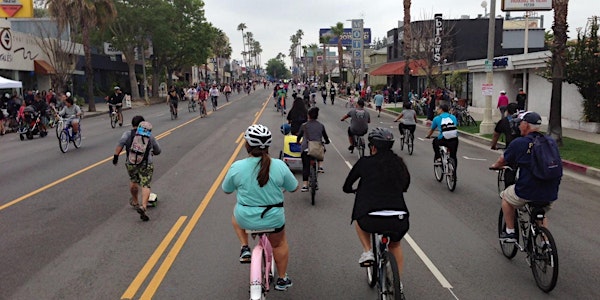 BEST Class + Ride: Bike 3 - CicLAvia Street Skills (The Valley)
Event Information
Location
Councilmember Blumenfield Field Office
19040 Vanowen St.
Reseda, CA 91335
Description
Can't wait to ride the route for CicLAvia The Valley? Want to be more comfortable and confident when cycling on city roads? Looking to gain the group riding skills that will prepare you for CicLAvia and other open streets events? Metro's Bicycle Education Safety Training (BEST) Program Street Skills Class + Ride is a free event for adults and teens to practice safe riding with a group of beginning cyclists.
Join us for a special bike safety class and ride on Sunday, November 24 presented by Metro, the LA County Bicycle Coalition (LACBC), LA City Councilmember Bob Blumenfield, and CicLAvia. This is a unique opportunity to preview neighborhood highlights for CicLAvia The Valley and explore the community before the open streets event takes place on Sunday, December 8.
Space is limited and pre-registration is required. Register now to guarantee your spot!
Consider signing up for the other classes in this series:
Bike 1 - Back to Basics (11/10)
Bike 2 - Rules of the Road (11/17)
All class participants get a free helmet and a set of bike lights!
**RAIN POLICY: In the event of a rain forecast, we will contact you 24 hours in advance to confirm or cancel the class**
---
Who Should Sign-Up:
If you are comfortable getting on a bike and want to gain more experience bicycling on city streets in a group setting. This ride will apply practical skills and critical thinking in real-world settings and will build off skills learned in the Bike 1 and Bike 2 level classes.
PLEASE NOTE: while you are not required to take Bike 1 or 2 to enroll in the next level class, we strongly encourage you to take this short screening quiz to determine if the next level classes are appropriate for your skill level. This is not a "Learn to Ride" class, so you are expected to at least know how to ride a bike, even if you are not a frequent rider.
What You'll Learn:
Biking on City Streets: Rules of the Road / Navigating Common Hazards / Group Etiquette / Sharing Paths and Trails

Biking and Transit: Riding around Transit / Taking bikes on trains and buses

Bike Services / Events Offered by Metro
What You'll Need:
Please bring your bike in good working condition, unless you have requested to borrow a bike. We recommend getting a tune up at your local bike shop if you haven't ridden your bike in a long time or if you aren't sure that it's working well.

All participants will get a free helmet and a set of bike lights.
---
Registration & Waivers:
Participants ages 16 and up may participate in this class. All participants must sign a waiver to participate; if the participant is under 18 years of age, a parent or legal guardian must accompany the minor.

---
Metro's Bicycle Education Safety Training (BEST) Program currently offers bike classes at 4 different levels—Bike 1, 2, 3 & Bicycling 101. If you are interested in taking classes at the next level or joining a community bike ride, check out the full event calendar. For more info on how to ride a bike in LA County, visit metro.net/gobike.
The Los Angeles County Bicycle Coalition (LACBC) is a membership-based nonprofit organization that works to make all communities in LA County healthy, safe, and fun places to ride a bike through advocacy, education, and outreach.
Councilmember Bob Blumenfield was elected to the Los Angeles City Council in March 2013 and re-elected in 2017. He represents the 3rd Council District, which spans the northwest portion of Los Angeles in the San Fernando Valley, including the communities of Canoga Park, Reseda, Tarzana, Winnetka and Woodland Hills.
CicLAvia catalyzes vibrant public spaces, active transportation, and good health through car-free street events. CicLAvia engages with people to transform our relationship with our communities and with each other.
#bikeLA #bikeMetro #CicLAvia
Date and time
Location
Councilmember Blumenfield Field Office
19040 Vanowen St.
Reseda, CA 91335