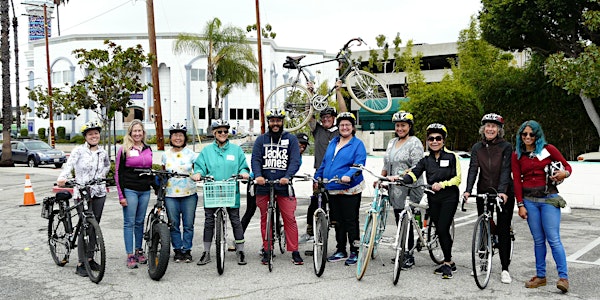 BEST Class: Bike 2 - Rules of the Road (Pomona) - POSTPONED
When and where
Location
Day One Pomona 1351 S Main Street Pomona, CA 91766
Description
Do you want to make bicycling part of your daily travel routine, but you're not sure where to start? The Bike 2 - Rules of the Road class, presented by Metro and ActiveSGV will help you learn how to bike on city streets safely. This is a free 2-hour class for adults and teens who would like to learn how to safely and legally ride on city roads. We will teach you the rules of the road, how to plan your route, and provide tips and trips to make bicycling for everyday travel safe and convenient. From what to wear to bicycling etiquette, we've got you covered!
Class size is limited. Pre-registration is required. Register now to guarantee your spot!
Consider signing up for the other classes in this series:
All class participants get a free helmet and a set of bike lights!
**RAIN POLICY: In the event of a rain forecast, we will contact you 24 hours in advance to confirm or cancel the class**
---
Who Should Sign-Up:
If you are comfortable getting on a bike, but might be nervous about navigating neighborhood streets, then this class may be for you. This class will help you understand the rules of the road and provide practical skills so that you are able to navigate city streets safely and use bikes for everyday travel.
PLEASE NOTE: This is not a "Learn to Ride" class, so you are expected to at least know how to ride a bike, even if you are not a frequent rider. We strongly encourage you to take this short screening quiz to determine if the next level classes are appropriate for your skill level.
What You'll Learn:
Things to Know Before Hitting the Streets: ABC Quick Check / Route Planning / Bike Parking / Bike Infrastructure

Biking on City Streets: Rules of the Road / Navigating Common Hazards

Biking and Transit: Riding around Transit / Taking bikes on trains and buses

Bike Services / Events Offered by Metro: 626 Golden Streets, Bike Hubs, Bike Parking
What You'll Need:
Please bring your bike in good working condition, unless you have requested to borrow a bike. We recommend getting a tune up at your local bike shop if you haven't ridden your bike in a long time or if you aren't sure that it's working well.

All participants will get a free helmet and a set of bike lights.
---
Registration & Waivers:
Participants ages 16 and up may participate in this class. All participants must sign a waiver to participate; if the participant is under 18 years of age, a parent or legal guardian must accompany the minor.

---
Metro's Bicycle Education Safety Training (BEST) Program currently offers bike classes at 4 different levels—Bike 1, 2, 3 & Bicycling 101. If you are interested in taking classes at the next level or joining a community bike ride, check out the full event calendar. For more info on how to ride a bike in LA County, visit metro.net/gobike.
ActiveSGV is a nonprofit advocacy organization whose mission is to support a more sustainable, equitable, and livable San Gabriel Valley. Modeled after the thousands of other "open streets" or "ciclovia" events that have been organized around the world and across the United States, ActiveSGV event organizers have brought 626 Golden Streets to the San Gabriel Valley. The event temporarily opens stretches of roadway for people to walk, jog, skate, bike and more. 626 Golden Streets: Heart of the Foothills (San Dimas, La Verne, Pomona) will take place on Sunday, April 19, 2020.