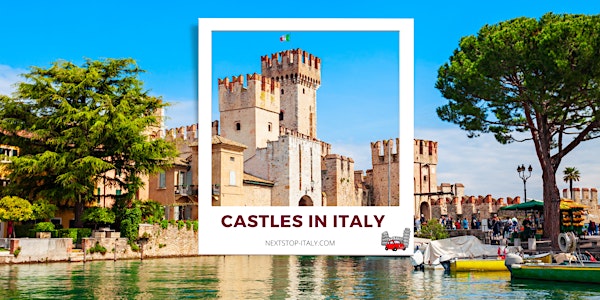 BEST CASTLES IN ITALY Virtual Tour – A Journey Through History & Legends
Join us for a virtual journey that crosses the entire peninsula to discover the most beautiful castles to visit in Italy!
About this event
✨Majestic towers, crenellated battlements, stone fortresses perched upon rocky crags, romantic ruins, sumptuous palazzos and much more...be ready for a journey through history, legends and architecture. During this exclusive virtual tour, our expert guide will take you to the discovery of the most beautiful and preserved castles in Italy. You wil learn how to recognized each single elements of a castle, their functions and how they evolved over the centuries.
✨From Sirmione Castle on the banks of Lake Garda to Castel Sant'Angelo in the centre of Rome, from the majestic Verres Castle to the Aragonese castle of the island of Capo Rizzuto, Italy has an impressive number of magnificent castles. Great towers perched on the top of high slopes, mighty stone fortresses, and majestic manors surrounded by vast landholdings are capable of catapulting us into a world of other times, between history and knightly legends.
If you're an history and arhitecture buff, then now is your chance to virtually stroll through the great halls and silent courtyards where lords, ladies and knights lived in ancient times.
✨Join us for a virtual journey that crosses the entire peninsula, from North to South, to discover the most beautiful castles to visit in Italy.
⏰ WHEN:
- Monday, Dec 05th at 03.00 PM EST (New York Time)
⏱️ Check in your timezone! https://www.thetimezoneconverter.com/
Rome Time: 09.00 PM
London Time: 08.00 PM
Los Angeles Time: 12.00 PM
HOW TO JOIN:
The tour will be hosted on Zoom. After the registration you will receive via email a personal link to access the virtual event. To protect your privacy your camera will be disabled during the event.
The tour will last approximately 1 hour. At the end of the tour you will be given the chance to interact and make questions just like a live tour. The tour takes place in English!
⏳Limited spots are available - register today to secure your spot!
⭐PRICE⭐ How much does the virtual tour cost?
Our virtual tour is tip-based. We prefer a system where you don't have to pay for a ticket in advance without knowing how the virtual tour is going to be instead you take part in the tour first and at the end you decide the price based on your satisfaction. Support our cultural activities with a voluntary contribution. Your contribution will help us continue our initiative and support the guides. You can LEAVE A TIP HERE
📺Can't watch our virtual tour live due to the time zone or are you unable to join us live? Register at the virtual tour and we will send you the recording hence you can watch it in your own time!
❤️ Check out all our Italy Virtual Tours : Italy awaits you!