Description
Kei Reeves is proud to produce the 3rd Annual New Jersey Natural Hair and Beauty Expo (NJNHBE) to be held on Saturday, September 28th from 10am - 6pm and Sunday September 29th from 11am - 5pm
The 2019 event will be located for the 3rd year BUT at a NEW LOCATION--- New Jersey Convention & Exposition Center in Edison New Jersey.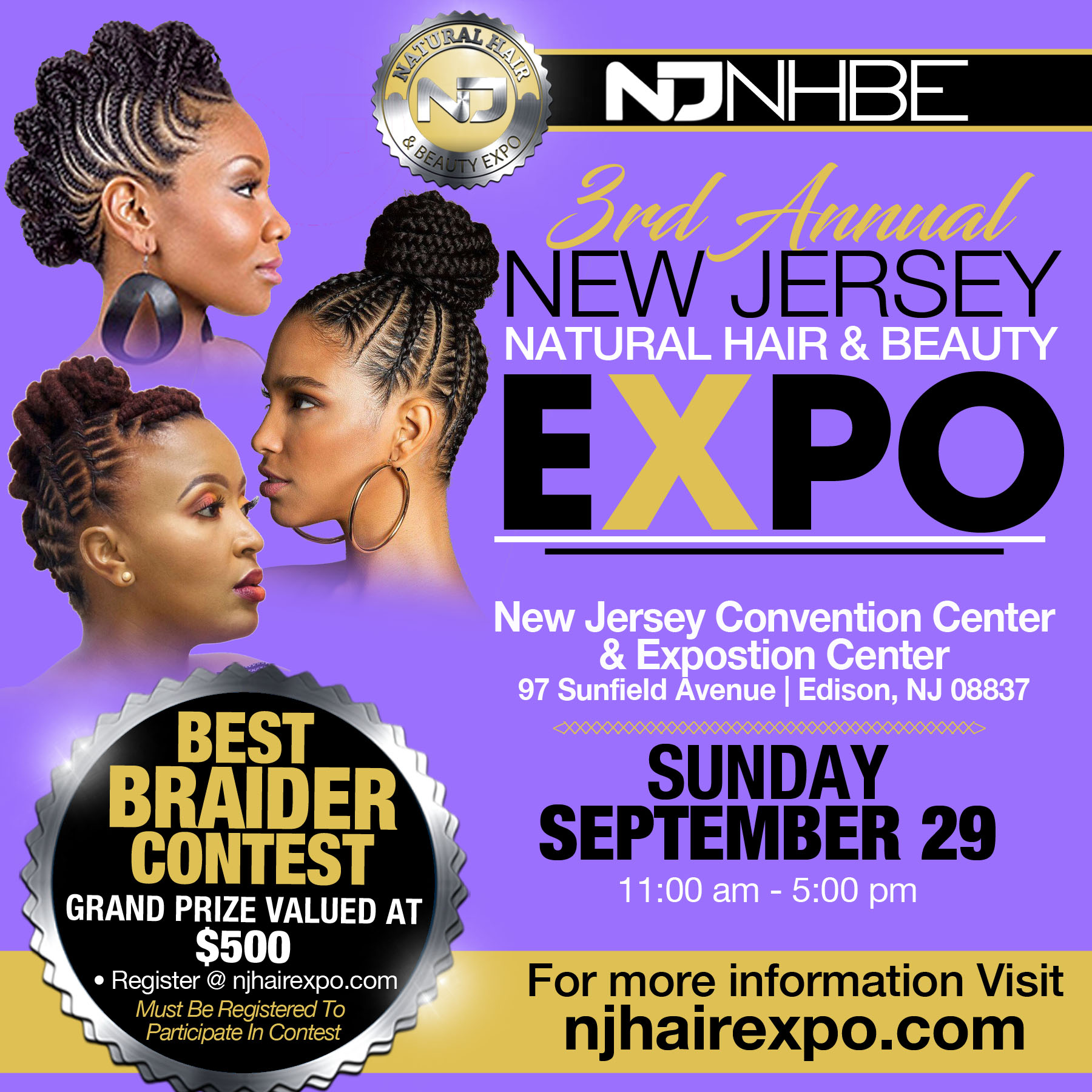 This year we will be holding a Best Braider Contest on Sunday, September 29, 2019

Here are the Rules:
Must be 18 years of age or older to enter


Contest will be held on Sunday, September 2019.

Contest Entry Fee is $125 USD

Braider must bring 1 hair model to demonstrate style on


Braider may bring 1 assistant


Hair Model must come with Freshly washed hair and be at least 18 years of age.


Participants must bring their own products

Participants will be provided with chairs and a table from which to work from

All participants will sign a waiver the day of the contest

No part of style may be done in advance, all styles must be performed on stage


Participants found not following the rules will be immediately disqualified from contest


Equipment and chemical product used must be preapproved by management


Braider has 1 hour to demonstrate style

First Place receives $500

Runner Up to First Place receives $250

Winner is based on originality of style and neatness

Winners are solely responsible for all taxes and/or fees that may be incurred

We may from time to time update this policy. We will post any changes to our policy on this page so that you are always aware of what our current contest rules are. New Jersey Natural Hair and Beauty Expo reserves the right to alter any rules of any contest at anytime.


All Fees paid are non refundable
Shopping with 42

vendors- showcasing products and services which cater to women of color

Natural Hair Panels and Q&A

Expert Health, Beauty and Wellness and Financial Discussions



For more information please contact us at 732 768 0603 or by email at info@njhairexpo.com
**DETAILS TO CHANGE SUBJECT TO THE DISCRETION OF MANAGEMENT**
Please purchase your tickets below.