"Beside the White Chickens: A Summer Food Opera"

Tuesday, July 30, 2013 from 5:00 PM to 9:30 PM (EDT)
Event Details
The 5-course chef's menu will be composed of seasonal ingredients freshly picked at local New England farms, accompanied by drinks and personal sound pairings. Two choices per course; all diets may be accommodated.
Reservations are available from 5pm until 9:30pm.
The price of the dinner is $125 per person plus tax and gratuity. Each $50 seat deposit secures one reservation and will be applied to the total price of the dinner.
-------------------------------------------------
Visionary chef Jason Bond and iconoclastic composer Ben Houge team up for their third collaboration, "Beside the White Chickens: A Summer Food Opera," at Bondir in Cambridge, MA, on July 30, 2013. "Food opera" is the term coined by Houge and Chef Bond to describe their unique, multisensory events, which pair taste and sound to an unprecedented degree. Houge adapts interactive music techniques from his seventeen-year career in the video game industry to generate a responsive, real-time score for Chef Bond's acclaimed, innovative, and locally-focused cuisine, celebrating a meal as a time-based art form and exploring their shared vocabulary of texture, timing, color, counterpoint, morphology, and memory.
Thirty individual speakers installed on tables throughout the restaurant allow each diner to experience a personalized soundtrack that accompanies and enhances the flavors and sensations of each chosen dish in succession. Each diner's customized music is coordinated in harmony and rhythm with that of neighboring diners, transforming the entire restaurant into an immersive, emergent sound installation. The result is a fusion of aural and oral perception, a drama in which the plate is the stage.
"Beside the White Chickens" pays particular homage to Chef Bond's poultry providers Pete and Jen's Backyard Birds of Concord, MA. The event's title refers to a William Carlos Williams poem that honors the labor and the patience of farming, while also revealing unexpected connections to the sense of space and emergent structure that characterize much generative sound art. As with "Sensing Terroir," the second food opera, "Beside the White Chickens" incorporates field recordings from farms and interviews with workers all along the food supply chain into the musical fabric, using sound to reconnect diners to the origins of their food.
Like the first two events, this food opera is being produced and documented by artist Jutta Friedrichs, who also designed the speaker stand sculptures that adorn each table. Audio artist Stephan Moore returns with his custom-designed speakers to aid in sound design.
The first food opera, "Four Asparagus Compositions," took place at the Harvard Graduate School of Design in May 2012 and explored the sensorial connections between taste and sound. The second event, "Sensing Terroir," featured recordings from New England farms to sensually immerse diners in the story of sustainable food practices. Both events were well received in the press, with features in NPR, Grub Street, First Bite, and Dig Boston.
This food opera is supported by a Berklee College of Music Faculty Recording Grant, and members of the Berklee community may be heard lending their talents and performances to the food opera soundtrack.
About Chef Jason Bond:
Jason Bond is a visionary chef, whose Cambridge restaurant Bondir has won wide acclaim since opening in November 2010. Boston Magazine wrote that Bondir "deserves to be a place of pilgrimage for visiting and local foodies alike… In its humble way, Bondir serves some of the most elegantly conceived and executed dishes in the area." Chef Bond has been an active presence in Harvard's Science and Cooking series, devising menus for courses and serving food to celebrated visiting chefs including Harold McGee, Grant Achatz, Nathan Myhrvold, and Ferran Adrià. At Bondir, everything is made in-house, and Chef Bond composes a new menu daily, which allows him to incorporate the freshest ingredients from the highest quality local providers, combining traditional and modern techniques to present honest, flavorful food.
About Artist Ben Houge: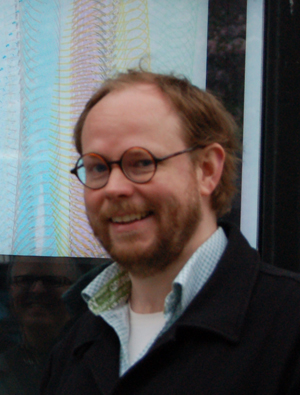 Ben Houge is an artist working in real-time, responsive systems, and a seventeen-year veteran of the video game industry; his score to the 2001 role-playing game Arcanum was recently listed by Forbes as one of the Top 12 Video Game Soundtracks of All Time. From 2004 to 2010 he lived in Shanghai, where he was active in China's underground sound and art scene. His work has been presented at the Today Art Museum in Beijing, True Color Museum in Suzhou, the Shanghai eArts Festival, the San Diego Museum of Art, On the Boards in Seattle, Studio Z in St. Paul, Kuona Trust in Nairobi, and the Boston Cyberarts Festival. Last year, he was an artist-in-residence with the MIT Media Lab's Responsive Environments group, working to sonify data from real-time sensor networks. Ben also remains active as a composer of choral music, with recent commissions and premieres from Emmanuel Music, the Minnesota Compline Choir, and Dale Warland. Ben currently teaches video game music at Berklee College of Music and has just accepted a position to help develop and teach in the new Music Technology Innovation master's program at Berklee's campus in Valencia, Spain. For more information about Ben Houge, please visit:
http://www.benhouge.com/news.html
About Producer and Visual Artist Jutta Friedrichs: 
In her writings and multichannel audiovisual installations, Jutta Friedrichs explores cultural and phenomenological interrelations between body and the built environment. She recently co-founded NGIN Workplace, where she is engaged in bringing the arts to emerging businesses. In 2008, she founded Mü Furniture while living in Shanghai, focusing on contemporary furniture with a natural feel, and her innovative designs are distributed throughout Europe. Jutta Friedrichs completed her Master's Degree in Art, Design and the Public Domain with Krzysztof Wodiczko at the Harvard Graduate School of Design. For more about Jutta Friedrichs, please visit: http://www.juttafriedrichs.com
About Previous Food Operas:
- http://killscreendaily.com/articles/articles/food-opera-your-new-favorite-interactive-eating-experience/
- http://www.npr.org/blogs/thesalt/2012/05/29/153950254/the-sounds-of-asparagus-as-explored-through-opera
- http://www.abc.net.au/radionational/programs/rnfirstbite/food-opera/4070454
- http://boston.grubstreet.com/2012/05/asparagus-opera-harvard-song.html
- http://digboston.com/boston-food-drinks/2012/11/sensing-terroir-where-taste-and-sound-collide/
When & Where

Bondir Restaurant
279 Broadway
Cambridge, MA 02139


Tuesday, July 30, 2013 from 5:00 PM to 9:30 PM (EDT)
Add to my calendar
Organizer
Bondir, located in Cambridge, Massachusetts, is a cozy, farm-house style restaurant with 28 seats and a small fireplace salon. The menus showcase the pastoral and marine bounty of our New England region and offer a finely curated selection of American and European wines and beers. Chef Jason Bond has spent 20 years in restaurants refining his technique and style, and has developed a simple philosophy of quality and care. Our offerings–vegetables picked the same day, fish hours out of the ocean, pasture-raised meats–will change daily, and will always be tasteful in preparation and presentation.