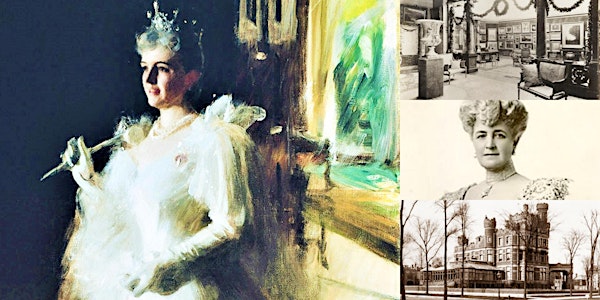 'Bertha Palmer: "The Mrs. Astor" of Gilded Age Chicago' Webinar
Can't make it live? Register and get access to the full replay for one week! New York Adventure Club | www.AdventureClub.com
About this event
By the 1870s, millionaire socialites of New York's Fifth Avenue and Rhode Island's Newport regarded the Midwest city of Chicago to be nothing more than a rural cow town. But that belittlement all but faded when Chicagoan Bertha Palmer, wife of millionaire hotelier and real estate mogul Potter Palmer, came upon the scene. Charismatic, elegant, and intellectual, Bertha charmed the crowned heads of Europe — with the Russian royal court going as far as calling her "America's uncrowned Queen." Who exactly was this influential socialite beloved by European and British royalty, and how would she go on to become a successful businesswoman in her own right? This is the story of one of the most fascinating women of the American Gilded Age.
Join New York Adventure Club as we uncover the life and legacy of Bertha Honore Palmer. Known as "Chicago's Mrs. Astor" for her complete reign over the Windy City's high society, this well-connected socialite would not only go on to earn the respect of her east coast counterparts, but also become one of the most astute businesswoman and art collectors of the 19th century.
Led by historian Tom Miller, our virtual lecture and showcase of one of the American Gilded Age's most interesting figures will include:
A brief overview of Bertha's early years and growing up in Illinois
A look at the massive Palmer Castle on Lake Shore Drive, which was the largest and most expensive mansion in Chicago at the time
A discussion of her triumphs during the 1893 Chicago Columbian Exposition, from being in charge of the Women's Pavilion (the official site for women in the planning and exhibitions), to meeting heads of Europe on what would be an early publicity campaign
Her unparalleled collection of French Impressionist art, the first of its kind in the United States
A deep dive into her relationship with the east coast socialites and absolute victory over Newport snobbism — thanks in part to the help of a few titled friends like the Prince of Wales
Her astounding life as a businesswoman following the death of her husband, and how she single-handedly transformed Sarasota County, Florida from a marshy swampland to a vibrant farming district and resort
Many rare and historic photographs of the homes and buildings that Bertha Palmer touched, inside and out
Afterward, we'll have a Q&A with Tom — any and all questions about Bertha Palmer are welcomed and encouraged!
Can't make it live? Don't worry, you'll have access to the full replay for one week!
See you there, virtually!
*Immediately upon registering, you will receive a separate, automated email containing the link to join this webinar
**For the best possible viewing experience, please ensure you're using the latest version of your internet browser — Google Chrome is the most compatible. Exact technical requirements and a webinar user guide will be shared in the automated confirmation email upon registration.
***A full replay of the experience will be available to all registered guests for up to a week
About Tom Miller
Architectural and social historian Tom Miller is the author of Seeking New York, Seeking Chicago, as well as the popular blog "Daytonian in Manhattan." Since 2009 Tom has published a blog post on a different Manhattan location every day — now totaling more than 3,000.
His research and reporting focus as much on the social histories of the buildings — the tragedies and sorrows, triumphs and scandals of the people who built and lived in the houses — as on their architecture and styles. Tom Miller's retelling of these stories make the buildings come alive; and suddenly they are more than brick, marble, and limestone, but the histories of real people.
Testimonials
"As a Chicago/Lake Forest resident I greatly appreciated the focus on Bertha Palmer and the impact the Gilded Age had on creating the Chicago of today. The comparison between Mrs. Palmer and other gilded age women, specifically Mrs. Astor was well informed. I thought the presenter was well studied on Mrs. Palmer and Chicago, and the content was presented in an informative and entertaining way." -Kip
"I am from Chicago so knew about the Palmers, but learned quite a bit from the presentation." -Margo
"We lived in Chicago for seven years in the 70s and 80s and I had no idea of this particular history or this particular person. It was absolutely fascinating. So many places were familiar but not the story so I very much appreciate knowing about it and the presenter was superb." -Sharon
"Well presented. The presenter was very interesting to listen to. He made Mrs.Palmer someone I would want to know more about." -lisa
"I learned more about her non-Society roles." -Julia
"Great slides -- photographs and stories worked well in tandem." -E
"Tom is a great and organized presenter who I look forward to seeing. This was fabulous as I knew nothing about the Palmers. I love and travel to Chicago often. How strange that I knew nothing about the Palmers, particularly Bertha. She was amazing and much more worthy of interest than Mrs. Astor!" -Karen
"Tom was excellent and very knowledgeable." -Andrea
"Tom featured an amazing woman who deserves to be recognized for her accomplishments. Get photos, excellent pacing." -Linda
"The presenter stayed within a reasonable time frame and was easy to listen to." -Jean
"The presentation was fact filled." -Lynn
"Tom Miller always delivers with intriguing details and facts about the topic he's presenting. Wouldn't miss any of his tours or webinars for anything." -Mardine
"I love the interesting topic and told me things I didn't know before." -Leslie
"Learned a lot about an admirable woman and the life and society in which she lived and prospered. The presenter was 5 star." -Patricia
"The way the presenter offered Mrs. Palmer as embodying the time period with her taste and her social good activities." -Susan Schaalman
"The well researched information and numerous historical photographs, and the presenters obvious expertise." -Jim
"The illustrations were excellent - many I had not seen before." -Penelope
"Learning about a woman who had great strength, energy and taste. And the pictures were very evocative of a long lost era." -Leigh
Disclaimer
By attending a New York Adventure Club experience, you accept our terms of service.
Categories: Virtual, Gilded Age