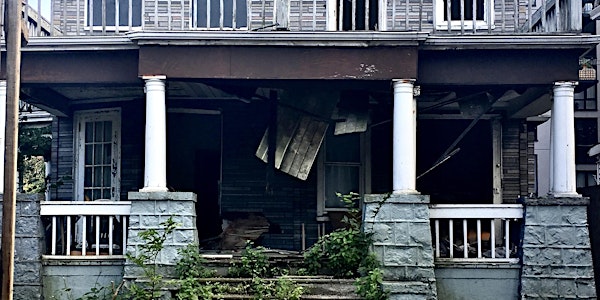 Bernarda's Daughters: Mo(u)rning Call (work-in-progress)
Bernarda's Daughters (work-in-progress) is an exploration of private and public grief that asks when, where, what, and whom do we mourn.
About this event
Listen to the world of Bernarda's Daughters in this digital EP with guest appearances from music artists L'Rain and Anaïs Maviel. Join other listeners live in the Youtube comments to offer your own reflections or just vibe.
If you missed Hotline Sing, experience Bernarda's Daughters via telephone through a self-guided series of audio selections with excerpts from the play, sonic interventions, readings from related works, and more (standard call and text message rates apply).
For her BRIClab residency, Diane Exavier worked with director Dominique Rider and other collaborators to interrogate where grief resides in our bodies, in our sounds, in the streets we traverse daily. How does grief make survival possible? How do we live with grief in this city that has absorbed and witnessed the mourning of its countless inhabitants? And what else does grief open up to? Bernarda's Daughters explores these questions in a variety of storytelling modes. A growing archive of the play's experiments and iterations can be found at www.bernardasdaughters.club. This work-in-progress is being shared at BRIClab in anticipation of a full length audio play presentation as part of Off Stage at The New Group, a new venture featuring theatrical expressions in different media.
Writer: Diane Exavier
Director: Dominique Rider
ABOUT THE ARTISTS
Diane Exavier is a Brooklyn-based writer, theatermaker, and educator who creates performances, public programs, and games that invite audiences to participate in a theater that rejects passive reception. With a point of departure located in Caribbean Diaspora, Diane explores what she calls the 4L's: love, loss, legacy, and land. Intersecting performance and poetry, her work has been presented at Haiti Cultural Exchange, Sibiu's International Theater Festival in Romania, Bowery Poetry Club, Dixon Place, and more. Her writing appears in "The Atlas Review" and "The Racial Imaginary: Writers on Race in the Life of the Mind," amongst other publications. Her play Good Blood received a 2017 Kilroys List Honorable Mention.
Dominique Rider is a director and dramaturg based in Brooklyn, New York. They believe in l[i/o]ving like it is the end of the world. Dominique's work is concerned with answering the question: "What is a world unmade by slavery?" They have worked as a director and collaborator at The New Group, BRIClab, NYU, Ensemble Studio Theatre, The Haiti Cultural Exchange, MCC, The Old Globe, The Lark, Soho Rep, The Atlantic, The Bushwick Starr, Clubbed Thumb, Long Wharf, Flux Theatre Ensemble, WP, and The Movement Theatre Company. They are the director in residence for the National Black Theatre through 2021, a 2019 NAMT directing observer, and an inaugural member of Roundabout Theatre Company's Directing Group.