Bernal Heights Outdoor Cinema —Under the Stars@South Slope Cinema, 10/16/20
Sales Have Ended
Registrations are closed
No more tickets are available for this screening. Join us for the "Best of Bernal" virtual screening, Tuesday, October 27, 2020 and see the four award-winning films of the seasons. Go to the the website for more information: https://bhoutdoorcine.org/2020-best-of-bernal-live-streaming-event-10-27-20/
Sales Have Ended
Registrations are closed
No more tickets are available for this screening. Join us for the "Best of Bernal" virtual screening, Tuesday, October 27, 2020 and see the four award-winning films of the seasons. Go to the the website for more information: https://bhoutdoorcine.org/2020-best-of-bernal-live-streaming-event-10-27-20/
Get ready for a fun, family night out at the second pop-up drive-in event of the season at Alemany Market Plaza — Friday, Oct. 16, 2020
About this Event
Each night will be a safe, contact-free screening of the 17th season of Bernal Heights Outdoor Cinema, celebrating local independent film, traditionally staged in parks, playgrounds, and non-traditional spaces around the Hill. One ticket per car will admit you and your family for an evening of beautiful, poignant shorts, docs, narratives, dramas, animation and music videos. Please go to our website for the full line-up and schedule.
The 2020 award-winning films will be showcased including the Best of Bernal, Spirit of Bernal and Bernal Bright Star Emerging Filmmaker at South Slope Cinema. Come prepared to choose your favorite film of the night for the Good Life Audience Award. Voting will be online and instructions will appear on-screen and on the website.
Registration & Admission
Admission is free.
Duplicate registrations will not be honored. Limited capacity: please only sign up for one ticket.
NOTE: Vehicles with reservations will be admitted within 30 minutes of the check-in time. All reservations that have not checked in by 7:30pm will be canceled. Check-in will be on a "no-contact" basis. Please download your reservations confirmation and print. Display the reservation on your dashboard, showing the bar code / QR codes.
By reserving and using this ticket, audience members agree to adhere to the following rules and restrictions.
Rules:
No entry to people on foot or on cycles
Vehicles will be directed into the parking lot and into parking places. Tall SUV/trucks will be directed to designated rows to avoid blocking views
People must stay in their cars at all times — no sitting outside of cars
Vehicles must be restricted to members of the same household.
Face coverings must be worn when leaving vehicles, when windows are open, or sitting in hatch back area or truck bed.
Cars must be parked 6 feet or more away from another vehicle in its designated spot.
Limited number of people in the restroom at one time per distance requirements.
Customers who do not follow the rules will be asked to leave.
IF YOU ARE FEELING SICK, PLEASE, STAY HOME.
Directions:
South Slope Cinema is a pop-up drive-in located on the site of Alemany Farmers Market. This site is located on the southeast corner of the Hill at the intersection of Putnam Street, Crescent Avenue and the Daly City Highway Exit #431 from Hwy 101.
To enter, please use Crescent Street to enter Alemany Market Plaza from the east. There will only be one open gate at the base of Putnam and Crescent. NOTE: The back entrance to Saturday Farmers Market space will be locked. Do not attempt to enter from Thompkins Avenue.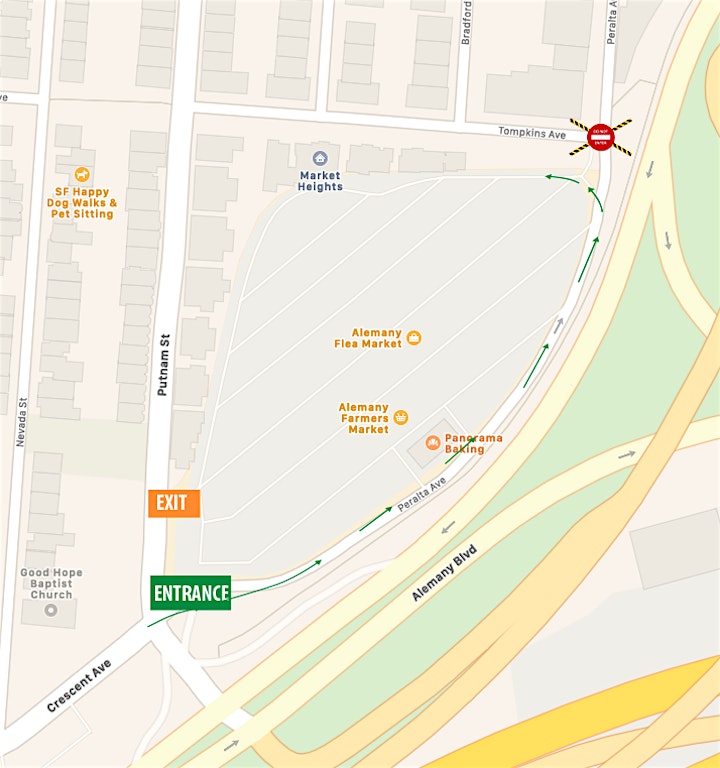 DRIVE-IN SURVIVAL TIPS
Arrive Early: Help facilitate smooth admission and arrive according to your timed entry. Gates will open 90 minutes before the first scheduled start time. The drive-in will fill up, so avoid the long lines.
Dress Comfortably: There's no need to dress up to go to the drive-in. Wear your most comfortable clothes and enjoy a fun, relaxing night of movies.
Bring Blankets: Take comfort to the next level by bringing a blanket to stay warm while under the stars.
Portable Radio: If you're nervous about your car battery dying, bring a portable radio. The audio from our movies is transmitted through an FM radio station, making a portable radio the ideal solution.
Food, Beverage: BYOS — Bring your own snacks and beverages. No alcohol. No smoking.
Check our website for our partner Grab n' Go businesses.
PLEASE CANCEL YOUR RESERVATIONS IF YOU CANNOT ATTEND. WE EXPECT TO REACH MAXIMUM CAPACITY AND WOULD LIKE TO ALLOW OUR WAIT LISTED NEIGHBORS AND FRIENDS TO ATTEND.