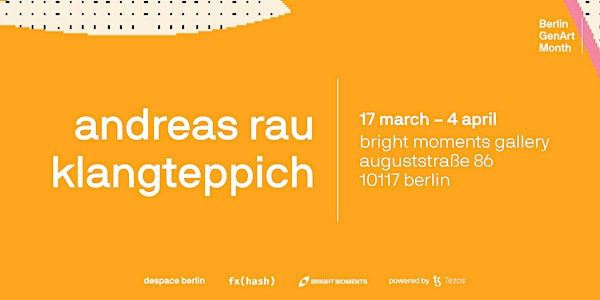 [Berlin GenArt Month] Andreas Rau: Klangteppich
Klangteppich by Andreas Rau – multisensory experience that invites the viewer to touch, see and listen.
Date and time
March 17 · 6pm - April 4 · 6pm CET
Location
Auguststraße 86 Auguststraße 86 10117 Berlin Germany
About this event
17 days 23 hours

Mobile eTicket
As part of the Berlin GenArt Month – Bright Moments, fxhash and despace berlin are excited to present Andreas Rau's new project, Klangteppich.
Klangteppich
A multisensory experience that invites the viewer to touch, see and listen. 100 jacquard-woven pieces accompanied by live-generated visuals and music.
Klangteppich is an invitation to slow down and feel a sense of home in our fast-paced, mobile world — wherever you may fare. It creates a calming virtual enclosure, and a physical base to rest on.
Every Klangteppich NFT has its woven counterpart. Each pixel is mapped to a thread in the fabric, and hand-woven on a computer controlled jacquard loom.
🥂 Vernissage
17 March 2023, 18:00 – 21:00
Bright Moments Gallery, Auguststr. 86
🕕 Exhibition opening hours
Tuesday – Friday, 12:00 – 18:00
We invite you to check the rest of the Berlin GenArt Month programme and visit us at Bright Moments Gallery and at despace berlin.
Klangteppich continues the collaboration between Bright Moments & fxhash, after their first sold out show together at Bright Moments Gallery in Venice, USA.
--
Andreas Rau is a generative artist exploring the interplay between humans and their digital and physical environments. He works with code and electronics to build bridges between the physical and the digital in a continuous dialog with the machine. His work includes interactive installations, kinetic sculptures and audiovisual pieces created fully from code.
Bright Moments is an NFT art collective on a mission to create environments where artists and collectors can co-create and co-consume generative art. We do this through building IRL minting experiences where artists and collectors witness the birth of generative art together.
At fxhash we build tools that allow artists and collectors to live out their passion for generative art. We facilitate an easy and safe space for artists, collectors, curators and the curious to experience generative art projects; to buy, sell and collect art — and share their collections with the world.
despace berlin is a community that provides pathways for involvement in Web3 in the Berlin orbit, with a special focus on projects and opportunities in the Tezos ecosystem.