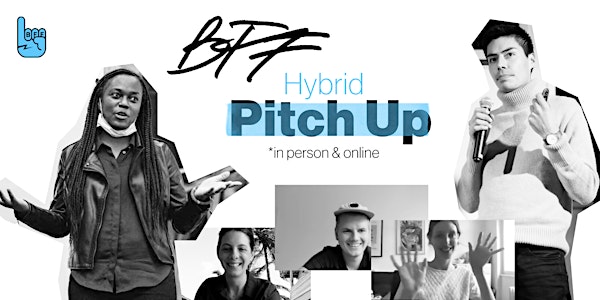 Berlin Founders Fund: Pitch Up #10
Join the Berlin Founders Fund "Pitch Up" to connect with distinctive and promising Health Tech Startups from our Network in Berlin.
About this event
🚨 UPDATE - we've had a few seats become available for the event. If you fancy coming to our event space from 6pm to join us in-person, please follow the below -
email bruno@siliconallee.com with your full name (plus a guest's name if you'd like) by 4pm Thursday
2G Covid rule applies - bring along your Covid vaccination certificate (only digital accepted) or proof of recovery; and don't forget your mask ✅
Seats are limited
We're located on Chausseestraße 19, 10115 Berlin 🚨
---
According to the World Health Organization "health technologies include medicines, medical devices, assistive technologies, techniques and procedures developed to solve health problems and improve the quality of life. Such technologies are used in all types of health facilities, play a major role in contemporary health care systems and contribute directly to the quality of patient care".
Berlin's Health Tech startup scene is pulsing with exciting and promising early-stage innovations that we think you need to know about. That's why on October 28th, 6.30-8pm CET an awesome combo of Health Tech founding teams will pitch to our brilliant Jury of Health Tech experts.
Keen to further your knowledge on Health Tech? Or actually not sure what the subject is all about? Well, join us then 👩‍💻 🧑‍💻. The event will be hybrid -
We also want to give centre stage to Zoom attendees
Questions from the audience in-person will be presented to the startups on stage. Moreover their founders will also be replying to questions and thoughts from you. And this is where part of the action is. So feel free to post your queries on our Zoom chat throughout the event and we'll make sure we get them nicely answered.
The pitching startups
---
Are you an early-stage founder? Then apply to our Berlin Founders Fund. Check the BFF website for full details: http://bit.ly/BerlinFoundersFund
The Berlin Founders Fund is financed through funds from the European Union and the City of Berlin.
Stay updated with what's happening in Berlin's startup scene by subscribing to our Newsletter: https://www.siliconallee.com/newsletter/