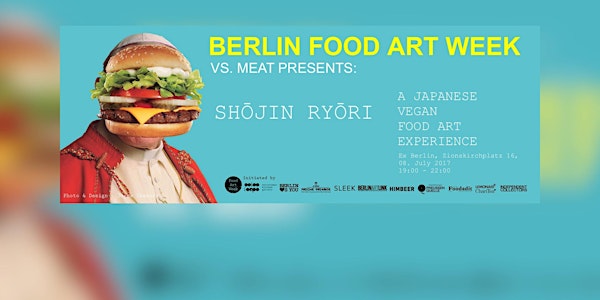 BERLIN FOOD ART WEEK presents: Shōjin Ryōri – A Vegan Japanese Food Art Experience
By Berlin Food Art Week & The Taste of Japan
Date and time
July 5, 2017 · 7pm - July 8, 2017 · 10pm CEST
Location
Ex Berlin. Zionskirchstraße 16 10119 Berlin Germany
Description
Shōjin Ryōri – A Japanese Vegan Food Art Experience
Description:
Discover the alluring blending of Japanese culinary concepts in one meal, which incorporates every last bit of each ingredient while appreciating and respecting the seasons, nature's bounty and the diligence and ingenuity of the people that produce it.
Dagmar Maas from 'The Taste of Japan' skillfully transforms seasonal fruits and vegetables into nutritionally sound and aesthetically satisfying dishes that avoid waste and sustain our natural resources.
Experience Shojin Ryori –Japanese Buddhist Cuisine, paired with ichigo-size of carefully selected Japanese sake tucked away from Berlin's buzz in an intimate setting.
Menü:
This dining experience is Omakase-style, which is the Japanese tradition of letting the chef choose the dishes for you. It literally means "I will leave it to you" and it is a fine tradition that gives the chef creative freedom to focus on the freshest and most seasonal ingredients on the day of preparation.
If you have dietary restrictions that are likely to come up, Omakase isn't a good idea, as you cannot put down any restrictions neither can you ask what you'll get beforehand.
More information by request at info@thetasteofjapan.com
Fore more information on Berlin Food Art Week visit http://foodartweek.com

About the organizer
About:

Dagmar Maas teaches and writes on www.thetasteofjapan.com bilingually about the healthful and aesthetic virtues of culinary Japan and especially about 'Washoku', the traditional Japanese cuisine, which was recognized as UNESCO's Intangible Cultural Heritage in 2013. Since her first bite she has a deep love affair with Japanese food that offers lightness and brightness - delicious and original, offering nutritional balance and aesthetic harmony at the same time.
Dagmar just moved back from Tokyo where she spent the past several years studying with and working for her sensei, Elizabeth Andoh, one of the most respected Washoku experts in Japan and the English-speaking world.
She also has an intensive love affair with Japanese sake. As such she attained various official sake certifications including the Japanese Sake Sommelier 'Kikisake-shi' and she has been awarded by  the WSET® - Wines and Spirits Education Trust and the Brewing Society of Japan (Nihon Jouzou Kyoukai) to be an official educator for sake in Germany .  
Back in Berlin her mission is to introduce people to the virtues and benefits but also the cultural tradition of Japanese cuisine, offering workshops and intensive cooking classes enabling her students to (re-)create authentic Japanese food at home.