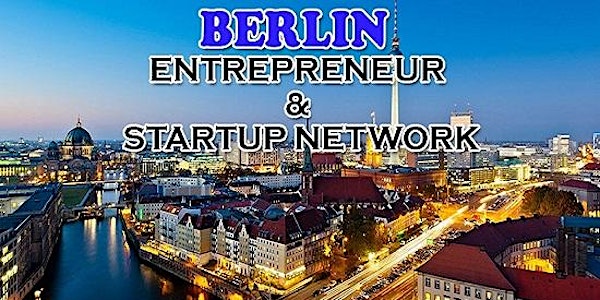 Berlin Biggest Business Tech & Entrepreneur Professional Networking Soriee
Berlin Biggest Business Tech & Entrepreneur Professional Networking Soriee
By Toronto Entrepreneur and Startup Network
Date and time
Tuesday, May 30 · 6 - 8:30pm CEST
Location
Vagabund Brauerei Kesselhaus Oudener Str. 16-20 Huas F 13347 Berlin Germany
About this event
2 hours 30 minutes

Mobile eTicket
LIKE FB PAGE FOR FUTURE EVENTS - CLICK HERE 
 MAKE SURE TO RSVP.
 ***TO ATTEND RSVP MANDATORY*****
 This is the largest networking mixer for Entrepreneurs , Startups and Business Professionals In Berlin. 
Calling All: Tech Startups ! Entrepreneurs ! Business Owners ! Professionals ! Free-lancers, policy-makers, game-changers, and heroes!
Starting Summer 2023 with Berlin's Best Professional Networking Affair. Please join us for an evening of creativity, inspiration and passionate conversations.
Join & raise a glass - make connections with co-founders, partners, coaches or core team members for your start-up- meet fellow professionals and mingle with makers of great and big ideas - take home treats from growing community and some business cards.
Hosted By - Berlin's Entrepreneurs, Startup & Business Coalition.
Ambiance:
- Name Tags will be provided to everyone who attends. We request you put your name and industry on your name tag.
- Make sure you bring enough business cards.
- The dress code is Business Casual.
Timings:
- Event is from 6:30 PM to 9:00 PM..
***Arriving on time recommended.
Admission: To Attend. Must RSVP.
Drinks Policy: 
One drink minimum (mandatory), it will help support the venue as they are holding space for us.
***Since this is a drinking establishment, all attendees must be 21+.***  
For Sponsorship & Business Queries Email
forwardyourcareer@gmail.com
Your chance to meet new clients and generate more business?
• Do you know that Nearly 100% of people say that face-to-face meetings are essential for long-term business relationships?
• Do you know 92% of people trust personal recommendations more than any other form of marketing?
• Do you want to grow your business?
• Do you want to build long-lasting, strong relationships within a diverse group of professionals?
We are looking for second hostess for the event. Paid Job. Send email with resume and Linkedin profile to forwardyourcareer@gmail.com
RSVP AS OF FEB 1
First Name Last Name
Andriy Ilyenko
Henri Zix
Thomas Andersen
Alex Murillo
Yury Bohdan
Ahmad Noor
Elie Goldfarb
Irina Bolmat
David Miro Grund
Irene Rosenbach
Sepiedeh Hassani
Claudio De Simone
Josef Simonson
Prakrit Sachdeva
Jeremy Bormann
Marta Stankiewicz
Ekaterina Cherneyko
Alex Avramenko
Assiel Mahmoud
Else van der Berg
Anna Yushtina
Henri Zix
Sandra Grube
Avitosh Sawhney
Hauke Jaeschke
Juliana Viana
Leyth Louden
Justa Olo
Jan-Philipp Dreier
Domenico Caruso
Andrea Brandt
Timur Khomiakov
Miroslaw Holubek
Erik Roa
Varshith H Anilkumar
Jonathan Felsmann
Mehmet Ercan
Daniel Grimm
Tetyana Stupak
Maher Khalaf
Sabir Naghiyev
Fabian Tewes
Abdul Rehman
Fynn Huch
Tatiana Pimenova
Tatiana Pimenova
Carmelia Soumbou
Dmitry Chernyavsky
Marta Stankiewicz
Vanessa Kirchner
Karan Paul
Maximilian Wittig
Elias Münchow
Yehuda Swed
Suri Namnandorj
Li Feng
Slavena Korsun
Pranav Vattaparambil
Sam Wiszniewski
Cristofor Ochinca
vilson isaku
Alexandro Lahmann
Gianfranco Costantini
Agata Maslowska
Alexander Thobe
Michael Oldenburger
Matthias Auer
Carolina Petroche Clavijo
Lune Wei
Yesser Falk
DENNIS ADDAE ADDISON
ISAAC OCRUW GHARTEY
Helen Paremska
Erik Roa
Martina Gstöttmayr
Anastasiia Myronenko
Malin Fjellstroem
Esmee Huijten
Gemma Comabella
Sara Tamara Giraldo
Rahul Jain
Maura Oerding
Maura Oerding
Gaurav Jha
Trairat (Andy) Singcharoenchai
Elisa-Marie Schütz
Mendim Avdyli
Prakash Vekariya
Felix Dietrich
Mayur Sinha
Deepak Mishra
Irene Rosenbach
Claudio De Simone
Sepiedeh Hassani
Shirin Doroudian
Alina Bodaeva
Vanessa Kirchner
Olena Myronyk
Kevin Jones
Predrag Tasevski
Isabel Dingler
Leopold Mebazaa
Barnabas Ragu
Valerii Serediouk
Hassan Zaman
Christopher Kattge
Meltem Adigüzel
Olga Iuzvyshyna
Peter Lux
Richard Wepner
Utkarsh Kalra
Hemant Mishra
Milad Ahmadi
Michail Wolochonskij
Muhammad Zeeshan
Gürkan Minaz
Keven Agbavon
Sami Atris
Hamed Shafiei
Johannes Kreuzen
Manon Delespierre
Matthieu Postel
Mitja Eichhorn
Ahmad faisal Aman
Islam Dardeery
Atiyah Kalla
Juliane Schraps
Diana Doepfert
Hoang Pham
Partha Dash
Temor Aziz
Armin Dolatimehr
Erik Roa
Alena Mitianina
Jenny Ev
Lena Lickteig
Justina Umo
CHRISTIANA AMOAH
Leif Umland
Tanya Pimenova
Sergei Kostin
Tanmay Nigam
Anita Puchalska
Sergei Kostin
Carolin Kruse
Mitja Eichhorn
e k
Maurice Nitschke
Maurice Nitschke
Ammar Khidir
Trang Pham
Valeria Sparla
Fernanda Alves da Costa
Gyorgy Huber
Muhammad Abdullah Malik
Dilip Chalissery
Yerbolat Tazhkeyev
Robin Kowolik
Piyush Wankhede
Sara Tamara Giraldo
Marco Acuna
Giselle Anido
Gonzalo Ortiz
Marco Acuna
Usman Abbasi
Christine Meyer
Emmelie König
Max Werner
Natalia Wallroth
Azadeh Emami
Nihan Yelkenci
Oleksii Poletaiev
Selina Raphaela Ochsner
Konstantin Lotter
Martin Langer
Julian Dressler
Obadah Aleem
Inna Sherman
Raffael Kloninger
Martin Burger
Ochieng Marembo
Vanessa Escande
Øyvind Håbrekke
Tom Soto Schiller
Soltan Gheorghe
Daniel Montero
Liza Knorr
About the organizer
Toronto Entrepreneur and Startup Network


Are you looking for co-founders, partners, coaches or core team members for your start-up? Please join us for an evening of creativity, inspiration and passionate conversations by attending one of our events.
For Business Queries - Forwardyourcareer@gmail.com
Facebook Group- TESN
Meetup Group - MEETUP