Description
Norton Buffalo Hall
- Presents -
Nationally Acclaimed American Duo
Berkley Hart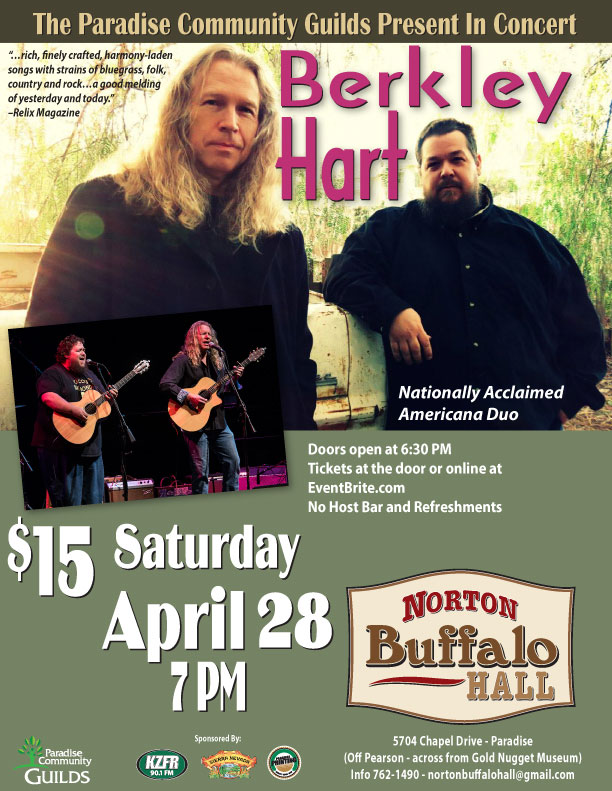 Saturday, April 28, 2018 at 7PM
Doors open at 6:30PM. Seating is limited.
Tickets are $15, available online or at the door.
Refreshments will be served / Drinks for Purchase
PRESS
"…poignant lyrics with masterfully crafted melodies and harmonies" –San Diego Troubadour
"…rich, harmony-laden songs with strains of bluegrass, folk, country and rock…solid and finely-crafted songs are a good melding of yesterday and today." –Relix Magazine
ABOUT Berkley Hart
Kerrville New Folk Songwriter Award winner, Jeff Berkley, and stand-out wordsmith, Calman Hart, are one of the premier acoustic duos touring the country. They pair a rare, natural down-home humor with poignant, delicate, masterfully crafted lyrics, all delivered with stunning harmony and musicianship.
Now celebrating 20 years as a songwriting, performing and recording duo, Berkley Hart has produced an exemplary body of work.
Watch this 2010 video of Berkley Hart in live performance of their tune, "She's So Beautiful."
---
Coming up:
2018
• Sat, Apr. 28 7PM | Berkley Hart (San Diego, CA)
• Thu, May 24, 7PM | Mike Beck (WY)
• Sat, Jun. 30, 7PM | "Be The Community" Festival
• Sat, Jul. 21, 7PM | Bird & Wag (featuring Peter and Tricia Berkow) with the Paper Hats (featuring David Bilinski and Dana Hanson)• Fri, Aug. 31, 7PM | Moody Little Sister (Portland, OR)
• Sat, Sep. 15, 1-5PM | Unity In Diversity Festival
• Sat, Sep. 29, 7PM | Hannah Jane Kyle
• Sat, Oct. 6, 7PM | Jon Strider (Malmø, Sweden)
• Fri, Oct. 26, 7PM | Halloween Costume Party & Zomie Stomp
• Sat, Dec. 15, 7PM | Christmas Jug Band

2019
• Thu, Feb. 14, 7PM | Valentine Duets
• Sun, May 19, 7PM | Claude Bourbon (U.K.)
For more info call 762-1490