Description
Join the Berklee Los Angeles community for our largest event of the year!

The Los Angeles Alumni Brunch is our community's flagship event. We've hosted a sold-out crowd of 400 alumni for the past several years, making it the single largest alumni event Berklee hosts.

Join us as we hear from College leaders about new and exciting developments before introducing this year's keynote speaker, Kevin Eubanks B.M. '79.

With a buffet breakfast and musical entertainment from one of our talented and inspiring Berklee peers, there's so much to be excited about! This is the perfect setting for reconnecting with fellow alumni and celebrating all things LA. It's an event you don't want to miss, so come join the us!

Check-in begins at 10:30 a.m. PST in the Murphy Foyer of the Skirball Cultural Center.

Parking: Free parking in the Skirball northern parking garage ("North Parking") accessed from Skirball Center Drive.


For questions, check out the FAQ below.
Can't find your answer below? Email Zack Lucia at zlucia@berklee.edu.

**If you're looking the Hang at NAMM alumni event in Anaheim, CA click here.**

Featured Speaker Bio - Kevin Eubanks B.M. '79

With four decades as an artist, including 18 albums and 18 years on The Tonight Show with Jay Leno, the multifaceted Eubanks features a laid-back style. His affability belies the concentration and focus required to become successful as a consummate musician and a household name in late-night television.

Eubanks has performed throughout the world, appeared on many television shows, composed for film, and received honorary doctorates from University of Redlands and Berklee College of Music. An advocate for music education and volunteering, Eubanks is dedicated to the music industry.
---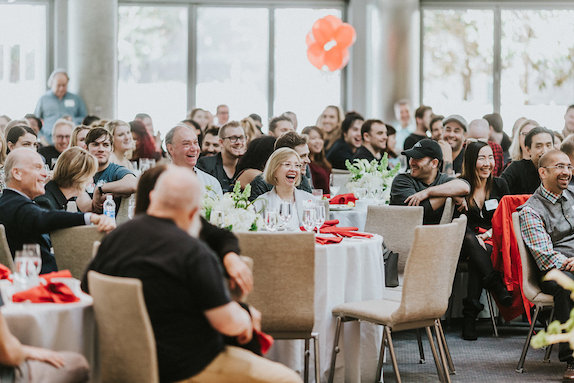 FAQ

What is the ticket fee for the event? Ticket fees will range from $10 to $20 depending on when you make your purchase.
Berklee Fund donors received early access prior to November 4, 2019.
Early Bird tickets will go on sale to the entire community on Monday, November 4, 2019 at 9:00 a.m. PST at $10 per ticket.
On Monday, December 2, 2019 regular registration begins, ticket price increases to $15 per ticket.
On Monday, January 6, 2020 late registration begins, ticket price increases to $20 per ticket.
In the event of a sell-out, there will be no more tickets available for purchase.
Why do you sell tickets for this event?
As we continue to create offerings for this community, we need to be mindful of event costs and reserving the best space for the number of attendees. This registration process allows for an accurate count of attendees so we can plan accordingly.
What does my ticket fee cover?
Your ticket secures your RSVP and parking. It does not cover the cost of the event which runs $65-$75 per person. Berklee covers the full cost of the event each year.
Do Berklee Faculty/Staff have to pay to attend?
Yes. All attendees who are not working the event are required to purchase a ticket. Berklee Faculty and Staff are able to obtain tickets through a specific ticket type. If you did not see the instructions in the Faculty/Staff newlsetter, please email dmjames@berklee.edu for Access Code to your ticket type. Berklee faculty/staff registration does not include a guest. Berklee faculty/staff may bring one guest that is ticketed and registered through the regular ticket type. Walk-up and unregistered guests will not be allowed the morning of the event.
Can I bring a guest?
Yes. Alumni & Berklee faculty/staff may bring one ticketed guest. You can purchase a ticket for your guest at any time until the event sells out. Walk-up and unregistered guests will not be allowed the morning of the event.

Am I guaranteed a seat?
Yes. We will have the seating and food stations set for the number of people who RSVP.
I missed the price change - can I / my guest register at the cheaper price?
Unfortunately, no. But if you really want to attend, the extra $5-$10 is worth it.
The event says "Sold Out" - can I still attend / can I add a guest?
Unfortunately, no. We've communicated a specific number of people to the Skirball in our guarantee. We cannot allow more guests than we've paid for, nor go above the fire marshal limit of the Ahmanson Ballroom floor plan.
What about walk-ups the morning of the event?
Walk-ups and unregistered guests will not be allowed the morning of the event.
I made a donation, does this count as my registration?
Thank you for donating! Unfortunately, no. Donations are just that, donations. If you'd like to attend the event as a ticketed guest, please purchase a ticket. If tickets are sold out, a donation does not count as entry into the event.
What if I register and then cannot attend?
We cannot offer refunds on tickets, however, it is OK to resell your tickets or give your tickets to other Berklee alumni. Please notify us of any changes by emailing Zack Lucia at zlucia@berklee.edu

How many people are you expecting?
The Ahmanson Ballroom holds 400 people. We'd love to sell out.
What does parking cost?
Parking will be available in the "North Parking" garage (follow signs) for no additional charge. The Skirball provides parking to event attendees in their on-site garage. Skirball parking information.
What about inclement weather?
The Skirball's Ahmanson Ballroom area will be equipped to handle our event in case of inclement weather.
Do the speakers receive a fee?
No. Each year our guest speaker volunteers their time and energy to join us at the event. They do not receive a speaking fee.