Description
Simply Keto Book Tour
Tag your photos from the event with #SimplyKetoTour


Hey, Berkeley!
Come on out for a speical day at Mission Heirloom filled with all things keto, inspiration and encouragement! I'll be talking about my 120 lb weight loss journey, the ketogenic lifestyle, answering your questions, signing books and giving lots of hugs!
Mission Heirloom is open on January 13th 2018 from 9:00am - 7:00pm. Food will be avaliable for purchase throughout the entire day, with some specialy keto menu options made from the recipes in Simply Keto!
There will be two seperate talks, one at 11:00am (this rsvp) and one at 4:00pm.
Tickets are limited so be sure to RSVP today!
Simply Keto Book Tour
Tag your photos from the event with #SimplyKetoTour




RSVP to this FREE event today! - This RSVP is for the 11:00am talk.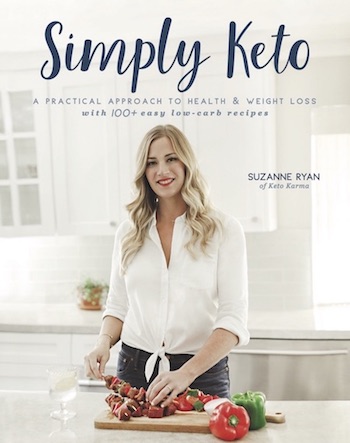 The ketogenic diet, a low-carb, high-fat way of eating, is remarkably effective at transforming people's lives, helping them shed pounds and find relief from common health conditions. No one knows this better than Suzanne Ryan. In her quest to overcome her lifelong struggle with her weight, she stumbled upon the ketogenic diet and decided to give it a shot. In just one year, she lost more than 100 pounds and reclaimed control over her health and well-being.

Suzanne has shared every detail of her transformation, from the very first days of starting keto to her most recent successes, on her popular blog, Keto Karma, as well as on her YouTube channel and Instagram page. Her first book, Simply Keto, isn't just a cookbook; it's a portal into Suzanne's life and dieting success—how she accomplished the incredible feat of losing almost 40 percent of her total body weight and developed a healthier and more balanced relationship with food. In this book, she shares everything you need to know to get started and find your own success.

Inside, you'll find

• helpful advice for starting keto

• grocery shopping tips

• keto and weight loss FAQs

• more than 100 easy recipes

• a structured 30-day meal plan

• guidance for living and thriving with the ketogenic lifestyle
Getting a copy of the book:
Please support your local buisness by purchasing a copy of Simply Keto at the event.
Already have a copy? No problem, go ahead and pick up an extra copy that I can sign as a gift for one of your friends or family members!
Can't wait to see you there!
Lots of love,
Suzanne