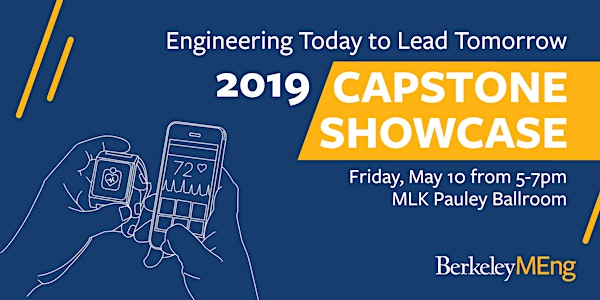 Berkeley MEng Presents: Capstone Showcase 2019
When and where
Location
Pauley Ballroom 2495 Bancroft Way UC Berkeley Berkeley, CA 94720
Description
Engineering Today to Lead Tomorrow
10 Tracks. 85 Teams.
We are excited to share the 8th annual UC Berkeley Master of Engineering (MEng) Capstone Showcase will take place on Friday, May 10, 2019 from 5-7pm.
The two-hour event, free and open to the public, will feature MEng teams sharing the results of their 9-month capstone projects. See where the future of engineering is headed by uncovering the research projects created over the course of the academic year. Enjoy the access to the latest in dynamic and collaborative engineering for a truly unique, one-of-a-kind experience.
Tracks include:
Advances in Manufacturing
Robotics, IoT & Wireless Communication
Autonomous Vehicles
Transportation: Air & Space
Health & Well-Being: Data-Driven Insights
Health & Well-Being: New Tools & Therapies
Cryptocurrency, Financial Technologies & Strategy
Energy & Environment
Machine Learning: New Tools & Applications
VR: New Tools & Applications
#CalMEng
Why attend?
Engineering Today to Lead Tomorrow. Social impact solutions from building hands for children to creating fuel for deep-space space-travel are at your fingertips.

Networking. Attendees from across industries will come together with Berkeley students, faculty, and alumni while hearing about the latest innovations in engineering technology.

Industry-Wide Content. From designing collaborative radio networks to reversing tissue aging, attendees have the opportunity to explore trends across multiple engineering fields and concentrations.

Personalized Experience. Attendees can curate their own personal schedule. With 10 tracks and 85 teams, there's something for everyone!
Who attends?
Leaders from around the Bay Area with a passion for innovation and creativity gather to uncover the future of business and culture together. Including: Engineering/business professionals, entrepreneurs, faculty, industry project advisers, prospective industry partners, recruiters, and top-level decision makers.
Exclusive Alumni Reception: Berkeley MEng alumni are invited to an exclusive alumni reception before the Capstone Showcase from 4-6pm. Separate RSVP required.

Please note: If you are a current MEng student, you do not need to register through eventbrite; your attendance is mandatory.