Description
From the guy who brought you the best grilled cheese sandwich in the United States of America comes a new way to dine with your favorite food carts.

Tired of the lines? Tired of having to track down a tweet? Hoping to have a nice food-cart style meal served in a restaurant-style fashion? Well have no fear because Behind the Cart is here.
Behind the Cart is a spin on VH1 Behind the Music. The goal of the event is to host a mobile underground restaurant that serves a multiple course meal that will always end with some stories. As a local popular food cart vendor something I realized early on is that people are interested in the stories behind the carts. We all want to know how the GrilledCheezGuy came to be or what inspired the Creme Brulee cart to hit the streets. This event provides the opportunity to enjoy some of the local food carts best dishes while also sharing stories at the end of the dinner.
This brunch is not your average brunch. This brunch is continental breakfast meets bingo hall meets food cart bonanza! Prepare for a very fun and social Berkeley brunch with the following menu (NOTE: Order of food will be decided by the BINGO balls!)
Location: ?, Berkeley, CA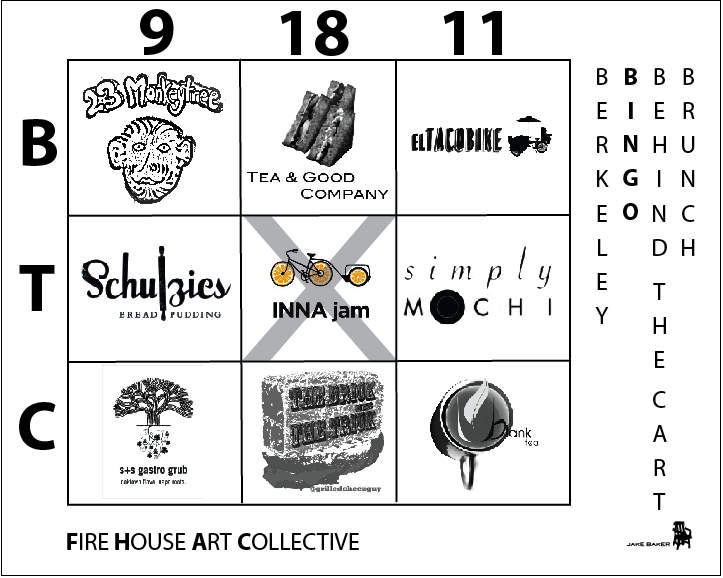 Tea & Company
Sandwich Tea Trio: Egg & Cress, Marinated Cucumber, & Goat Cheese w/ red pepers & black olives
INNA Jam & Acme Bread
Seascape strawberry, polka raspberry, plenty spice jalapneo, royal blenheim apricot w/ Pain au levain bread
El TacoBike
Torta de huevo enchilado
23 MonkeyTree
Kombucha
GrilledCheezGuy
Stone-fruit galette
S + S Gastro Grub
63 degress organic hen egg w/ puree roasted organic cauliflower soup, real bacon bits, torn garlic sage crouton
Blank Tea
Tea for Two Take Home Bag
Schulzie's Bread Pudding
Blissed Out Blueberry & Celestial Chocolate Chunk Bread Pudding
Simply Mochi
Bacon wrapped mochi
BINGO Prize:
Bacon Hot Sauce
BYOC: We will provide the organic orange juice you provide the C.....
Towards the end of the brunch I will host a very informal discussion with the food cart(s) to hear some hopefully fun and entertaining stories of life behind the cart. Guests are encouraged to submit questions that will be asked by the moderator (GrilledCheezGuy). Each event will have rotating chefs so make sure to stay tuned and come out and support some of your favorite carts and hear their stories. This event is a private event hosted by Behind the Cart. In order to attend the event you MUST join the mailing list for Behind the Cart by emailing behindthecart@gmail.com with the heading "Join".
I look forward to joining you all at the table!
Sincerely,
Michael "GrilledCheezGuy' Davidson
Note: This event is 21 and older and requires being a member of Behind the Cart. Sorry, no refunds!
Drinks: Water served and BYOB & BYOC.
Questions? contact us at behindthecart@gmail.com
*************************THIS EVENT MIGHT BE TAPED***************************
All menu's are subject to possibly change before event due to unforeseen circumstances. We will do our best to replace the dish with something of equal or lesser taste and value.