Bergen County Job Fair & Career Resource Event. Friday, October 24, 2014.
Description
Looking for Employment or Career Coaching?
Come to the Free
Job Fair & Career Resource Event
Friday, October, 2014
9:00 a.m. to 2:00 p.m.
Bergen Community College
400 Paramus Road
Paramus, NJ 07652
Gymnasium - Parking Lot B
Register online here…for your free admittance ticket
Pre-Registration will end at 4:00 p.m. today October 23, 2014. If you did not pre-register you can get a ticket at the door
JOB FAIR WITH NUMEROUS PARTCIPATING EMPLOYERS
EMPLOYMENT READINESS SESSIONS
RESOURCE ROOMS WITH JOB COACHES

Dress for Success
Please Bring a Minimum of 10 Resumes
For those with access and functional needs, call ahead for any assistance or special accommodations to Gerri Giusto (201) 329-9600 x 5545
Employers interested in having a table at the Fair
Please call Tara Means, BCEDC 201.336.7501
Expected Companies attending the October 24th Job Fair
New York Life
Transamerica Agency Network
NJ Transit
Bethesda Lutheran Communities
Glass Gardens Shoprite
ChemTec Pest Control
Bergen County Office for Children
US Army
Federal Air Marshalls
Lowe's Home Improvement
Adecco
Versa Products
Meadowlink
Sears
Macy's
Bergen County Police
Whole Foods
Pennsylvania State Police
Health Monitor Network
Cambridge Security Services
Premier Home Healthcare
9/11 Memorial & Museum
Delaware State Police
Metro Public Adjustment, Inc.
FedEx Ground/Randstad
Accredited Health Services
Avon Products, Inc.
Crestron Electronics, Inc.
GoodTemps (Div. Goodwill Industries of Greater NY & Northern NJ)
Harbor Freight Tools
Planned Companies
Signature Flight Support
CRST International
Nüe Resource Funding
Verizon Wireless
Combined Insurance
Home Helpers
Combines Insurance
TNU Financial Service
Wells Fargo
HackensackUMC
MassMutual
Joule Staffing Solutions
Paul Davis Restoration
World Financial Group
Daily News Digital Soultions
Dish Network
Lloyd Staffing
Express Employment Professionals
Rite Aid Corporation
Lincoln Technical Institue
FBI
Mom365
Jennifer Convertibles/Leather Furniture
Gotham Technology Group, LLC
Ashley Furniture HomeStore
PNU Financial Service
Morgan Stanley
UPS
Samaritan Services Nursing Agency
NorthEast Talent Soultions
Affinity Home Care Services
AIPT Institute
BAYADA Home Health Care
CEM Business Solutions
Spectrum for Living
Supreme Consultants
Mac Tools
Little Angels School House
YWCA
LG Electronics USA, Inc.
RCSNA
Acrobat Outsourcing
Alpine Financial Services Group
Food Evolution
HMS Host
Inrad Optics, Inc.
Mutual of Omaha
Pratt Industries
Terry O'Connor Relators
UltraPure
Unlimited Care
US Foods
Aflac
AlliedBarton Security Services
Avventis
Insight Workforce Solutions
Primex Plastics
St. Joseph's Medical Center
The Bristal Assisted Living at Woodcliff Lake
Secure Card Services
OTG
Acrobat Outsourcing
GCA Services
Expected Job Seeker Resources attending the October 24th Job Fair
Secaucus Veterans Center
Bergen Community College
VA Healthcare
Bergen County One-Stop Career Center (DVR, Vets)
New Jersey Talent Networks
Heartland Institute of Financial Education (HIFE)
The Job Guide
The Paramus Public Library
Sponsored by:
The County of Bergen, Bergen Community College, Crestron Electronics, Bergen County Economic Development Corporation (BCEDC), Bergen County One-Stop Career Center, Jobs4Jersey, Bergen County Workforce Invest Board (WIB) and The Bergen Record.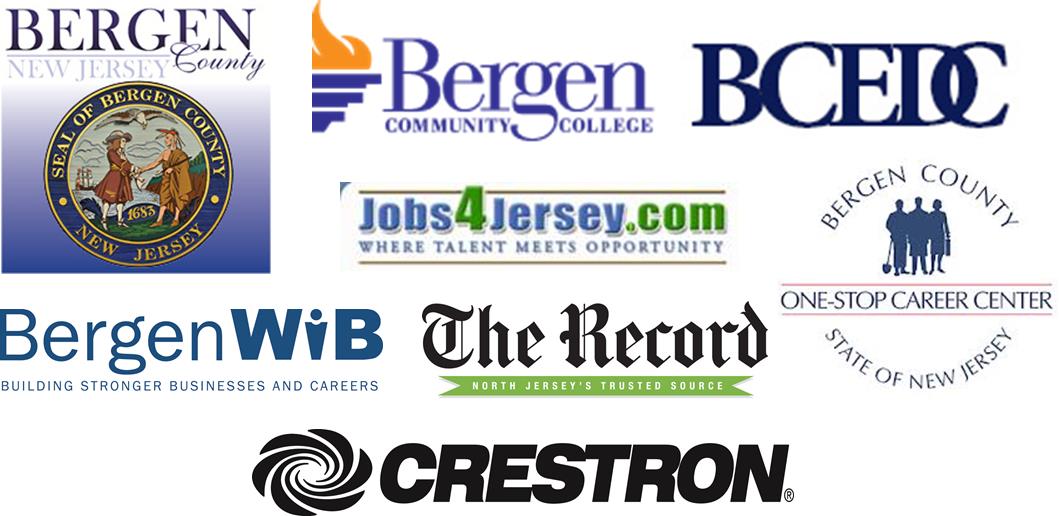 <p style="line-height: normal; margin: 0px; padding: 0px 0px 8px; color: #9c6f9c; font-size: 13.600000381469727px; text-align: center; vertical-align: top; background-image: initial; background-attachment: initial; background-size: initial; background-origin: initial; bac