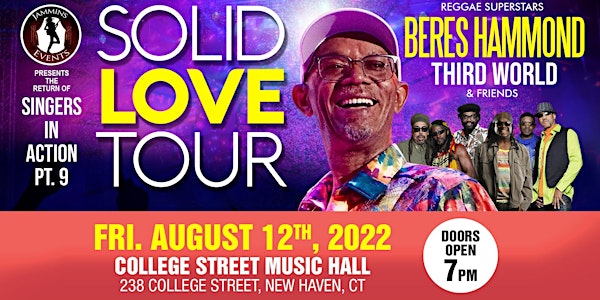 Beres Hammond
Jammins Events presents: Solid Love Tour
Location
College Street Music Hall
238 College Street
New Haven, CT 06510
About this event
This event is General Admission Standing Room on the Floor and Reserved Seated in the Balcony.
Masks are strongly encouraged.
By purchasing tickets to this event, you agree to abide by the State of CT, City of New Haven, Artist, and College Street Music Hall's Health and Safety measures in effect at the time of the event. Check back for updates to your event on our website as guidelines and entry requirements are subject to change.
A portion of the proceeds will be donated to the AFUWI Scholarship Fund.
BERES HAMMOND
Don't be deceived by Beres Hammond's cool profile. The playful smile, the unassuming demeanor, the beard and the cap and the spectacles might lull you into forgetting that you're in the presence of an awesome musical talent, Jamaica's greatest practicing singer/songwriter. Beres remains cool, though he knows that he's one of a handful of people responsible for maintaining a mighty legacy of soulful reggae music—a select group of artists like Toots and Gregory, like Dennis and Bob. "Father bless me with a song," he pleads on the last cut of his latest album, Music Is Life, "to make the whole world sing along. Regardless of the race, regardless of the taste." In the year 2021, the blessings just keep coming, and the world is just starting to catch on.
Over the course of five decade career, Beres has poured his smoky-sweet voice—an instrument of subtlety and power reminiscent of an Otis Redding or a Teddy Pendergrass—over every kind of riddim track, from the funked-up reggae jams of the '70s fusion band Zap Pow to the lush instrumentation of his 1976 album Soul Reggae to the spare digital beat of his 1985 dancehall breakthrough "What One Dance Can Do." In 1990, his album A Love Affair for Donovan Germaine's Penthouse label raised his popularity to new heights. Cuts like "Tempted To Touch" and "Who Say" with Buju Banton are still as effective in the dancehall today as they were as pre-releases. The '90s proved to be Hammond's decade, during which he blazed a trail of modern classics for a variety of producers, from the strugglers' anthem "Putting Up Resistance" (Tappa) to lovers' laments like "Come Back Home" (Star Trail) and "Double Trouble" (Steely & Clevie).
Beres started building his home studio in the early '90s, before it became the trend among successful reggae artists to take over their own production duties. But his spontaneous method of composing, and his unwillingness to compromise, made a home studio the natural choice. Although the trend of self-production as a whole has, at times, diluted the quality of music coming from isolated individuals poking at computer keyboards, Beres's little music room attracts a steady stream of Jamaica's most talented musicians.
"The room have a sound," he says of his simple but effective analog sound lab. "Some of them say it remind them of the old days at Channel One." Ace session bands like the Roots Radics, drummers like Sly Dunbar, hornsmen like Dean Fraser, and a variety of talented singers and deejays, both veterans and up-and-comers—all come to "hold a joy", play a game of Ludi, share a smoke and a laugh, and to make music together. "When they go in my studio, they don't want to come out," Beres explains with humorous understatement. But he knows all too well that the survival of classical reggae music depends on such oases of creativity. "We a try bring back the golden days of the Seventies, when reggae had the live drums and horn sections."
The rub-a-dub groove of his smash single "They Gonna Talk" (track two on Music Is Life) was recorded right there in the home studio by Flabba Holt and Style Scott of the legendary Roots Radics, whose riddims are clearly as powerful today as when they were the backing band for giants like Gregory Isaacs. No computer can rock quite as steady as these veteran musicians. "I personally don't believe in a whole heap of technology business," says Beres. "It's all about what you have to offer. As long as your vibes is there, that's what the people feel."
Beres's sophisticated musical taste is well suited to translate easily across cultural divides, yet the international reggae massive has remained his most loyal fan base. He did collaborate on Maxi Priest's first American hit, "How Can We Ease The Pain," in 1990. A brief encounter with Elektra Records in 1994 yielded the excellent but under-appreciated album In Control with its R&B-flavored single "No Disturb Sign."
In 2002, the album Music Is Life was nominated for the Grammy Award for Best Reggae Album. The album contained two of what would become Hammond's top songs, "Rock Away" and "They Gonna Talk." The album was supported by a sold-out concert at New York City's storied Hammerstein Ballroom at the Manhattan Center on April 21, 2001.
The album A Moment In Time, released in 2008, and One Love, One Life, released in 2014, respectively, topped the Billboard Reggae Albums chart, with "I Feel Good" and "In My Arms" becoming the standout tracks from each album. One Love, One Life was nominated for the 56th Grammy Award.
In 2018, the album Never Ending, debuted at number one on the Billboard Reggae Chart again and was also number one on iTunes Reggae Chart in the US, UK and Japan, lodging another hit song "My Kinda Girl" among his career standouts.
On February 28, 2021, Harmony House and VP Records presented Love From A Distance Live, a streaming event for Hammond's global fanbase during the COVID-19 pandemic quarantine. The event, featuring special guest appearances by Buju Banton, Marcia Griffiths, and Popcaan, drew over 120,000 viewers from around the world and resonated as one of the great achievements of his long and storied career.
THIRD WORLD
Celebrating 49 years, 'Reggae Ambassadors', THIRD WORLD is one of the longest-lived Reggae bands of all time, and one of Jamaica's most consistently popular crossover acts among international audiences. Mixing in elements of R&B, funk, pop, and rock and, later on, dancehall and rap, Third World's style has been described as "reggae-fusion".
With 9 Grammy nominations and catalogue of charted smash hits (including "Now That We Found Love", "96 Degrees in the Shade" and "Try Jah Love") spanning over four decades, sold-out tours, a vibrant and loyal fan base and inspirational messages, one may wonder, "Where did it all begin? What gives Third World the staying power so rare in the music industry?" Third World is more than just one of the top Reggae bands of all time, it is an institution that stands for producing and performing music that, while holding firm to the cultural and ancestral roots of its members, still pushes forward the cutting edge of music worldwide. It is an institution whose themes are positive, progressive and internationally relevant: an asset to any size festival / event.
Third World has performed to thousands of music fans on 6 of the 7 continents: TW toured & recorded with late great Bob Marley, including opening for Marley's first world tour in 1978, TW recorded and toured with master blaster Stevie Wonder, who produced 2 of their albums in the 80's released with CBS, they toured America with legendary guitarist Santana, opened for the Jackson 5's first concert in Jamaica, shared stages throughout the world with the U2, Sting, The Police, Whitney Houston, Wyclef Jean, Lauryn Hill, Jimmy Buffet, Eric Clapton, Marc Anthony, Gladys Knight, the Marley Brothers and more.
Third World's hit songs have reached top 40 on the Billboard charts in the US, UK, Europe and Japan and received a platinum award in Japan. In 1986, Third World received the United Nations Peace Medal for their contribution of music and their lyrical prose. They performed on the MTV Amnesty International Concert at a sold out Giant Stadium in 1986 , performed at the Rose Bowl with Quincy Jones, Stevie Wonder & Michael Jackson, Carnegie Hall, Madison Square Garden, the Welcome Home Nelson Mandala concert in 1990, and have been featured at major sporting events including the Lord's Cricket Grounds in the UK in 2000, and Opening Ceremony for Cricket World Cup in 2007, America's Cup Bermuda 2017. TW has entertained millions over the television with performances on the Tonight Show with Jay Leno, Late Night with David Letterman, Arsenio Hall Show, Soul Train, Top of the Pops, Shirley Bassie show and more! Third World has received the keys to the cities of Atlanta, Brooklyn, Atlantic City, Hartford and Key West. Additionally, the band has received accolades including multiple IRAWMA Awards, National Black Arts Excellence, Lifetime Achievement Awards from Reggae Sumfest, Jamaica Jazz & Blues, City of Miramar, Fl Icons and more.
Third World released a new studio LP, More Work To Be Done, August 2019, produced by Multi-Grammy winner, Damian "Jr Gong" Marley, the youngest son of the legendary Bob Marley, under the Ghetto Youth International imprint. The album has been nominated by the Recording Academy / Grammys for Best Reggae Album 2020.
Links: Official Website | Facebook | Instagram | Twitter | Spotify