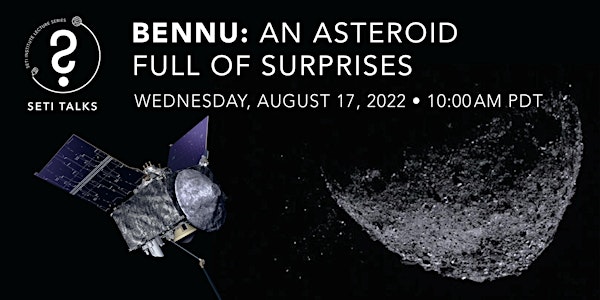 Bennu: An Asteroid Full of Surprises
A talk hosted by the SETI Institute.
About this event
Since arriving at the near-Earth asteroid Bennu, the NASA OSIRIS-REx mission has brought a wealth of observations of the near-Earth asteroid revealing at the same time a lot of surprises.
Bennu has proved to be consistently unpredictable. The OSIRIS-REx team found a rough surface littered with boulders instead of the smooth, sandy beach they had expected based on observations from Earth- and space-based telescopes. Researchers also discovered that Bennu was ejecting rock particles from its surface into space. Unusual, bright boulders on its surface seem to come from the main-belt asteroid, Vesta. And finally, a few weeks ago, measurements taken during the sampling collection revealed that the asteroid is so loosely packed and lightly bound to each other that if a person were to step onto the asteroid, they would feel very little resistance. Bennu may have the same internal structure as a Plastic Ball Pit.
To discuss the key results provided by OSIRIS-REx, we invited three scientists involved in the mission, the data analysis and interpretation of these data. Chrysa Avdellidou, Planetary scientist at the Nice Observatory in France; Erica Jawin, Postdoctoral Research Geologist at the Smithsonian National Air and Space Museum and Saverio Cambioni, EAPS Distinguished Fellow at MIT.
Together with moderator Franck Marchis, senior astronomer at the SETI Institute, the researchers will discuss how they have used data from OSIRIS-REx to revisit our understanding of small solar system bodies and will tell us how expectations about the asteroid's surface were largely wrong.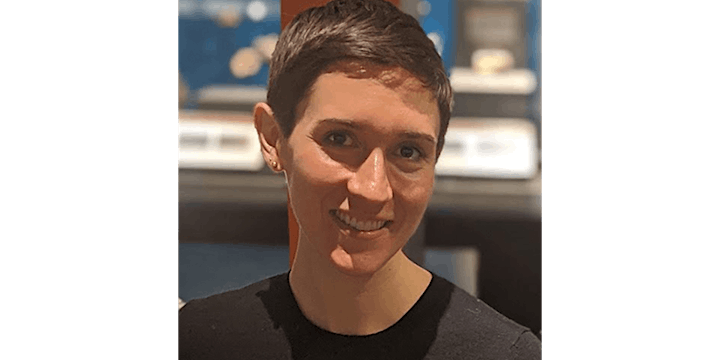 Dr. Erica Jawin is a Postdoctoral Research Geologist at the Smithsonian National Air and Space Museum. Her research broadly addresses surface processes operating on planetary bodies and how a body's interior, atmosphere, and changing orbit can shape its surface over time. Dr. Jawin earned her MS and PhD from Brown University and her BA from Mount Holyoke College. In 2018 Dr. Jawin joined the OSIRIS-REx mission to create the first global geologic map of Bennu and to study how mass movement has altered Bennu's surface over time. She is currently investigating the diversity of Bennu's boulders, which will help anticipate characteristics of the returned sample and help us better understand Bennu's parent body. Dr. Jawin also studies mid-latitude glaciation, polar processes on Mars, and explosive volcanism on the Moon and Mercury.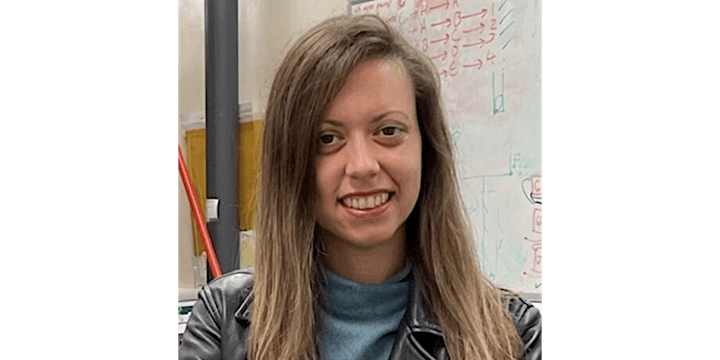 Dr. Chrysa Avdellidou is a planetary scientist the Nice Observatory in France. She studied Physics in Greece and obtained her PhD from the Impact Lab of the University of Kent in the UK. Her work focuses on small bodies, the building blocks of planets of our Solar System. In particular, she studies the impact processes in the Solar System, which are responsible for the formation of the small bodies, the formation of craters on planetary surfaces, material mixing, and material delivery to planets. She devotes a significant part of her work to meteoroid impacts on the Moon. To perform her research, she uses different methods, including laboratory experiments and spectroscopic observations. She is a European collaborator of the OSIRIS-REx sample return space mission.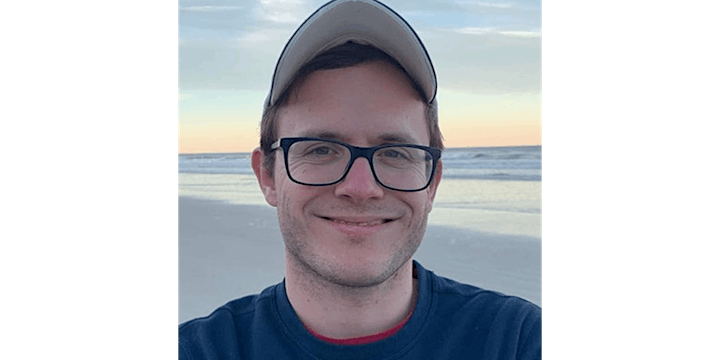 Dr. Saverio Cambioni (he/him) is the Crosby Distinguished Postdoctoral Fellow at the Department of Earth, Atmospheric and Planetary Sciences at the Massachusetts Institute of Technology (MIT). He earned his PhD in the Planetary Sciences at the Lunar and Planetary Laboratory of the University of Arizona, with a thesis on the application of machine learning to planetary sciences. He also holds a BSc and MSc in Aerospace and Space Engineering from Sapienza, University of Rome. After a period of postdoctoral research at Caltech, at MIT he is working on machine learning applied to the study of the geology of asteroids and the role of collisions in shaping the evolution of terrestrial planets and asteroids.
SETI Talks are presented to our audience at no cost and are supported by contributions from supporters like you. If you are interested in sponsoring a future SETI Talks, please email us at development@seti.org .
This SETI Talks will be online only and will not be live streamed on social media, please make sure to register for access to this event.