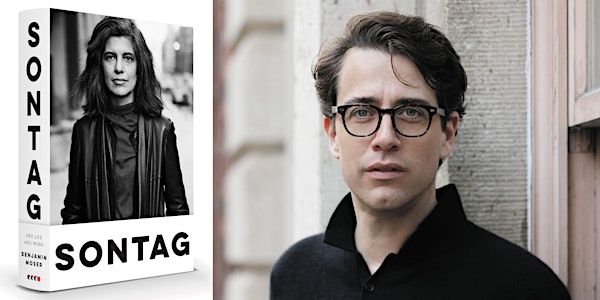 Benjamin Moser on Susan Sontag 9/25
When and where
Location
Coolidge Corner Theatre 290 Harvard St Brookline, MA 02446
Description
Every ticket includes 1 copy of Sontag: Her Life & Work.
Benjamin Moser will speak at the Coolidge Corner Theatre at 6:00pm on September 25th (ticket required). He will sign books afterward at Brookline Booksmith across the street. Please read the following information carefully before purchasing tickets:

TICKETS
You may pick up your copy of Sontag: Her Life & Work at Brookline Booksmith on the day of the event, or before the end of October 2019. We cannot accommodate early pick-ups.

Every attendee must have a ticket.
Present your on-screen or printed ticket at the Coolidge Corner Theatre for entry.
Tickets are valid until 5:55pm, at which point unfilled seats may go to the standby line, so arrive early!
In the case of a sold out event, a standby line will form at the Coolidge Corner Theatre. Standby tickets will be available for purchase on a first-come, first-served basis while supplies last.
Benjamin's talk will begin at 6:00pm.
The author will sign books afterward at Brookline Booksmith (across the street from the theatre).
All tickets are nonreturnable and nonrefundable.
OTHER NOTES
Further details and updates will be sent to ticketholders via email.
If you have a disability and require accommodation, please contact us at events@brooklinebooksmith.com.
--------------------------------------------------------------------------------------
The definitive portrait of one of the American Century's most towering intellectuals: her writing and her radical thought, her public activism and her hidden private face
No writer is as emblematic of the American twentieth century as Susan Sontag. Mythologized and misunderstood, lauded and loathed, a girl from the suburbs who became a proud symbol of cosmopolitanism, Sontag left a legacy of writing on art and politics, feminism and homosexuality, celebrity and style, medicine and drugs, radicalism and Fascism and Freudianism and Communism and Americanism, that forms an indispensable key to modern culture. She was there when the Cuban Revolution began, and when the Berlin Wall came down; in Vietnam under American bombardment, in wartime Israel, in besieged Sarajevo. She was in New York when artists tried to resist the tug of money—and when many gave in. No writer negotiated as many worlds; no serious writer had as many glamorous lovers. Sontag tells these stories and examines the work upon which her reputation was based. It explores the agonizing insecurity behind the formidable public face: the broken relationships, the struggles with her sexuality, that animated—and undermined—her writing. And it shows her attempts to respond to the cruelties and absurdities of a country that had lost its way, and her conviction that fidelity to high culture was an activism of its own.
Utilizing hundreds of interviews conducted from Maui to Stockholm and from London to Sarajevo, Sontag is the first book based on the writer's restricted archives, and on access to many people who have never before spoken about Sontag, including Annie Leibovitz. It is a definitive portrait—a great American novel in the form of a biography.
Benjamin Moser is the author of Why This World: A Biography of Clarice Lispector, a finalist for the National Book Critics Circle Award; his work bringing Clarice Lispector to international prominence was recognized with Brazil's State Prize for Cultural Diplomacy. He has published translations from several languages, received a Guggenheim Fellowship, and worked as a books columnist for Harper's Magazine and the New York Times Book Review. He lives in the Netherlands and France.
Author photo credit: Beowulf Sheehan