Benicia Mini Maker Faire 2017

Sunday, April 2, 2017 from 10:00 AM to 4:00 PM (PDT)
Event Details
Benicia Mini Maker Faire is a family friendly hand-on extravaganza for all ages. Bring the whole family for a day of cool projects, workshops, beautiful crafts, great food, music and more.  All on the beautiful Benicia Middle School campus in Benicia, CA.  
For more information visit, http://beniciamakerfaire.com.
Questions? Email us at makerfaire@beniciamakerspace.com
Rain or Shine. No Refunds/Exchanges. Tickets cannot be replaced.
What day(s) and hour(s) will Benicia Mini Maker Faire be open to the public? 
Sunday April 2, 2017 from 10am to 4pm.
Who qualifies for the Child ticket?
If you are under 18 you can register at that rate. Kids 4 and under do not need a ticket.
What is included in the ticket price?
The ticket gets you in the door, where there'll be plenty to do with the various exhibits, workshops, musical performances, and general merriment. You may drop a few more dollars once you're inside, though, if you buy food, crafts or DIY kits. Those are extra.
Where is the list of exhibitors and activities?
See http://beniciamakerfaire.com for now; we will add a program with a full list a few weeks before the event.
Where can I park? 
We will have limited parking including handicap spaces in the school lot and additional parking across the street in the Baptist church parking lot.
Is public transportation available? 
Yes. You can take SolTrans. http://www.soltransride.com/

Will you have bike parking? 
Yes. We encourage bike riders and will have secure valet parking for your bikes at the entrance to the Middle School.
Can I volunteer at the Mini Maker Faire? 
Yes!!! We need all the help we can get. Please see http://beniciamakerfaire.com for details on how to get involved.
Can I exhibit at the Mini Maker Faire?
Yes! We have booths available for non-profits, individuals and commercial entities. Commercial booths will need to pay $200. Please submit your ideas by using this form.
What if it rains? 
The show will go on! Bring rain gear to keep you dry when walking outdoors. Fortunately, we will have many indoor exhibits to keep the family dry.
What can I expect?
To have a fantastic time! You'll be surprised and intrigued with every corner that you turn.
Rain or Shine. No Refunds/Exchanges. Tickets cannot be replaced.
 
Benicia Mini Maker Faire is independently organized and operated under license from Maker Media, Inc.
I understand that by registering here,  Maker Media may provide me with updates and information about Maker Faires, other events, and products of interest to the maker community.  I understand that I may opt out of these communications at any time. As this is a public event, your image may be recorded in pictures or video and may be used to promote Benicia Mini Maker Faire. If you see an image of yourself or your family that you would like removed from our site, please let us know and we will make every attempt to delete it. 
When & Where

Benicia Middle School
1100 Southampton Rd
Benicia, CA 94510


Sunday, April 2, 2017 from 10:00 AM to 4:00 PM (PDT)
Add to my calendar
Organizer
About Benicia Makerspace: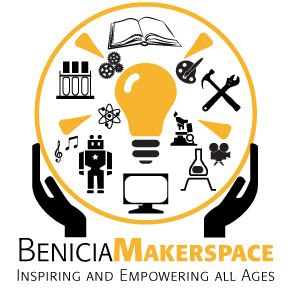 Benicia Makerspace is a place where people can learn, collaborate, invent, prototype and test new ideas using state of the art equipment. We offer monthly and annual memberships which provide 24/7 access to tools, equipment and training. We are a IRS tax-exempt 501(c)(3), incorporated in California as a Non-Profit Corporation. Our members enjoy working and tinkering in a community shop where individuals and entrepreneurs can come together to make things, use shared equipment, learn new skills, and incubate new business ideas. Areas of interest include, but are not limited to, 3D printing, electric vehicles, alternative energy, sustainability, resource conservation, robotics, arduino, raspberry pi, woodworking, and metalworking.
About Maker Faire:
Maker Faire is the Greatest Show (and Tell) on Earth—a family-friendly showcase of invention, creativity and resourcefulness, and a celebration of the Maker Movement. It's a place where people show what they are making, and share what they are learning.
Makers range from tech enthusiasts to crafters to homesteaders to scientists to garage tinkerers. They are of all ages and backgrounds. The aim of Maker Faire is to entertain, inform, connect and grow this community.

The original Maker Faire event was held in San Mateo, CA and in 2015 celebrated its tenth annual show with some 1100+ makers and 145,000 people in attendance. World Maker Faire New York, the other flagship event, has grown in four years to 600+ makers and 80,000 attendees. Detroit, Kansas City, Atlanta, Milwaukee, Orlando, Pittsburgh, San Diego, Silver Spring, Ottawa, Lisbon, Paris, Rome, Berlin, Newcastle, Hannover, Oslo, Trondheim, Seoul, Singapore, Taipei, Tokyo, and Shenzhen are the home of larger-scale, "featured" Maker Faires. In addition, over 120 community-driven, independently organized Mini Maker Faires are now being produced around the United States and the world—including right here in Benicia.
Maker Faire is supported by Make: magazine and Maker Media.
About Make: Magazine: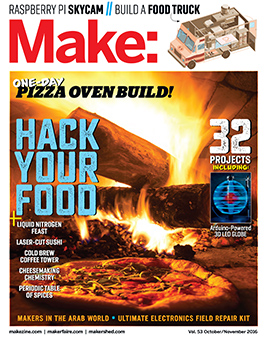 Make: is the first magazine devoted entirely to Do-It-Yourself (DIY) technology projects.
Make: unites, inspires, informs, and entertains a growing community of resourceful people who undertake amazing projects in their backyards, basements, and garages. Make: celebrates your right to tweak, hack, and bend any technology to your will.
Besides the magazine and the faire, Make: and Maker Media is: