Benghazi to Boston: Coming to America - June 12 Conference

Wednesday, June 12, 2013 from 5:00 PM to 9:00 PM (EDT)
Event Details
United States Intelligence Council (co-sponsors)
invite you to the Freedom Leadership Conference
featuring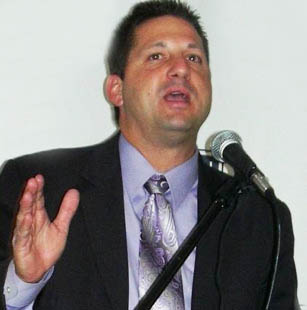 Counterterrorism Expert John Guandolo

keynote speaker:
Benghazi to Boston: Coming to America
"How those who hate us plan to win and what we can do
to defend America and freedom from Jihad/Sharia"
keynote remarks on
Wed., June 12, 2013
5 PM Dinner (Leadership Council for Members only with advance RSVP)

Asian Delight Restaurant
11180 Fairfax Blvd., Fairfax, VA 22030
for Members only (with advance RSVP)
(dinner Family Style with choice of soup, low carb version of Cashew Chicken & noodles, Chicken lo mein, Beef Brocolli, Pork with Garlic Sauce, Sauted String Beans, Chinese Tea, Iced Water)

and/or
7 PM Coffee & Desert Reception & Conference
(Members & Provisional Members only with advance RSVP; adjourns 9 PM)
 at the Office of John Medaris, Exit-Advantage Realty

11130 Fairfax Blvd., Suite 110, Fairfax, VA 22030
Conference includes presentation of the "Saul Alinsky Smear Conservatives" award
(nominations may be made to LeftSmear@FreedomLeadershipConference.org)

Please RSVP
Wars in Afghanistan and Iraq, violent jihad in the Middle East and to seize the mineral rich region of Northern Africa and killing American officials in Benghazi on 9/11/12, are not the only threats to the future of freedom for America and the world.
The June 12 keynote speaker has spent his career studying and designing battleplans to defend America from the global Islamic movement's total war against America and western civilization.  He will give a 14 minute summary of the threat and what we can do and then take time to go in depth, for the June 12 Freedom Leadership Conference in Northern Virginia.
About Conference Keynote Speaker John Guandolo
*former Counterterrorism Division of FBI's DC Field Office focused on Muslim Brotherhood, Islamic Doctrine, the global Islamic Movement and terrorist organizations including Hamas, Al Qaeda and others.
*implemented the FBI's first Counterterrorism Training/Education Program
*former Marine Platoon Commander
*former Unit Leader for CINC's "In-Extremis Force"
*former combat diver, military freefall parachutist, U.S. Army Ranger School
*at FBI earned 2 United States Attorney's Awards for Investigative Excellence
*at FBI earned "Defender of the Homeland" Award by Senators Kyl and Lieberman
*With Guandolo Associates LLC, he advises governments (U.S. and others), the intelligence community, military, National Guard, key community leaders & others on matters relating to national security and the threat from the global Islamic Movement.
*a frequent guest on TV and radio and his articles appear in various outlets.
The Freedom Leadership Conference is by invitation only and for Provisional (temporary) Members & Members.  The dinner is reserved for those Conference Members who would like to be on the Leadership Council for a more private meeting with other key conservative leaders & with the conference keynote speaker.
You may also OPT IN as a subscriber just to be kept informed (the text & video of speakers is posted at the website and a bulletin/link is sent to subscribers & members after via the conference FREEDOM JOURNAL email).  The donation requested at the door may be waived on request.  We do not admit those without an advance RSVP.  To request information about joining as a provisional member write RSVP@FreedomLeadershipConference.org.
Please visit the conference website for additional information, including text and videos of previous speaker remarks, Freedom Leadership Conference.
Inquiries welcome for future conference sponsorship (there is no fee or required donation whatsoever), write RSVP@FreedomLeadershipConference.org.  Schedule for the year (subject to change):
7/17/13 American Border Control (Topic: Illegal Immigration)(venue confirmed)
8/21/13 Available (sponsor to be selected, venue confirmed)
9/11/13 U.S. Intelligence Council (China CyberThreat & Movie, Free China: The Courage to Believe)
10/17/13 Thomas Jefferson Institute (Keynote: Michael Thompson)(venue confirmed)
11/12/13 Uniformed Services League (Topic: Save our Servicemen Rally)(venue reserved)
12/5/13 Available (sponsor, exact date & venue to be selected)
For our statement of principles see http://ThurmontStatement.org

When & Where

Exit-Advantage Realty (John Medaris)
11130 Fairfax Boulevard
Fairfax, VA 22030


Wednesday, June 12, 2013 from 5:00 PM to 9:00 PM (EDT)
Add to my calendar
Organizer
The Freedom Leadership Conference, now in its 18th year, started on the west coast as the Western Conservative Conference and after three years moved east.  In late 2012 the conference started a one year, quarterly series, meeting weeknights in northern Virginia, and sponsored four or more times a year by one or two conservative organization which provides the keynote speaker.   The usual conference agenda is: doors open (networking opportunity) at 6:30 PM, begins promptly at 7:00 PM and adjourns at 9 PM.  Many (but not all) of the conferences are preceded by a dinner with the speaker(s) and conference leadership starting 5:30 PM, with with doors open at 5:00 PM with advance RSVP and payment required (our food vendor requires advance payment). 
FLC is a project of USPPC, recognized by IRS as a 501/c/4 non-profit, so your donation is not tax deductible.
The Freedom Center Foundation, an original Primary Sponsor of the Freedom Leadership Conference nearly 20 years ago, continues to assist in organizing and funding the new monthly conference series.
Further information, http://FreedomLeadershipConference.org or write Info@FreedomLeadershipConference.org.
To SUBSCRIBE to the complementary Freedom Digest email newsletter or to send Application for  Membership (includes free newsletter) click HERE.