Benevolent Dinner - THE JOURNEY OF "COMPASSION IN ACTION" IN NEW YORK CITY with The 17th Gyalwang Karmapa, Ogyen Trinley Dorje 「慈悲・愛・行動」 感恩晚宴 - 感恩再相聚 分享慈悲愛 - 紐約之旅

Friday, June 1, 2018 from 5:30 PM to 8:30 PM (EDT)
Event Details
THE JOURNEY OF "COMPASSION IN ACTION" IN NEW YORK CITY, USA 

"Benevolent Dinner" with The 17th Gyalwang Karmapa, Ogyen Trinley Dorje at Riverside Church
「慈悲・愛

・

行動」紐約之旅  感恩晚宴 與法王一起共享晚宴
Date: June 1, 2018
Time: Dinner begins at 5:30pm to 8:30pm
Location: G/F South Hall, The Riverside Church, 490 Riverside Drive, New York, NY10027, USA 
日期:2018年6月1日
時間:晚宴由下午5:30至晚上8:30
地點:美國紐約市河濱大道490 號 河濱教堂 地下南廳  


---
2018.05.29-31 
"Compassion in Action" THE 37 PRACTICES OF A BODHISATTVA & Vajrasattva Empowerment
<慈悲愛行動> 佛子行三十七頌 、金剛薩埵灌頂 

3 Day Teaching & Empowerment Tickets 3天課程及灌頂法會門票
Details & ticketing 詳情及網上訂票 :https://hhk-compassion-in-action-2018.eventbrite.com
---
About the 17th Gyalwang Karmapa
His Holiness the 17th Gyalwang Karmapa, Ogyen Trinley Dorje, is the head of the 900-year-old Karma Kagyu Lineage.  Currently 32 years old, the Karmapa resides in his temporary home at Gyuto Monastery in India after making a dramatic escape from Tibet in the year 2000.  Traveling the world, the Karmapa skillfully teaches traditional Tibetan Buddhist Dharma while also advocating topics such as environmental conservation, feminism, digitization of the Dharma, and much more. To learn more, visit http://kagyuoffice.org/ (maintained by his office of administration)    
有關第十七世大寶法王 
第十七世大寶法王噶瑪巴鄔金欽列多傑 (1985- ) 是有九百多年歷史,藏傳佛教噶瑪迦珠傳承的最高領袖。法王現年32歲,在 2000年離開西藏後一直暫居印度達姆薩拉之上密院。近年法王遊歷歐美多個國家,除弘揚傳統佛法教義外,也積極推動保護環境、保障女權、佛典數碼化等項目。 要知更多,請瀏覽法王之中文官方網站 https://kagyuoffice.org.tw
---
Terms and Conditions 活動細則:   
Ticket and donation are non-refundable  

門票及隨喜供養不設退款

This is a vegetarian meal 此乃素食晚宴

Half price for children age 12 and below 十二歲以下孩童半價


Security check begins at 4:00pm, door opens at 4:30pm. 下午4:00安檢開始,下午4:30可進場




Registration starts from 8:00 AM (EDT) / 8:00 PM (HKT) on Friday, 11 May 2018 




全球公開售票時間為 2018年5月11日(星期五)晚上八點  (香港時間) / 早上八點 (纽約/美東時間) 

Due to limited seats, the tickets are available on a first come, first served basis. 
由於坐位有限,門票是以先到先得為準

Without a ticket, access will not be granted. So please do not forget to print out your ticket or bring it with you on your smartphone 




憑票入場,請將門票列印或儲存在手機內

Photos and videos will be taken during the event 

活動進行期間,將有工作人員拍攝及錄影

Photo taking, video and

 sound recording are strictly prohibited by unauthorized personnel




未經主辦單位批准,任何人仕不得在活動進行期間攝影、錄音及錄像

 

Take good care of personal belongings during the event.  The organizer is not responsible for any damage or loss items


在活動進行期間,請小心保管個人財物。對任何物品之損壞及遺失主辦單位恕不負責

The organizer reserves all rights for any change about the event and the right of making final

 decision in case of any dispute 




主辦單位保留一切更改本活動安排之權利。如有任何爭議,主辦單位保留最終決定權

All participants must follow the rules and regulations set forth by the event organizers. The organizer reserves the right to take any necessary action against those that cause a disturbance during the event.
所有參加者均需遵守主辦單位定下的規則。

在場內外發生任何騷擾的情況下,

主辦單位保留採取應有措施的所有權利
---
FAQs 常見問題解答
Q: Is my ticket transferable?  門票可以轉讓嗎? 
A: Tickets are transferable   可以轉讓

Q: What is the Refund Policy?  退款政策是如何? 
A: No refund 不能退款
Q: What can I bring to the event? 能隨身攜帶什麼來會場? 
A: Only one small bag per person is allowed 每人只准帶一個小包
Q: How to purchase a ticket online without registering for a PayPal account? 沒有PayPal戶口可以線上買門票嗎?A: You can pay by credit card (Union Pay Credit card/Visa/Master/AE/Discover) without a PayPal account and without registering with PayPal.
Steps: Press "Checkout" > fill in your info and press "Check out with PayPal" > Select Country (referring where the credit card being issued) > Select "Pay with Debit or Credit Card" 你可用銀聯信用卡/VISA/萬事達/美國運通/Discover卡線上購買門票,而不用註冊或登入PayPal。
步驟:按「Checkout」> 填寫個人資料 > 按「Check out with PayPal」> 選擇信用卡發卡國家 > 按「使用借記卡或信用卡付款」(如圖)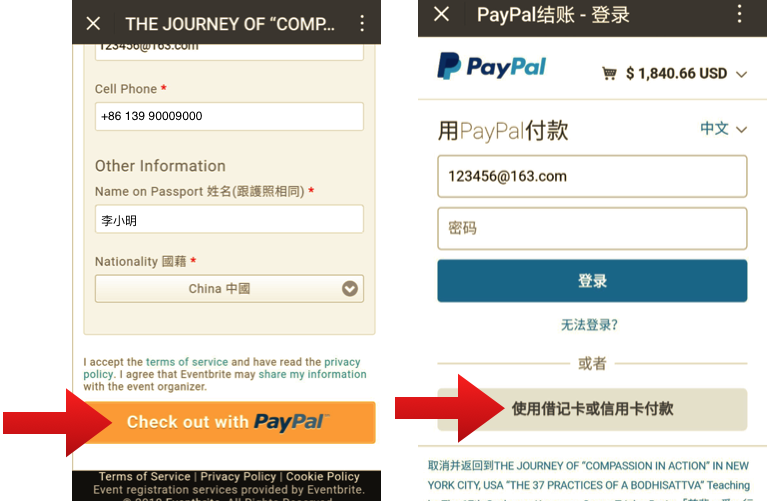 Q: How can I contact the organizer with any questions? 如何聯繫主辦單位提出問題?
A: For questions and enquiries, please email to : 如有問題或查詢,請電郵:    
 [Asia亞洲聯絡]  kkf.hk08@gmail.com
 [US & Canada美加聯絡]  programs@kagyu.org
(*We will respond emails with questions not covered above  *我們將回覆查詢以上未涵蓋的問題的電子郵件)
When & Where

G/F, South Hall, The Riverside Church
490 Riverside Drive
河濱教堂‭ - ‬美國紐約市河濱大道490‭‬號地下南廳
New York, NY 10027


Friday, June 1, 2018 from 5:30 PM to 8:30 PM (EDT)
Add to my calendar
Organizer
Karmapa Khyenno Foundation (KKF)
噶瑪巴千諾基金會是由尊聖十七世大寶法王及法王行政辦公室在2008年授權成立於香港的慈善機構。 基金會的主要目的是作為服務尊聖十七世大寶法王佛行事業的平台,令大衆佛弟子更能夠感受到法王深見及廣行的弘法利生事業。 我們將會聯同所有香港及澳門噶舉佛法中心及眾多弟子們,一起用行動來實踐法王希望為廣大有情眾生帶來利益和快樂的心願。當中包括法王教言宣揚、還有關於社會服務、環保護生等, 這些與佛陀教法一致的行誼。
Karmapa Khyenno Foundation was founded in 2008 under the auspices of His Holiness the 17th Karmapa, Ogyen Trinley Dorje and the Karmapa Office of Administration, the Tsurphu Labrang. We are a registered non-profit charitable organization in Hong Kong. Our main goal is to act as a platform of service to His Holiness the 17th Karmapa and to bring more awareness to this part of the world, of His presence and the vastness and multitude of His beneficial activities. We will put into action, with the help of the Kagyu community in Hong Kong and Macao, and to realize some of the aspirations and hopes of His Holiness for the well being and happiness of this world, by way of teaching and in areas of social and environmental responsibilities, these actions being in accord with the teachings of the Lord Buddha.

www.kk-foundation.org 
www.facebook.com/pg/噶瑪巴千諾基金會-Karmapa-Khyenno-Foundation-562264530504948

Karmapa Triyana Dharmachakra (KTD)