Benefit Dinner: Support ARC in Rescuing Missing and Abducted Children

Saturday, September 16, 2017 from 6:00 PM to 10:00 PM (MDT)
Event Details
AN EVENING WITH ARC 
You are invited to a BENEFIT DINNER for ARC - The Association for the Recovery of Children
HELP RESCUE missing, exploited and trafficked American children 
---
Enjoy this inspiring evening with Bazzel Baz, Founder of ARC, live music and dinner in beautiful Boulder County, Colorado. 

ABOUT THE ASSOCIATION FOR THE RECOVERY OF CHILDREN - ARC



ARC (Association for the Recovery of Children) is a non-profit, under-the-radar organization comprised of former intelligence officers and special operators who rescue missing, abducted, and exploited American children in domestic and foreign locations. ARC's all-encompassing child recovery program comes at no cost to the custodial parents. WE DON'T COME HOME WITHOUT THE CHILD.
---
EVENT INFORMATION:
DAY/TIME: Saturday, September 16, 2017 from 6:00 pm to 10:00 pm

LOCATION: Beautiful Boulder County, CO. (email info@recoveryofchildren.com for details)
FREE WILL DONATIONS are welcome and encouraged.  There is no cost for admission.
ATTIRE: Casual
YES, DONATIONS ARE TAX-DEDUCTIBLE: 
All donations to ARC are tax deductible.  ARC is a 501(c)(3) non-profit organization Tax ID 68-0650925.
Donations are accepted by credit card, cash or check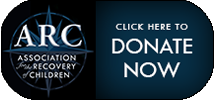 HOW WILL THE FUNDS BE USED BY ARC?  
All funds are used directly for operational expenses for rescue missions. ARC team members are not paid a salary at any time. Monitoring and oversight of all donations and financing is in accordance with IRS standards performed by Teshima and Company Accountants, 2213 W. 190th Street Torrance, CA. 90504.
HELP FUND RESCUE MISSIONS TO SAVE CHILDREN:  ARC is currently working on 40 open cases of abducted or missing children. ARC provides all-encompassing child recovery services at no cost to the custodial guardians and with no salary to its operators.  Recovery operations are funded entirely by private donations.
ARC's sense of urgency rests in the fact that trafficked/abducted American children who are not rescued literally die each day at the hands of their exploiters.  This horrific situation is one that no child should have to endure, the threat of death…rape…mental abuse, the fear of being left alone, and the perception that no one cares.  Your donations as a financial partner with ARC operations allow us to go into the most dangerous regions of the country and the world where no other NGOs or government entities will travel, and change that situation so that every American child knows that we are prepared to lay down our lives to save them.
Each minute, each hour, each day without your financial support is a day a child suffers. Together, we can  make a difference and bring them home. 

Nearly 800,000 children are missing each year in the US.  2,300 children each day are reported missing. 

ARC's SUCCESSES:  ARC has a 20-plus year history and a 100% success rate in recovering missing American children.  Their motto is "We don't come home without the child."  To date ARC has rescued more than 70 children and reunited them with their custodial parents.   

ARC's OPERATIONS:  ARC's methods are proven to be more effective in locating and recovering children than current local, state, federal and international investigative procedures.  ARC's team of operators and intelligence-gatherers come from the CIA, FBI, Military Special Forces, other government agencies, private agencies and law enforcement.

WHAT ARE THE COSTS TO RECOVER A CHILD? The expenses of each child recovery operation are as unique as the respective circumstances, necessary expertise and the demands. On average, ARC operations in the field do not exceed 10 days. The ability to recover a child at this rate depends on the successful completion of critical research and analysis beforehand. Costs of rescue operations vary dramatically depending on the child's location in the world, travel expenses, duration of the rescue operation, how many operators are needed, what equipment is needed, etc.

BUDGET INCLUDES: 

● Investigations ● Communications ● Operations ● Custodial parental support
● Field operations, domestic and abroad ● Support services ● Travel ● Lodging ● Vehicles ● International network ● Training ● Management and administration ● Community outreach ● Systems and software ● Office lease and expenses ● Cyber safety.  RESEARCH and INVESTIGATION The preparatory work that leads to locating and successfully recovering a child varies in costs, particularly when an abductor is moving the child from one location to another.
---
For details please contact us at info@recoveryofchildren.co

m. For information about ARC see 

RecoveryofChildren.org

.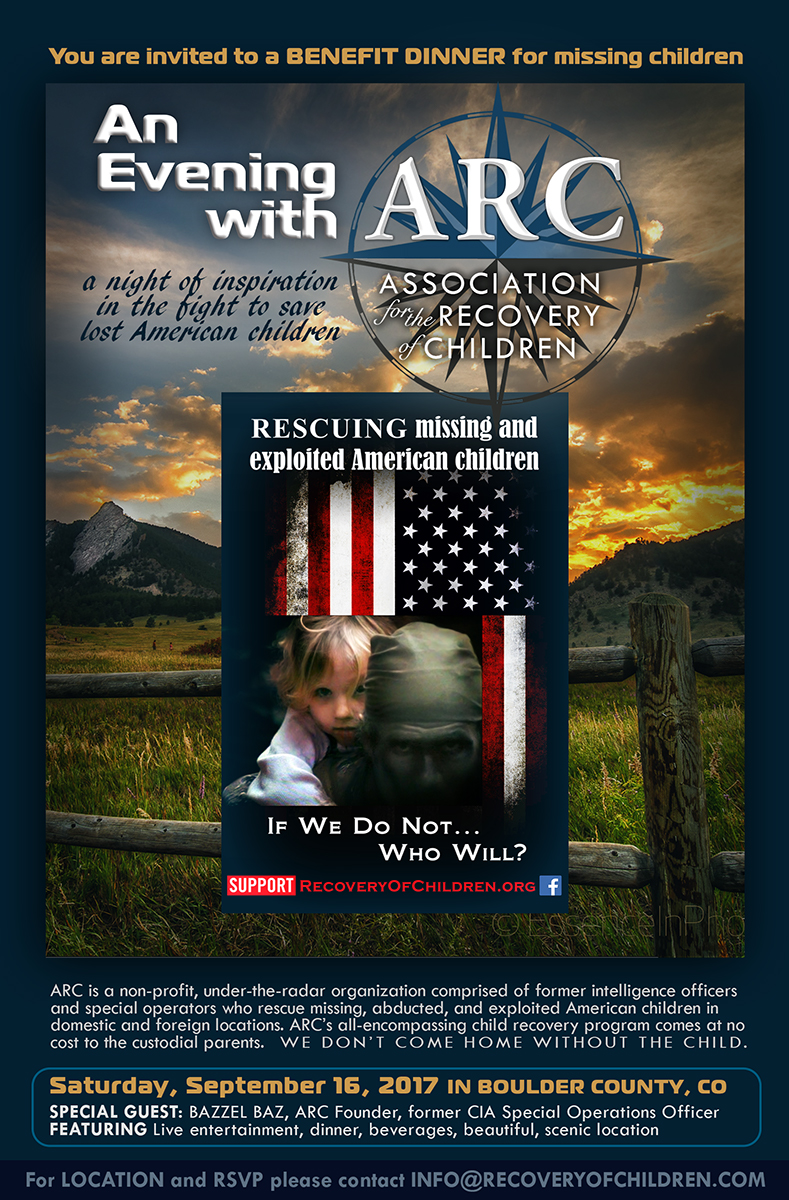 When & Where

SUNRISE EAGLE RANCH
2025 S 104th Street
Broomfield, CO 80020


Saturday, September 16, 2017 from 6:00 PM to 10:00 PM (MDT)
Add to my calendar
Organizer
Maggi Kelly: Real Estate Professional and Volunteer Event Coordinator for ARC; Tina Paulson: Program Director and Legislative Liason for ARC
Benefit Dinner: Support ARC in Rescuing Missing and Abducted Children