About this Event
Will call patrons must present photo ID at the door.
Doors and box office open at 6PM on show nights.
When box office is closed tickets may be purchased at the front desk of the Graduate Athens Hotel.
Purchasing a reserved table will produce one ticket for the event. Tables may include admission for 2 or 4 persons. See ticket descriptions for details.
Steven Weaver, husband of Olivia Weaver, new dad to Will Weaver was diagnosed about 8 months ago with stage 4 gastroesophageal cancer. The devastating news came alongside a new baby, a new home and a total life change including chemo treatments and countless doctor appointments. Our goal is to help in lightening the load for the Weavers.
Box Of Rawks was formed early fall of 2017 in Madison, Ga. out of a long time relationship of two friends Paul Reid, guitarist and Ben Ponder, vocals. The two used to be in a band together back in the late 70's and had discussed the possibility, one day, of starting a new band and put a blues/rock spin on it. They are joined by Bob White on bass guitar and Chris Butts on drums. Later on that same year Ben asked long time friend Sheilah Boulton, a trained opera vocalist, about the possibility of singing back up. Sheilah, a woman of many talents, also provides some extra percussion to enhance the overall sound of Box Of Rawks. Box Of Rawks cover tunes by some of their favorite performers such as Robin Trower, Stevie Ray Vaughn, Jimi Hendrix, Tinsley Ellis, Mountain, and ZZ Top.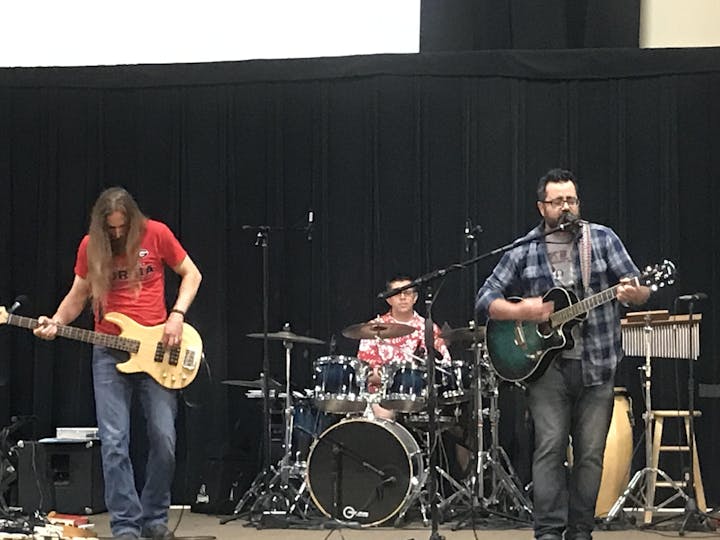 Cinco Bandito consists of 4 musicians from in and around the Athens area that come from diverse musical backgrounds. Michael Key, bassist, Michael De Lorenzo, guitarist, Steve Gibson, drums, and John Malutinok, guitar have all grown up playing in different bands at one time or another. They will entertain you with their own style of originals. So who is the 5th bandito you might ask? Lets just say they are being carried along by HIM.