Bending Toward Justice: Annual Day of Prayer and Reflection
Join us as we pray and discern the work of justice in this time, in this place.
When and where
Location
All Saints Episcopal Church 7 Woodbridge Street South Hadley, MA 01075
About this event
Bending Toward Justice: Annual Day of Prayer and Discernment
Sponsored by the Social Justice Commission of the Diocese of Western Massachusetts
Come, meet others who are passionate about the issues.
Listen to the Word and discern how the Spirit is calling the Church to action.
SCHEDULE
9:00 AM Registration opens; Coffee, etc., available in the Parish Hall
9:30 AM Eucharist in the sanctuary; The Rt. Rev. Douglas J. Fisher, presiding
10:30 AM Keynote Address given by the Right Reverend Jennifer Baskerville-Burrows via Zoom
12:00 PM Lunch
1:00 PM Affinity Groups 1
2:00 PM Affinity Groups 2
2:50 PM Renewal of our Baptismal Vows
Keynote: The Right Reverend Jennifer Baskerville-Burrows
via Zoom
 Bishop Jennifer Baskerville-Burrows, a native of New York City, holds a bachelor's degree in architecture with a minor in urban studies from Smith College, an M.A. in historic preservation planning from Cornell University, and an M.Div. degree from Church Divinity School of the Pacific (CDSP) in 1997. Before being elected bishop in 2016, she served in the Dioceses of Newark, Central New York and Chicago. She is the first black woman to be elected a diocesan bishop in the Episcopal Church.
Bishop Jennifer's expertise includes historic preservation of religious buildings, stewardship and development, race and class reconciliation, and spiritual direction. She is an accomplished distance runner and triathlete and a passionate chef and baker. She and her husband, Harrison Burrows, are parents to Timothy.
A defining experience of her ministry came when she found herself near the World Trade Center the morning of September 11, 2001. In the midst of a fearful situation, her own faith and that of others who sought shelter alongside her gave her a renewed perspective of faith vanquishing fear. "The Episcopal Church teaches me that the world is filled with incredible beauty and unspeakable pain and that God is deeply in the midst of it all loving us fiercely," she says.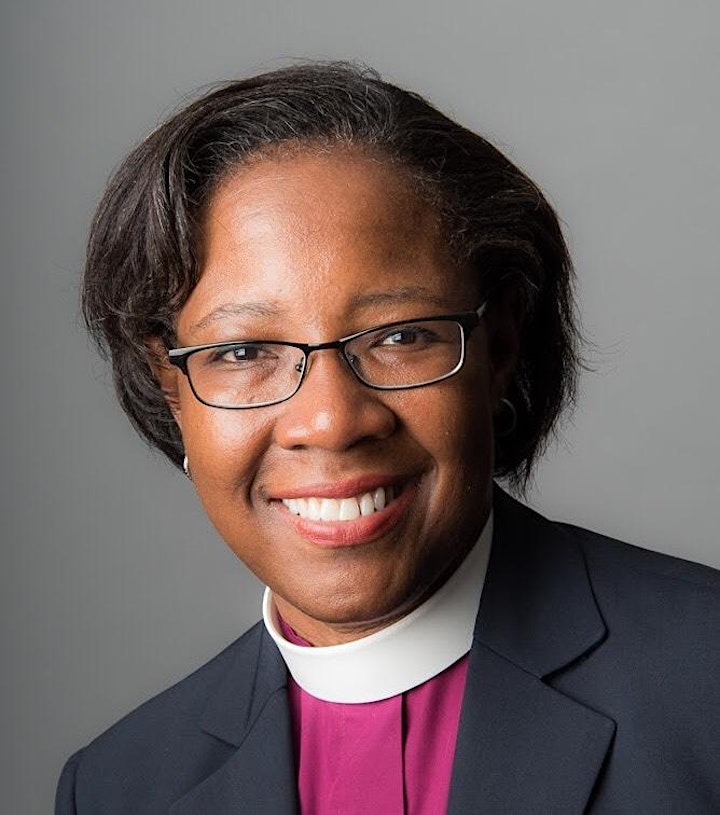 Registration
Please have your credit card handy before you begin registration
Cost is $15, but if you need assistance, please contact the Chair of the SJC, Leah Gregg
Refund Policy
Cancellation before registration closes is easy. Just let us know and we will return the fee to your credit card.
If you cancel after registration has closed, we cannot change our commitment to our vendors. We will take your name and number so that the staff member organizing the event can call you at the beginning of the following week to determine if a refund is in order.
We hope having the policy stated will make it easier for all concerned, and help us to be good stewards of diocesan resources as we plan and execute events.