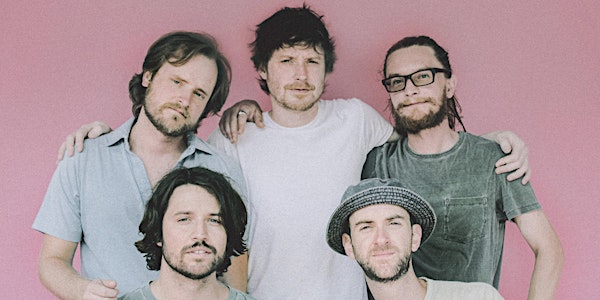 Bendigo Fletcher
Bendigo Fletcher live in the 9th Ward
When and where
Location
The 9th Ward at Babeville 341 Delaware Avenue Buffalo, NY 14202
About this event
The full-length debut from Bendigo Fletcher, Fits of Laughter is a collection of moments both enchanted and mundane, sorrowful and ecstatic: basking in the beauty of a glorious lightning storm, waking with a strand of your beloved's hair happily caught in your mouth, drinking malt liquor while bingeing "The X-Files" on a lonesome Saturday night. As lead songwriter for the Louisville, KY-based band, frontman Ryan Anderson crafts the patchwork poetry of his lyrics by serenely observing the world around him, often while working his grocery-store day job or walking aimlessly in nature (a practice partly borrowed from the late poet Mary Oliver). When matched with Bendigo Fletcher's gorgeously jangly collision of country and folk-rock and dreamy psychedelia, the result is a batch of story-songs graced with so much raw humanity, wildly offbeat humor, and a transcendent sense of wonder.
True to its spirit of purposeful wandering, Fits of Laughter unfolds in a wayward yet lushly detailed sound, embroidered with everything from crystalline harmonies to blistering guitar riffs to heady drum-machine beats. For help in forging the album's ragged elegance, Bendigo Fletcher worked with producer Ken Coomer (the original drummer for Wilco and Uncle Tupelo), whom Anderson met in a flash of strange serendipity. Soon after he'd connected with Coomer via phone and bonded over a shared affection for Pink Floyd's Obscured by Clouds, the band headed to Nashville to record in Coomer's Cartoon Moon Studio, laying down the album's eight songs in nine frenetic days.
As Bendigo Fletcher's first time working with an outside producer, Fits of Laughter draws much of its freewheeling energy from the deliberately unfussy nature of their recording sessions. "Going into working with Ken, we felt confident that we wanted to retain the jangly sweetness of the music we've made in the past," says Anderson, who created Bendigo Fletcher's 2015 debut EP Consensual Wisdom on his own and later filled out the band's lineup in a process he describes as "a gradual adding of members who are all natural friends." "There's loose ends and missed beats that we didn't intend to make happen, but those moments always feel really special when they're resolved—it sounds like a band actually playing together," he adds. At the same time, Fits of Laughter bears an undeniable immediacy, thanks in part to the band's decision to limit the tracklist to eight essential songs (a move largely inspired by extraordinarily lean and iconic albums like Television's Marquee Moon).
In sharing Fits of Laughter with the world, the band hopes to guide listeners toward a deeper trust in their own intuition and instinct. "There's always going to be other people's opinions and judgments and ideas on how to live, and more often than not, those ideas come from a place of love" says Anderson. "But ultimately every person knows what truth feels like, as opposed to artifice or putting up walls to get through something you feel you're expected to do. I suppose these songs are sort of my offering to others, to encourage them to look for that feeling in their own lives, and then follow through on it."
----------------------
Please Note: This event will be presented in accordance with applicable public health requirements and considerations as of the date of the event; which could include changes to capacity, attendance prerequisites, procedures, and other protective measures per government and venue policies. Currently we recommend masks, especially if unvaccinated.