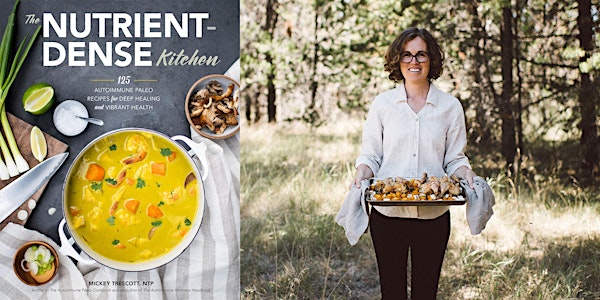 BEND, OR: The Nutrient-Dense Kitchen TALK & SIGNING with Mickey Trescott
When and where
Location
Natural Grocers 3188 North Highway 97 Bend, OR 97701
Description
Join Mickey Trescott at Natural Grocers for a talk, Q and A session, and book signing event! Mickey will be giving a 30-minute talk on the concept of nutrient density before taking questions and signing books.
In her new book The Nutrient-Dense Kitchen, Mickey teaches you everything you need to know about eating like a nutrivore. Youll start with a comprehensive tour of nutrients that are essential for both optimal health and deep healing, with handy charts to help you identify which foods contain them in varying amounts. Youll also get an overview of Autoimmune Protocol details, some creative ideas for affordably sourcing the highest-quality and most nutrient-dense ingredients, and tips for setting up your kitchen to cook whole foods.
If you are looking for a practical, approachable resource for the Autoimmune Protocol that places nutrient density at the core, look no further than The Nutrient-Dense Kitchen. Mickeys recipes and guidance help you set yourself up for success without sacrificing time or flavor!
Mickey Trescott, NTP, takes pride in finding creative solutions to preparing, cooking, and succeeding on allergen-free diets. She is a certified nutritional therapy practitioner and author of the best-selling guide to the Autoimmune Protocol, The Autoimmune Paleo Cookbook. With her partner Angie Alt, she co-authored The Autoimmune Wellness Handbook, an award- winning guide that teaches a whole-lifestyle approach to healing from autoimmune disease.
In 2012, Mickey founded AutoimmuneWellness.com, whose website and social media channels serve millions of readers annually with recipes and resources for living well with chronic illness. With Angie Alt and Sarah Ballantyne, she co-created and co-teaches the AIP Certified Coach Practitioner Training Program, an advanced training course for practitioners across the spectrum of both natural and conventional healthcare.
When she isn't getting creative in the kitchen or doing wellness research, Mickey can be found riding horses on her family's farm, obsessively knitting socks, or figuring out how to build a non- toxic, sustainable home. She lives in Oregon's Willamette Valley, with her husband Noah, cat Savannah, and horse Bear.
PLEASE NOTE: Books will be available for purchase at the event. You may bring books you have purchased elsewhere, but it is strongly encouraged to purchase a book at the store in order to support the local stores who are supporting the book tour.
About Your RSVP: Thank you for letting us know you will attend as it helps us in event planning but please note that seating is limited and all events at Natural Grocers are first come, first seated (reservations are not required).
We look forward to meeting you at the event!