Bench to Boardroom Lecture: Featuring Jennerex Biotherapeutics

Thursday, November 29, 2012 at 11:00 AM (PST)
Event Details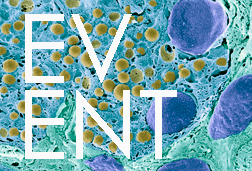 Program Overview:
Join us for lunch on November 29 to hear from David Kirn, a global leader in the clinical research and development of oncolytic viruses for cancer as he reveals the success story behind Jennerex Biotherapeutics. One of the Bay Area's most promising clinical-stage biotherapeutics companies, Jennerex's lead product is currently in a Phase 2b clinical trial for hepatocellular carcinoma and Phase 1/2 clinical development for colorectal cancer. Whether you are in the oncology field or simply interested in networking with the industry's top execs, join us as Kirn shares insight into the science on which Jennerex is based, shares tips for founding a successful start-up and weighs in on his vision for the future direction of the life science field.


Featured Speaker:
David Kirn | President, Founder and Chief Medical Officer, Jennerex Biotherapeutics

Agenda:
11:00am | Registration & Lunch
11:40am | Introductions
11:45am | Scientific Presentation
12:15pm | Moderated Discussion: The Road to the Successful Start-up
1:00pm | Q&A
1:15pm | End of Presentation
1:15pm | Optional Tours of Janssen Labs
About the Presenter:
David Kirn | President, Founder and Chief Medical Officer, Jennerex Biotherapeutics
Dr. David Kirn is the global leader in the clinical research and development of oncolytic viruses for cancer. He designed and led clinical development programs and trials with over 10 different agents, and with over 10 different companies and leading academic programs, involving hundreds of patients (Phase 1-3). He held academic and/or faculty positions at Harvard Medical School; the University of California, San Francisco (UCSF); and the University of Oxford. In addition, Dr. Kirn was vice president of clinical research at Onyx Pharmaceuticals. After joining Onyx as the first oncology development employee, he created and initiated clinical development plans in partnership with Bayer for Nexavar, now a marketed product for kidney and liver cancers. He also led the development of a first-in-class oncolytic virus therapeutic through to Phase 3, a corporate partnership with Warner-Lambert and an initial public offering during his tenure. He has been a consultant in cancer biotherapeutics for Pfizer, Novartis, Biogen Idec, Schering AG and other leading oncology companies. He has been an invited advisor on cancer therapy to the National Institutes of Health (U.S.), the Gene Therapy Advisory Committee (U.K.) and the European Agency for the Evaluation of Medicinal Products (E.U.). He has authored over 100 publications in peer-reviewed journals and textbooks. He completed his oncology fellowship at UCSF, his internal medicine residency at Brigham and Women's Hospital, a teaching affiliate of Harvard and was chief medical resident (WR-VA) at Harvard Medical School. He received his MD from UCSF (AOA Honors) and his BS in physiology from the University of California, Berkeley, with departmental citation, Phi Beta Kappa.
When & Where

Janssen Research & Development LLC
3210 Merryfield Row
San Diego, CA 92121


Thursday, November 29, 2012 at 11:00 AM (PST)
Add to my calendar
Organizer
JLABS San Diego
Johnson & Johnson Innovation, JLABS (JLABS) is a global network of open innovation ecosystems, enabling and empowering innovators to create and accelerate the delivery of life-saving, life-enhancing health and wellness solutions to patients around the world. JLABS achieves this by providing the optimal environment for emerging companies to catalyze growth and optimize their research and development by opening them to vital industry connections, delivering entrepreneurial programs and providing a capital-efficient, flexible platform where they can transform the scientific discoveries of today into the breakthrough healthcare solutions of tomorrow. At JLABS we value great ideas and are passionate about removing obstacles to success to help innovators unleash the potential of their early scientific discoveries. JLABS is a no-strings-attached model, which means entrepreneurs are free to develop their science while holding on to their intellectual property. JLABS is open to entrepreneurs across a broad healthcare spectrum including pharmaceutical, medical device, consumer and digital health sectors. The JLABS flagship opened in 2012 in San Diego at Janssen's West Coast Research Center, and since then has grown to eight locations including the Bay Area, Boston & Lowell, MA, Houston, Toronto and a ninth location, New York City, launching in 2018. For more information please visit jlabs.jnjinnovation.com.
Bench to Boardroom Lecture: Featuring Jennerex Biotherapeutics