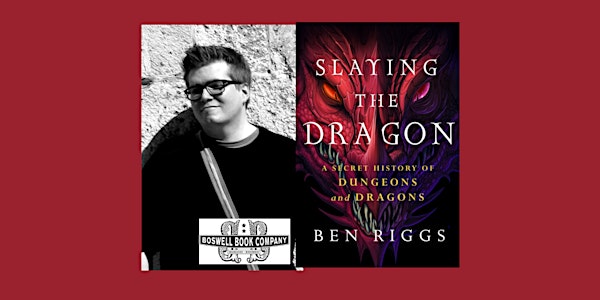 Ben Riggs, author of SLAYING THE DRAGON - an in-person Boswell event
Ben Riggs, author of SLAYING THE DRAGON - an in-person Boswell event
When and where
Location
Boswell Book Company 2559 North Downer Avenue Milwaukee, WI 53211
About this event
Boswell is pleased to present an event with role-playing game historian Ben Riggs, author of Slaying the Dragon, legendary tale of the rise and fall of the company that created the role-playing game world.
Co-created by wargame enthusiasts Gary Gygax and Dave Arneson, the original Dungeons & Dragons role-playing game released by TSR (Tactical Studies Rules) in 1974 created a radical new medium: the role-playing game. For the next two decades, TSR rocketed to success. But by 1997, a series of ruinous choices and failed projects brought TSR to the edge of doom - only to be saved by their fiercest competitor, Wizards of the Coast, the company behind the collectible card game Magic: The Gathering.
Unearthed from Ben Riggs's own adventurous campaign of in-depth research, interviews with major players, and acquisitions of secret documents, Slaying the Dragon reveals the true story of the rise and fall of TSR. Go behind the scenes of their Lake Geneva headquarters where innovative artists and writers redefined the sword and sorcery genre, managers and executives sabotaged their own success by alienating their top talent, ignoring their customer fanbase, accruing a mountain of debt, and agreeing to deals which, by the end, made them into a publishing company unable to publish so much as a postcard.
From Tim Akers, author of Night Watch: "Riggs weaves a tale of corporate intrigue, personal ego, and failed saving throws that will fascinate any fan of D&D. Whether you're a grognard, still clutching your red box rules and grumbling about THAC0, or a recent convert to the greatest game the world has ever played, you're going to love Slaying the Dragon!"
Ben Riggs is a writer, teacher, and podcaster. He has tutored a princess, saw both the Sahara and Mt. Fuji at dawn, and discovered his wife and fellow traveler, Tara. He has settled down in his hometown of Milwaukee, Wisconsin, where he teaches English and history. Ben's RPG podcast, Plot Points, has been running for the last decade, and his work has appeared on NPR and Geek & Sundry. Slaying the Dragon is his first book.
Click here to purchase your copy of Slaying the Dragon. Signed copies and personalization available on pre-orders. Please note that signed copies will not be shipped until after the event.
Please note that we're only allowing two people to register on one email so that we can keep registered folks aware of any changes to this event.