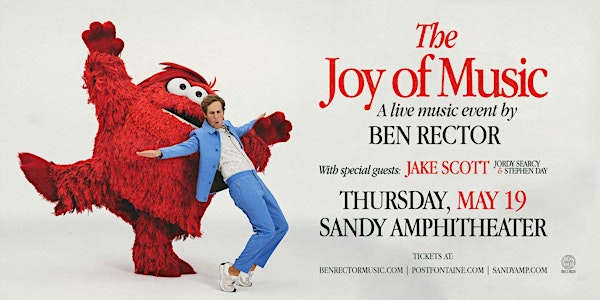 Ben Rector: The Joy of Music Live
Event Information
Performers
Ben Rector
Jake Scott, Stephen Day, Jordy Searcy
Location
Sandy Amphitheater
1245 E 9400 S
Sandy, UT 84094
Postfontaine Presents: Ben Rector at Sandy Amphitheater on 5/19/22! Get tickets!
About this event
2 NIGHTS AT SANDY AMPHITHEATER
Rain or Shine Event
You love Ben Rector's music... you just might not have realized it yet. Called "exactly what the world needs" by The Collegian and praised for a sound that "perfectly encapsulates all the warm feelings" by People Magazine, this songwriting polymath has flown a hair's breadth under the mainstream radar for over a decade. In that time he has amassed over a billion streams across all platforms; played live on a number of national television shows, including Jimmy Kimmel, Conan, The Today Show, and more; had his music featured in over a hundred TV shows, ads, and films including Pretty Little Liars and Castle (his single "Brand New" is one of the most licensed songs for television and film in the last five years); hit the number one spot on Billboard's US Folk chart and the number nine spot on their top 200; was an all-star mentor on ABC hit show American Idol alongside Ryan Tedder, Jewel, Jason Aldean, Jimmie Allen, and Joss Stone (among others); sold out three consecutive nights at the legendary Ryman Auditorium as well as countless other theatres and arenas around the country... and that's just the start - not bad for an artist that's chosen to remain largely independent. There's an understated magnetism to Rector and his "meticulously crafted, shamelessly romantic folky pop" (Chicago Tribune). He's Nashville's worst-kept, best-kept secret, and if you've never heard his name before, now you'll never forget it.
Coming from a non-musical family living in Tulsa, Oklahoma, far from the epicenter of the American music scene, the career of Ben Rector seems as unlikely as it is remarkable. "I did a cameo in a music video recently where I was wearing a suit, playing a real estate agent," Ben recalls, "If I'm honest, sometimes I feel like that was the life I was supposed to get." However, when he hit high school and picked up a guitar... fate clearly had other plans. Ben's radio diet of Billy Joel, Steve Winwood, and Huey Lewis started to pay dividends, and he began writing songs.
"A lot of things I never thought would happen, career-wise, have happened," he explains, "But what I really care about is being able to look back when I'm sixty and think 'I did good work."
That work was put to the test, understandably, at the start of 2020, when the invasion of COVID set the world on its ear. For Ben, it was an opportunity to push creative boundaries - one that paid off in dividends. Writing and recording some of his best material to-date, he set out to do what Ben does best - encapsulate the very essence of how the pandemic's introduction had redefined humanity. The upbeat and affectionate firstborn, 'It Would Be You," released in May and set the tone for Ben's brutally authentic-yet-alarmingly optimistic 2020 repertoire. An acoustic re-imagining of it followed in October, metamorphosing the piece into a melancholy duet between him and chart-topping folk artist Ingrid Michaelson.
"Like a generous neighbor who leaves a warm pecan pie at our doorstep..." (CMT), Ben dropped his holiday album A Ben Rector Christmas - a Crosby-esque collection featuring golden-toned covers of festive classics - in October. He also gave "an overshadowed holiday it's musical due" (The Boot) with project inclusion "The Thanksgiving Song," a tune that, despite being a bit of a happy accident, has seen an unprecedented response and prompted many in the music world to dub Ben the "Mariah Carey of Thanksgiving" (it aptly took the title of Alexa's 'Song of the Day" on Thanksgiving day).
Now that Rector has had another successful year of "stretching his creative wings," (American Songwriter) Rector plans on releasing his upcoming album set to drop in early 2022.
A lot of pop acts supernova on to the scene in a blaze of glory and then fade to embers just as fast. Ben Rector is of a different breed. He's that artist where every one of his songs is someone's favorite or was the first dance at your best friend's wedding. With a ride-or-die fan base, an ever-expanding presence, and even having a song featured in a Weight Watchers ad starring Oprah Winfrey, the label-less wonder continues to win over anyone who comes within earshot of his work. People are listening to his records now, whose kids and grandkids will listen to him in decades to come. That is the magic of Ben Rector.
Performers
Ben Rector
Jake Scott, Stephen Day, Jordy Searcy
Date and time
Location
Sandy Amphitheater
1245 E 9400 S
Sandy, UT 84094
Refund policy