Description
The Long Now Foundation welcomes
Ben Novak (Revive and Restore)
"The Next Flight of the Passenger Pigeon:
Engineering Nature's Engineers"

Check-in begins at 6:30; talk will start at 7:30 sharp
Join us afterwards for drinks and conversation with our speaker
Scientist Ben Novak will discuss his work for Long Now's Revive & Restore project as lead researcher in the effort to bring back the passenger pigeon from extinction. Ben is working at the forefront of de-extinction efforts. He'll talk about the foundations of the project, the progress made in the last 3 years, and the future steps that will be needed to see passenger pigeons in the skies once again.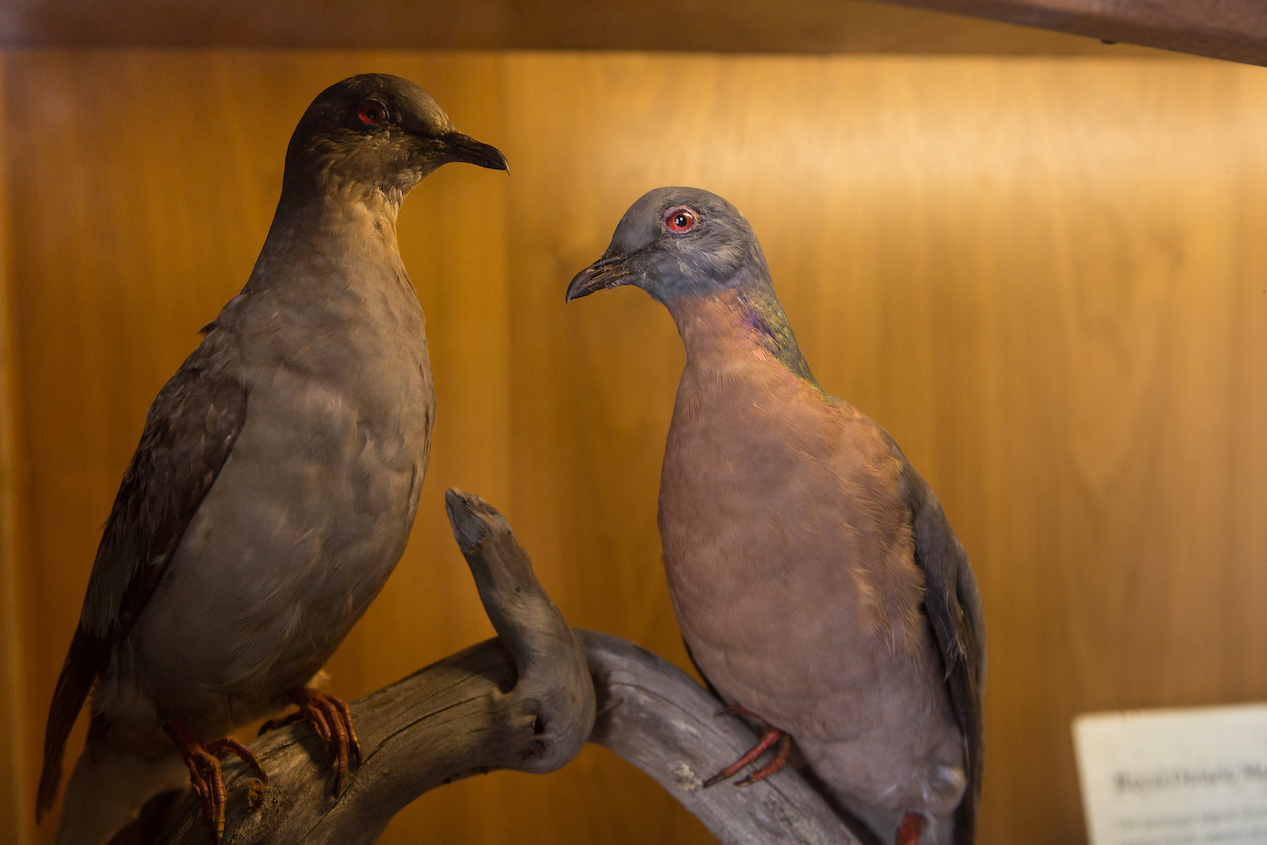 Revive & Restore is a project of Long Now that helps to coordinate the efforts of molecular biologists and conservation biologists around the world. Its goal is to assure that genomic conservation can proceed via the best current science with public transparency to enhance biodiversity and ecological health worldwide.
The Great Passenger Pigeon Comeback is the flagship project of Revive & Restore's de-extinction and genetic rescue efforts. Initiated in 02012, this project is the reason Revive & Restore took form. The project has evolved from an idea on a drawing board to a working collaboration of diverse partners and advisors united by a vision of changing the future of conservation.
Long Now members can access a free livestream of this event online. The studio of Edward Burtynsky is sponsoring The Interval's live audio stream in 02016. Mercury Films and Studio Burtynsky's forthcoming project Anthropocene (02017) looks at how civilization has re-engineered the world in ways that will persist into geological time. Their support enables us to stream these events for our members all over the world.

Become a member for access to live audio streams of our Seminars and Interval events.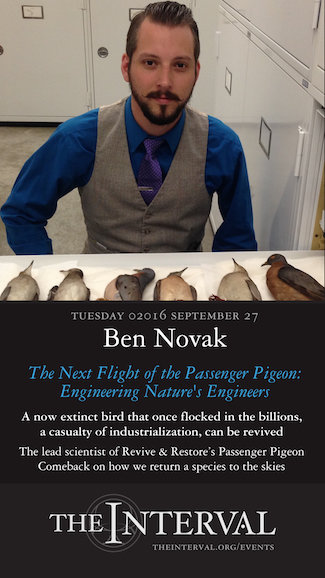 Ben Novak graduated from Montana State University studying Ecology and Evolution in 02005. He specialized in paleontology, genetics, ecology and ornithology. Ben then trained in paleogenomics laboratory protocols at the McMaster Ancient DNA Centre under Dr. Hendrik Poinar, exploring DNA extraction and sequencing of Mastodon fossils. It was at this laboratory that he began studying passenger pigeon genomics.
Ben now serves as lead researcher for Revive & Restore's The Great Passenger Pigeon Comeback where he coordinates, designs, oversees and leads the direct effort to bring the extinct passenger pigeon back to life. In 02013 he joined the UCSC Paleogenomics Laboratory, under Dr. Beth Shapiro, to initiate genome studies for passenger pigeon de-extinction for Revive & Restore. In 02016 he earned his Masters of Arts in Ecology and Evolution for his thesis "Deciphering the Ecological Impacts of the Passenger Pigeon: a synthesis of paleogenetics, paleoecology, morphology, and physiology".
Ben has been passionately interested in the prospects of using de-extinction for conservation since childhood. His other work for Revive & Restore includes helping in the effort to advance the use of biotechnologies in conservation.

Long Now members hear about Interval events first: become a member today