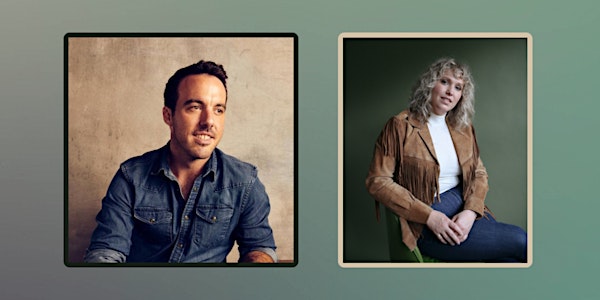 Ben Danaher and Stephanie Lambring
Performers
Ben Danaher, Stephanie Lambring
Location
The Evening Muse
3227 N. Davidson Street
Charlotte, NC 28205
Ben Danaher and Stephanie Lambring
About this event
For singer/songwriter Ben Danaher, carrying on a family tradition of storytelling has often led him down darkened roads to haunting, painful reflection on his journey thus far.
But Danaher is no longer standing in shadows. The Texas-native is back in a glorious new season of self-reflection with a brand-new, astute and sincere lease on life and love
Danaher's latest effort, The Actor, packs and powerful punch, rolling along with a tender and restrained edginess. Taking center stage are the raw musings of a man shifting gears and looking deeply inward in a way he's never done before, focusing on the man in his reflection and sifting through the layers with an astute and sharp self-awareness.
Produced by Sean McConnell at his rural farm retreat and home studio in Nolensville, Tennessee, The Actor not only ushers in a new arc in storytelling for Danaher, but also a new method in production.
"I stayed on the McConnell farm for two weeks with about 35 songs that I had ready for consideration," Danaher reveals.
"When we started tracking, we decided that we still needed a few more elements to round everything out, so we ended up writing them on the first couple of days. After that it was off to the races."
Between McConnell and Danaher, all instrumentation on the album was covered, save for the organ. The two friends and collaborators allowed the experience to flow, often pushing through long nights to finish tracking or simply taking a night off with Topo Chicos by a January bonfire to make gumbo and talk about life and the purpose in the record
"It was a bit of a soul-searching experience, especially to have that many songs and still feel like there were parts of yourself that you hadn't yet expressed," Danaher says.
The album's title track deals with rampant, yet rarely discussed issue in the artist community, the topic of imposter syndrome. The idea came to Danaher after a particularly impactful therapy session. After opening up to McConnell on the subject, the two couldn't stop working until the song was completely tracked.
"Down Here" offers more of an up-tempo vibe, a mood Danaher admits he's not known for, but tackles a subject of which he is—picking yourself back up after years of being down.
"It's about realizing that a circumstance doesn't define you. I many ways, that became a battle cry for me," he says. "Love Enough to Leave Somebody" also brings Danaher to steady, up-tempo territory, with a sobering twist on the heartbreak scenario as a confessional of leaving, not for lack of love, but because you aren't ready to meet a great love in the moment.
Still, the album never loses its forward motion or persevering undertone. As the project closes with the poignant "If I'd Have Known Then," an acceptance and even gratitude for life's lowest moments is palpable—and so is the tiny gleaming moment of hope where love steps in and turns everything back around
Overall, the album represents a slow-burning, humble awakening. If Danaher's last record begged questions of fate's unforgiving hand and life's cruel plan, pain and heartbreak, his newest works sees him realizing that he might have held the answers within all along.
Facebook | Spotify | Instagram
****************
Stephanie Lambring's Autonomy, originally released in October 2020, earned her the title of "one of Nashville's most fearless young songwriters," from NPR, and garnered wide acclaim for the singer-songwriter's ability to confront life's uncomfortable moments and hard truths with searing, relatable honesty. Since the album's original release, Lambring created Almost Autonomous Records and signed a distribution deal with Thirty Tigers. The updated version of the album, released today, includes Lambring's cover of R.E.M.'s "Losing My Religion."
"'Losing My Religion' is a song that fits the essence of my album," Lambring says. "It's an expression for being at the end of one's rope. That was definitely my headspace when I left my publishing deal. It pushed me to look inward, regroup, and ultimately make music on my own terms."
"Many of the songs on Autonomy come from my own wrestling with evangelical Christianity," she continues. "Even though the cover itself isn't about religion, the title is perfect for a strong theme of questioning one's inherited faith."
Thirty Tigers founder David Macias originally heard Lambring's song "Daddy's Disappointment" after it was featured as one of Rolling Stone's Songs You Need to Know. Writer Jonathan Bernstein called the song, which sparked the entire writing process for the record, "one of the most irresistible roots-rock gems of the year" and noted her "John Prine-esque observation" on the album.
"I first heard about Stephanie from reading a Jonathan Bernstein piece, and it sounded like something I would love, but I wasn't prepared for how hard it would hit me. She paints in such fine detail, taking you back to youthful insecurities or the things we mess up as young adults so viscerally, that you feel the pain in your bones. She's one of my favorite songwriters in some time, and I am thrilled to get to work with her."
Released October 23, 2020, Autonomy embraces the heaviness that can sometimes exist in life, examining difficult topics through a lens of someone working to reconcile their feelings about it all. Lambring examines topics that sound familiar, like things you've thought about before: from childhood embarrassments that still pop up now and again to relationships that were bad choices from the beginning, from the constant desire to (still) please parents, to what in the world it feels like to try and understand evangelical Christianity in America.
Ann Powers named "Joy of Jesus" as her Best of October pick on NPR's All Songs Considered; while World Cafe wondered: "Have You Heard Stephanie Lambring's 'Autonomy'? You Should." "Joy of Jesus" landed at #28 on NPR's Best Songs of 2020 list and #18 on Rolling Stone Country's Best Country & Americana Songs of 2020, and the album made the list of the Tennessean's favorite Nashville-made albums of that year.