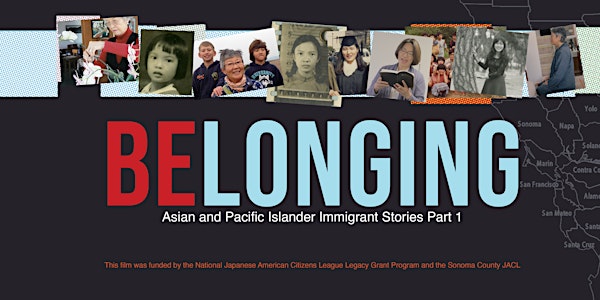 Belonging: Asian and Pacific Islander Immigrant Stories in California
October 15:Film and discussion "BeLonging: Asian and Pacific Islander Immigrant Stories in California"
When and where
Location
Petaluma Regional Library 100 Fairgrounds Drive Petaluma, CA 94952
About this event
Join a film screening and discussion, "BeLonging: Asian and Pacific Islander Immigrant Stories." Meet award-winning Petaluma journalist-filmmaker, Lina Hoshino and the people in the film, including Jean Chan, Sachiko Knapman, and Youngmi Jung.
"BeLonging" portrays the journey of three first-generation Asian women from their ancestral lands to California.
Youngmi Jung came from Korea and is a Methodist minister in the United States. Inspired by the Black Lives Matter Movement, she speaks up against racism. Sachiko Knappman moved to the US from Japan as a young bride but soon lost her husband to cancer and had to navigate her life in a new country alone with a newborn child. Jean Bee Chan, a retired Sonoma State University math professor, immigrated to the United States, escaping the turmoil in Southern China, and continues to honor her younger brother, Datman, who died as a child while China was under Japanese occupation.
This film series lifts the voices of AAPI immigrants living in California and captures the rich diversity among AAPI communities, one person's story at a time.
In addition to the film, hear a recent AAPI refugee from Afghanistan tell his story of growing up in his country and his journey to Petaluma a year ago.
Join us in this premiere showing of the film, "Belonging: Asian American and Pacific Islander Immigrant Stories". Due to limited space, this free event is by reservation only. Mask is required.
Reserve your spot today.
This film was funded by the Japanese American Citizens League (JACL) Legacy Fund Grant and the Sonoma County JACL.
The event is sponsored by Sonoma County Library.