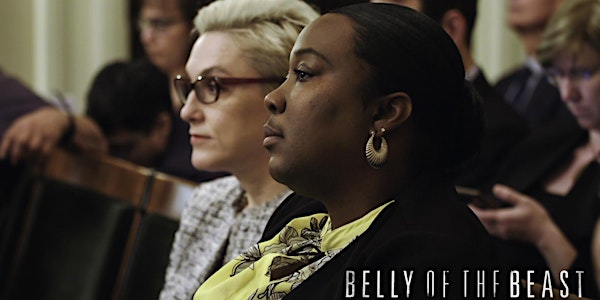 Belly of the Beast Film Screening and Roundtable Discussion
A free weeklong digital screening of the documentary Belly of the Beast, with a virtual roundtable discussion on March 30. Register today.
About this event
Please join us for a digital screening of the new documentary Belly of the Beast. The film follows a group of activists fighting for dignity and reproductive justice after uncovering coercive sterilizations in women's prisons. All registrants will receive a link to screen the film online during the week of March 29- April 2.
On March 30 at 7pm Central, we will host a virtual roundtable discussion featuring:
Erika Cohn, director and producer of Belly of the Beast
Cynthia Chandler, activist and attorney featured in Belly of the Beast
LaTasha DeLoach, Iowa City Senior Center Coordinator and member of Black Women's Maternal Health Collective
Sofia DeMartino, Community Relations and Grants Director for Horizons, A Family Service Alliance, and member of Black Women's Maternal Health Collective
Lina-Maria Murillo, assistant professor of History and Gender, Women's and Sexuality Studies and co-director, Obermann Working Group on Reproductive and Maternal Politics
Many thanks to the sponsors of this event including: Department of Community and Behavioral Health, Clinical Law Programs at the University of Iowa College of Law, the Council on the Status of Women, the College of Public Health Graduate Student Association, the Department of Communication Studies, the Obermann Working Group on Reproductive and Maternal Politics, NARAL Iowa and the Sterilization and Social Justice Lab.
ABOUT THE FILM:
When an unlikely duo discovers a pattern of illegal sterilizations in women's prisons, they wage a near impossible battle against the Department of Corrections. Filmed over seven years with extraordinary access and intimate accounts from currently and formerly incarcerated people, BELLY OF THE BEAST exposes modern-day eugenics and reproductive injustice in California prisons.
The pastoral farmlands surrounding the Central California Women's Facility, the world's largest women's prison, help conceal the reproductive and human rights violations transpiring inside its walls. A courageous woman who was involuntarily sterilized at the facility, teams up with a radical lawyer to stop these violations. They spearhead investigations that uncover a series of statewide crimes, primarily targeting women of color, from inadequate access to healthcare to sexual assault to illegal sterilization. Together, with a team of tenacious heroines, both in and out of prison, they take to the courtroom to fight for reparations. But no one believes them. As additional damning evidence is uncovered by the Center for Investigative Reporting, a media frenzy and series of hearings provide hope for some semblance of justice. Yet, doctors and prison officials contend that the procedures were in each person's best interest and of an overall social benefit. Invoking the weight of the historic stain and legacy of eugenics, BELLY OF THE BEAST presents a decade long, infuriating contemporary legal drama.
Learn more: https://www.bellyofthebeastfilm.com
Individuals with disabilities are encouraged to attend all University of Iowa-sponsored events. If you are a person with a disability who requires a reasonable accommodation in order to participate in this program, please contact Nicole Novak in advance at nicole-novak@uiowa.edu or (319) 335-9750.