Belly Dance Evolution: Alice in Wonderland

Saturday, September 13, 2014 from 8:00 PM to 11:00 PM (EDT)
Event Details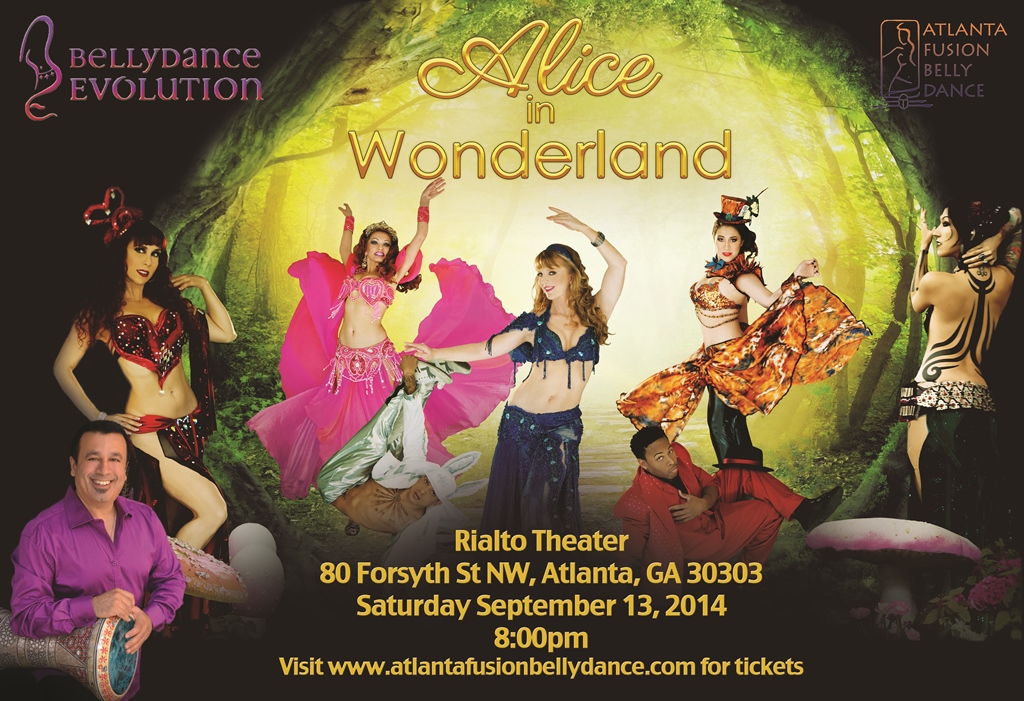 Atlanta Fusion Belly Dance & Essence of Belly Dance Festival host Belly Dance Evolution's latest theatrical production, Alice in Wonderland! Doors open at 7:00pm. Show starts at 8:00pm
Interested in workshops with the Artists?  Visithttp://essenceofbellydanceatlanta.com/?page_id=418

VIP Ticket: Reserved seating in the first 10 rows of Orchestra section, Belly Dance Swag Bag and Complimentary cocktail reception

Bellydance Evolution takes a revolutionary approach to this whimsical tale, re-imagining the colorful, iconic – and dare we say, "mad" – characters through the language of world fusion dance. Be inspired and journey deep into the mysterious world of Wonderland!
Directed By – Jillina, Original Music By – Paul Dinletir

 In Lewis Carroll's 1865 classic novel, Alice's Adventures In Wonderland (more commonly known as Alice In Wonderland), young Alice's uneventful day is magically transformed when she falls down a rabbit hole. As the story unfolds, we find that this was no ordinary hole and this will be no ordinary day. As the tale continues, Alice embarks on a special adventure and meets a series of very special characters along the way. As her adventure concludes, she has been transformed by her experiences. 
Although there are no rabbit holes, a similarly transformational experience occurs when audiences experience Bellydance Evolution's production of Alice In Wonderland. Essence of Belly Dance, an annual dance event hosted by Faaridah Taylor of Atlanta Fusion Belly Dance, MissBellyDance.com, and world-renowned dance performer Jillina have partnered to present Belly Dance Evolution's Alice In Wonderland to metro Atlanta audiences on Saturday, September 13, 2014 at 8:00 p.m. at the Rialto Theatre.
Organizer
Miss Belly Dance, Atlanta Fusion Belly Dance and World Belly Dance Alliance
Belly Dance Evolution: Alice in Wonderland