Description
D

ear future Green Card holders,

You are invited to attend our H-1B to EB-5 Visa Seminar from 6:30 to 8:30 PM on July 19, 2018 in Bellevue, WA. Please join us for this free even to learn the quickest way to secure permanent US residency.

Learn from an expert immigration attorney the pros and cons of 1-B, EB-1/2/3 and EB-5 visas. The open Q&A format will allow you to get answers to all of your questions from industry professionals who can help you navigate the best visa option for you and your family.

All are welcome. We hope you'll send this event to your friends and family who could benefit from quicker immigration paths and free advice from industry experts. All of our past events have sold out and space is limited so registration is required to reserve your seat.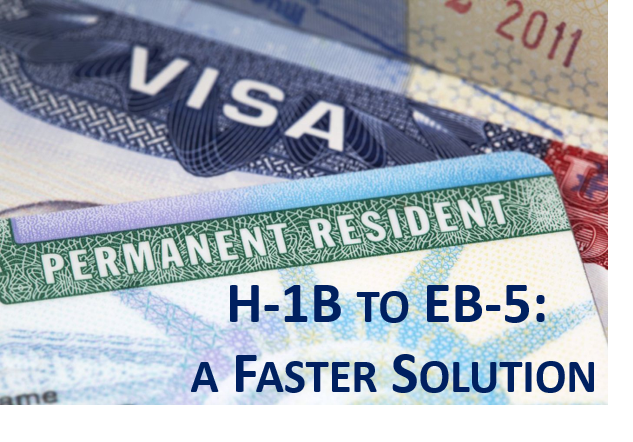 Details
Sheraton Bellevue Hotel - Bellevue, WA
July 19, 2018
6:30-8:30 PM
Agenda
Overview of the EB-5 program

Differences in visa categories and how to easily switch for faster immigration processing

Learn how to properly diligence EB-5 investment opportunities from a licensed broker-dealer

Direct access to industry professionals including immigration attorneys, broker-dealers, and regional center operators for Q&A

H1-B to EB-5 Seminar Agenda
6:30–7:00 p.m. EB-5 Program Overview
7:00–7:30 p.m. Visa Category Differences
7:30–8:00 p.m. Due Diligence Process
8:00–8:30 p.m. Open Q&A
Confirmed Speakers

EB5 Coast To Coast is a family of USCIS-designated EB-5 Regional Renters, spanning the Atlantic to Pacific Oceans. Presently our Regional Centers cover areas in 35 states, including most major metropolitan areas. All Regional Centers are controlled by Steve Smith and his highly-experienced team.
Stephen H. Smith - President
Stephen H. Smith is the owner of Steve Smith Development LLC with a 28-year track record of mixed-use and multifamily projects spread throughout the Puget Sound region.
Mr. Smith's success is due to his careful analysis of each step in the development process—from market research and site selection to design, construction, marketing and customer service. Through the years, he has delivered high-quality apartment, condominium and mixed-use projects that have commanded premium pricing. In the aggregate, his portfolio includes the development and/or construction of nearly 4,000 units in 40 different projects valued in excess of $900 million.
Mr. Smith earned a Bachelor of Art's Degree from the Henry M. Jackson School of International Studies at the University of Washington.

Winlo Management Group (WMG) is an investment banking and financial services advisory firm specializing in mergers and acquisitions and private placements.
Erin Osborne - CEO
Erin Osborne is the CEO of WMG and has significant investment banking, business diligence, competitive analysis, strategic planning, and public and private securities offering experience. Ms. Osborne's institutional experience includes work at several top financial institutions, including Morgan Stanley and Bank of America Merrill Lynch.
Ms. Osborne earned a Bachelor of Science degree from the University of North Carolina at Chapel Hill. Ms. Osborne currently holds Series 7, 66, 79, and 24 FINRA licenses.