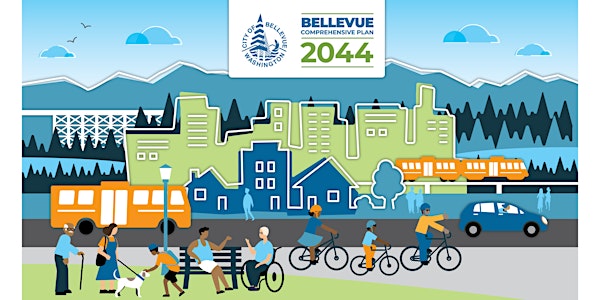 Bellevue 2044 - Community Deep Dives
Bellevue is planning for the next twenty years. Learn about the issues and share your ideas on housing, sustainability, mobility, and more.
When and where
Location
Bellevue City Hall 450 110th Avenue Northeast Bellevue, WA 98004
About this event
Bellevue is growing. Over the next twenty years the city is planning for an additional 70,000 jobs and at least 35,000 housing units. The city's Comprehensive Plan is the primary tool for addressing this growth while maintaining the high quality of life people enjoy.
Bellevue plans for people and that means we need to hear from you. Over the next few months the community is invited to explore some of the big issues facing the city and discuss ideas for how the city can grow. Each interactive workshop will be a deep dive into a particular focus area. Attendees will get to review data, ask questions, and engage in small group discussion.
Thurs, July 14 - Environment: Green Space & Sustainability. How can we reduce emissions and ensure people have access to open space in the city? This is a combined Sustainable Bellevue Community Townhall event.
Wed, August 3 - Place & Spaces: Creating Complete Communities. How can create great places for social and civic connection?
Wed, August 24 - Access: Jobs, Services & Amenities. How can we ensure people can get to work, shops, cafes, and other amenities close to home?
Thurs, Sept 15 - Housing: Diversity & Choice. How can we provide housing that meets the needs of people at all stages of life and income levels?
Each session will take place at Bellevue City Hall. A soft start at 5:30 p.m. allows participants to review data at their own pace and ask staff questions before the workshop begins at 6:00 p.m. and ends at 8:00 p.m.
Anyone who cares about the future of Bellevue is welcome to attend. Light refreshments will be served.

For alternate formats, interpreters, or reasonable accommodation requests please phone at least 48 hours in advance 425-452-6930 (voice) or email bbrod@bellevuewa.gov. For complaints regarding accommodations, contact City of Bellevue ADA/Title VI Administrator at 425-452-6168 (voice). If you are deaf or hard of hearing dial 711. All meetings are wheelchair accessible.
If you have any questions regarding the ADA statement above or need help please reach out to ADA Coordinator Blayne Amson, bamson@bellevuewa.gov or 425-452-6168.
If you need translation or interpretation in order to register or participate in this event, please contact Brooke Brod at bbrod@bellevuewa.gov or (425) 452-6903
若您需要翻译或传译以登记或参与活动,请通过 bbrod@bellevuewa.gov 或 (425) 452-6903 联系 Brooke Brod
若您需要翻譯或傳譯以登記或參與活動,請透過 bbrod@bellevuewa.gov 或 (425) 452-6903 聯絡 Brooke Brod
Si necesita asistencia de traducción o interpretación para registrarse o participar en este evento, comuníquese con Brooke Brod enviando un correo electrónico a bbrod@bellevuewa.gov o llamando a (425) 452-6903
このイベントに登録あるいは参加するために翻訳または通訳が必要な場合は、bbrod@bellevuewa.gov または (425) 452-6903にてBrooke Brodまでご連絡ください。
이 행사에 등록하거나 참여하기 위해 번역이나 통역이 필요한 경우 Brooke Brod에게 bbrod@bellevuewa.gov 또는 (425) 452-6903으로 연락하시기 바랍니다.
Если для регистрации или участия в данном мероприятии вам требуется письменный или устный перевод, обращайтесь к Brooke Brod по адресу bbrod@bellevuewa.gov или телефону (425) 452-6903
Nếu quý vị cần dịch thuật hoặc thông dịch để đăng ký hoặc tham gia sự kiện này, vui lòng liên hệ với Brooke Brod tại địa chỉ bbrod@bellevuewa.gov hoặc (425) 452-6903