Description
Live Music Academy Live Music Academy presents second annual "Christmas in Bellevue" Concert. Join "Breath of Aire Choir", Yuri Litvinchuk and "City On A Hill band" with a full symphony orchestra! Mark your calendar on December 26 & 27, 2015 at 4:30pm and 7:00pm. Special Guests:
- Anton Kopytin - "Voice" show winner in Ukraine, season 5. Anton had to leave city of Donetsk due to war. Without a place of their own in Kiev they stayed at friends house. The surprise came when Tina Korol came out to announce the winner of season 5. Not only was Anton got announced as the winner but he also received a huge gift, an apartment in Kiev from Tina Korol so he can start a new life. Anton is married and have 3 kids
- Bridget Hermano - participant of American Idol, season 12 Throughout the years Bridget received additional vocal training at the University of Washington and with vocal coach, Craig Derry in New York City. Has entered and won several singing and songwriting competitions. Her popular accolades include Kiro 7's televised singing competition Seattle's Stars as a Viewer's Choice finalist and recently making the girls Top 20 contenders in FOX's American Idol 2013.
- Taras Umrysh - violinist, graduated from Kiev University of Culture, laureate of international contests, performs with orchestras and solo;
- Yuri Litvinchuk pianist, composer, singer and founder of Live Music Academy. Performs with instrumental band City On A Hill, accompanied by a symphony orchestra. Producer of Christmas in Bellevue, tours both in America and Europe
-'Breath of Aire' choir members come from across the state of Washington and range from students to retirees, many of whom are professional musicians. Dr. J. Bayard DuBoi has been conducting Breath of Aire since it was formed in 1999.
Bring your friends and family as we celebrate together Christmas and New Year Don't miss this incredible opportunity to experience the joy of holidays with your favorite songs and carols in different languages. You will hear traditional English , Christmas songs, Jewish, Italian, contemporary medleys and Ukrainian and Russian carols.
Watch video promo here: https://www.youtube.com/watch?v=xeOCTchu_H0&feature=youtu.be
Ticket price - $18.
Kids and Seniors - $10.
Meydenbauer Center 11100 NE 6th St Bellevue, Washington
Register for the concert here: www.christmasbellevue2015.eventbrite.com
Вы любите хорошую, качественную музыку? Тогда этот вечер для вас! Live Music Academy представляет музыкальный концерт с новогодним настроением - РОЖДЕСТВО В BELLEVUE!
Для вас выступают:
- Хор Breath of Aire в сопровождении симфонического оркестра Хор Breath of Aire уже на протяжении 29 лет активно гастролирует по Америке и Европе;
- скрипач Тарас Урмыш (Лос Анжелес, Калифорния) Тарас окончил Киевский Университет Культуры, лауреат международных конкурсов, выступает как с оркестрами, так и сольно;
- пианист, композитор, певец Юрий Литвинчук. Юрий Литвинчук является основателем Live Music Academy. Выступает с инструментальной рок-группой City on a Hill в сопровождении симфонического оркестра. Часто гастролирует как по Америке, так и по Европе.
- Антона Копытин - победителя пятого сезона шоу «Голос країни». Жизнь 30-летнего Антона Копытина круто изменилась 13 месяцев назад, С женой, трехлетним сыном, двухмесячной дочуркой и собакой Антон, под обстрелами, выехал из донбассав Киев. Добрые люди предоставили им старенький домик в Пуще-Водице. Четыре недели назад у певца и его супруги Ольги родился третий ребенок, сын Филипп. Перед объявлением победителя пятого сезона шоу «Голос країни» на сцену к своему подопечному Антону Копытину вышла Тина Кароль. Певица взволнованно рассказала о своем визите к семье певца и протянула ему маленький красный мешочек. «Я от всего сердца хочу сделать тебе подарок, который помещается в руке". Открыв мешочек, Антон упал на колени, обнял тренера за ноги и расплакался. В руке он сжимал ключи от новой квартиры в Киеве. Это был самый эмоциональный момент на проекте. Даже ведущие растерялись, не могли подобрать нужных слов. Но это было не все — через пару минут Юрий Горбунов и Ольга Фреймут объявили Антона победителем проекта. Еще один подарок судьбы.
- Bridget Hermano участица шоу 12ого сезона "American Idol"
В программе прозвучат классические новогодние мелодии в инструментальнойроковойобработке, калядки, популярные песни на русском, украинском, еврейском, итальянском языках, собственнэ произведения артистов.
Цена билета - $18.
Дети до 12 лет - $10.
Взрослые старше 60 лет - $10.
Купить билеты можно онлайн: www.christmasbellevue2015.eventbrite.com
Концерт состоится 26 и 27 декапря в 4:30pm и 7:00 pm По адресу: Meydenbauer Center 11100 NE 6th St Bellevue, Washington Register for the concert here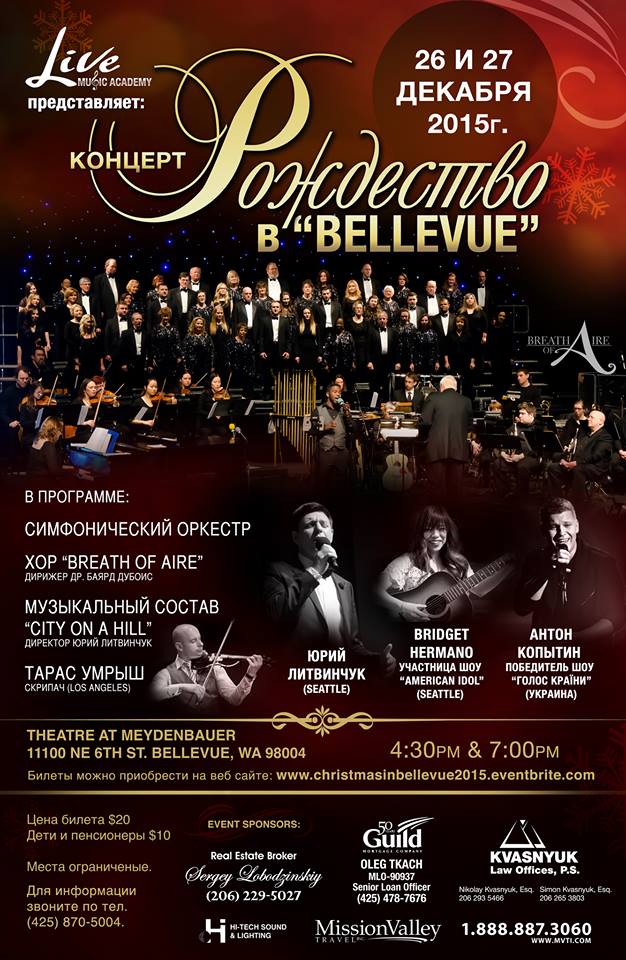 THANKS TO OUR SPONSORS