Bella's Bartok's 4th Annual Strange Ones Ball featuring Consider The Source at Gateway City Arts
About this event
DOORS OPEN AT 6PM.
TICKETS ON SALE: $25/ADV, $30/ DOOR
**TWO NIGHTS FOR $40**
The End is incredibly nigh, but we have only just begun! Join us, Bella's Bartok, in a journey through the mind's eye, for this coming New Year's Eve we bring you The Strange Ones Ball: DREAMLAND. What better way to escape the horrors of reality than to dive deep into the surreal? Find the answers, seek your truth; bathe in fantasy and bask in all eldritch things -- the only limit is your imagination! Come celebrate the ending of the old world and the beginning of the new. What dreams may come are up to you!
Costumes: Come as your dream, whatever that may be.
All little children grow up, one day - all except the bedazzled and glittered boys of Bella's Bartok. Inspired by elements of Vaudeville, centuries of street performance, and an unyielding drive to promote camaraderie, Northampton, MA-based Bella's Bartok delivers a passionate kaleidoscope of sound. The songs are born of Americana and folk music of their immigrant grandparents, blended with the joy of a particular brand of pop sensibility. Their performances are at once a primal stand against oppression and a declaration of joy in the face of adversity. From quiet reflections on loss, to the howl of justice in four-part harmony, Bella's Bartok sonically and lyrically delivers a sweaty, soulful dance-party that is sure to leave the audience happily breathless.
Bella's Bartok started in the dimly lit alleyways of Great Barrington, MA, Bella's Bartok gradually evolved from street-punk performers to an electric, brass-filled, accordion-based spectacle that has continued to entertain audiences for nearly a decade. The line-up includes: Asher Putnam (Vocals, Bass, all-around entertainer), Dan Niederhauser (Guitar and Vocals), Amory Drennan (Trombone/Banjo and Vocals), Crisco (Drums/Percussion and Trumpet), Gershon Rosen (Trumpet), and Alex Kogut (Accordion, Keyboard). The band has shared the stage with musicians and acts such as Rubblebucket, Red Baraat, The Indigo Girls, Larry & His Flask, The Suitcase Junket, Parsonsfield, And the Kids, Kanye, Rough Francis, Beau Sasser's Escape Plan, West End Blend, Adam Ezra Group, Meat Puppets, World Inferno/Friendship Society, Rupa & the April Fishes, Arc Iris, and many more. Find Bella's Bartok on a variety of stages, at a myriad of festivals, or on the street across the continental United States. Audiences often pick up on the band's main influences such as Frank Zappa, System of a Down, Tom Waits, and Oingo Boingo.
If you've never listened to Bella's Bartok, stop what you're doing right now. Run to the nearest computer and listen to their uproarious, joyful, eclectic sound. The band plays a mesmerizing mix of Eastern European, Americana, punk, and pop music. Their live shows are theatrical, "a mix of The Nightmare Before Christmas and the Rocky Horror Picture Show" says front man Asher Putnam. "We are the night and you are bound to boogie." So, do yourself a favor, practice a little self care, throw your societal inhibitions to the wayside and let yourself get lost to the tune of Bella's Bartok - before the tumult of daily life rears its ugly head once more.
Floors may be broken, but hearts will be mended.
https://www.facebook.com/bellasbartok/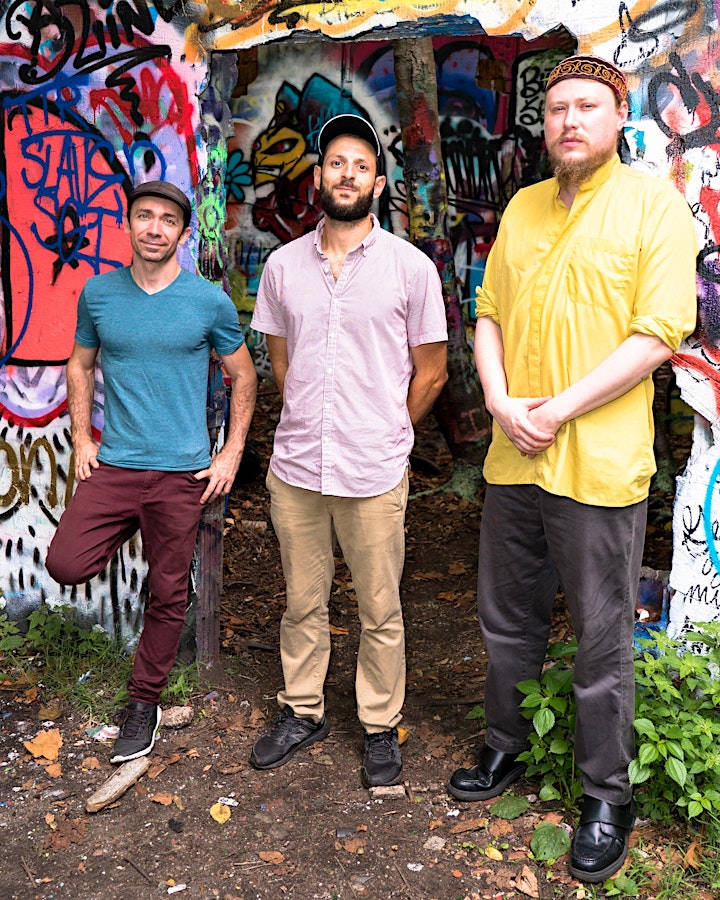 Sci-fi fusion trio Consider the Source defy easy categorization. If intergalactic energy beings, upon their initiation into an order of whirling dervishes, built a pan-dimensional booty-shaking engine powered by psychedelic math...it would sound like a cut-rate CTS cover band. With their blend of progressive rock and improvisatory jazz, soaked in Indian and Middle Eastern styles, CTS blends disparate elements into an utterly original whole. A relentless touring schedule has earned them a fervent following around the world, with fans ranging from jam-band hippies to corpse-painted headbangers.
Their latest album, You Are Literally a Metaphor, is the culmination of a fifteen-year musical journey. Packed with the same fury and dazzling virtuosity of their previous work, Metaphor is also a portrait of three musicians reaching new levels of maturity.
From the bluesy swing of "When You've Loved and Lost Like Frankie Has" to the ethereal electro-synths of "Sketches From a Blind Man", CTS's minimalist pop instincts stand shoulder-to-shoulder with progressive metal and freewheeling improvisation in a true expression of their omnivorous musicality. Three of Metaphor's nine songs are Eastern European traditionals, but could easily be mistaken for the band's original tunes, so singular has their sound become. CTS retain their signature fiery maximalism while pushing the hooky, anthemic songwriting to the forefront. Bassist John Ferrara's new Taurus bass pedals and guitarist Gabriel Marin's new custom Vigier double-neck guitar add new dimensions to the band's already diverse sound.
This is an album born of comfort and growth. In the five years since World War Trio, the band has toured extensively, Marin and Ferrara have released side projects, and drummer/percussionist Jeff Mann has gone from a relative newcomer to a road-hardened veteran. After all this time, CTS knows how to create space for each other, how to finish each other's musical thoughts and sentences, how to think as three individuals but speak with one voice. You Are Literally a Metaphor is a statement of confidence, an assertion of identity from a band with no reservations and nothing to prove.
CTS have performed in a half-dozen countries across three continents. They have shared the stage with a wide variety of artists, including: Victor Wooten, King Crimson Projekt, Wyclef Jean, Ozric Tentacles, Soulive, The Disco Biscuits, Papadosio, Turkuaz, Pigeons Playing Ping Pong, Wayne Krantz and many others. They have performed at festivals and events including: Electric Forest, Peach Fest, Gathering of the Vibes, Resonance, Summercamp, Shakori Hills, ProgDay, and Progtober. You Are Literally a Metaphor is available at considerthesourcemusic.bandcamp.com.
http://www.considerthesourcemusic.com/
Performers
Date and time
Location
Refund policy