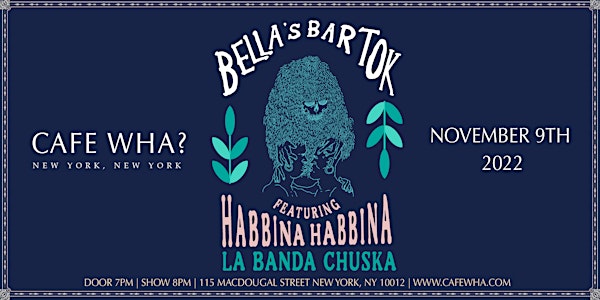 Bella's Bartok w/ Habbina Habbina & La Banda Chuska
Bella's Bartok w/ Habbina Habbina Live at Cafe Wha? | Wed Nov 9th | Doors 7PM, Show 8PM | Two Item Minimum Per Person
When and where
Location
Cafe Wha? 115 MacDougal Street New York, NY 10012
Refund Policy
Contact the organizer to request a refund.
About this event
All little children grow up, one day — all except the bedazzled and glittered band of Bella's Bartok. Inspired by elements of Vaudeville, centuries of street performance, and an unyielding drive to promote camaraderie, Northampton, MA-based Bella's Bartok delivers a passionate kaleidoscope of sound dubbed as "foot stomping freak folk". The songs are born of Americana and folk music of their immigrant grandparents, blended with the joy of a particular brand of pop sensibility. Their performances are at once a primal stand against oppression and a declaration of joy in the face of adversity. From quiet reflections on loss, to the howl of justice in four-part harmony, Bella's Bartok sonically and lyrically delivers a sweaty, soulful dance-party that is sure to leave the audience happily breathless.
Started in the dimly lit alleyways of Great Barrington, MA, Bella's Bartok gradually evolved from street-punk performers to an electric, brass-filled, accordion-based spectacle that has continued to entertain audiences for nearly a decade. The band has shared the stage with musicians and acts such as Rubblebucket, Red Baraat, The Indigo Girls, Larry & His Flask, The Suitcase Junket, Andy Frasco & The U.N., And the Kids, TOO MANY ZOOZ, Consider the Source, Rough Francis, Meat Puppets, World Inferno/Friendship Society, Jenny and the Mexicats, Rupa & the April Fishes, Arc Iris, and many more. Find Bella's Bartok on a variety of stages, at a myriad of festivals, or on the street across the continental United States. Audiences often pick up on the band's main influences such as Goran Bregović, Frank Zappa, Mr. Bungle, System of a Down, Tom Waits and Oingo Boingo.
If you've never listened to Bella's Bartok, stop what you're doing right now. Run to the nearest computer and listen to their uproarious, joyful, eclectic sound. The band plays a mesmerizing mix of Eastern European, Americana, punk, and pop music. Their live shows are theatrical, "a mix of The Nightmare Before Christmas and the Rocky Horror Picture Show" says frontman Asher Putnam. "We are the night and you are bound to boogie." So, do yourself a favor, practice a little self care, throw your societal inhibitions to the wayside and let yourself get lost to the tune of Bella's Bartok — before the tumult of daily life rears its ugly head once more.
Floors may be broken but hearts will be mended.
---
Habbna Habbina: The NY trio Led by guitarist Amit Peled, channel the rare repertoire of Mediterranean guitar with music by giants such as Aris San and Omar Khorshid. Retro-Mediterranean-hits are brought to life with renditions to songs by Umm Kulthum, Ahuva Ozeri, Farid Al-Atrache, Tzlilay Ha'Oud, TLC, Daklon, Britney Spears, Margol, Blondie, and many more.
The band is set to make every concert turn into a loud, unforgettable celebration of life. Their dedication to the lineage of Mediterranean music along with their unstoppable live energy, and one of a kind sound is what makes Habbina Habbina one of the most interesting bands to come out of NYC today.
Every show is a party celebrating some of the most unique music made on Earth played by some of the most original musicians in the NY music scene.
---
La Banda Chuska are re-imagining the vintage sounds of Peruvian cumbia and surf through the lens of their New York City home and diverse musical and cultural backgrounds. They take inspiration from the twangy 1960s surf bands of Lima (Los Belkings, Los Siderals) as well as the psychedelic flavors of 1970s chicha (Los Destellos, Los Orientales de Paramonga). Their post-punk energy and subversive playfulness have also evoked comparisons to a tropical version of the B-52s. The band has been playing their dancey and experimental tunes around NYC for two years, building up a loyal local following through a monthly residency at Brooklyn's Barbès and opening for touring groups including Meridian Brothers and Son Rompe Pera. Their debut EP is available via Bandcamp and, if you still have a Walkman, cassette tape. With Adele Fournet on keys/vocals, Felipe Wurst and Sam Day Harmet on guitars, Erica Mancini on accordion/vocals, Abe Pollack on bass, and Joel Mateo on drums.