BELLA TERRA FESTIVAL 2011

Thursday, August 18, 2011 at 9:00 AM (EDT)
Event Details
Featuring over 70 acts on 3 stages and other performance spaces...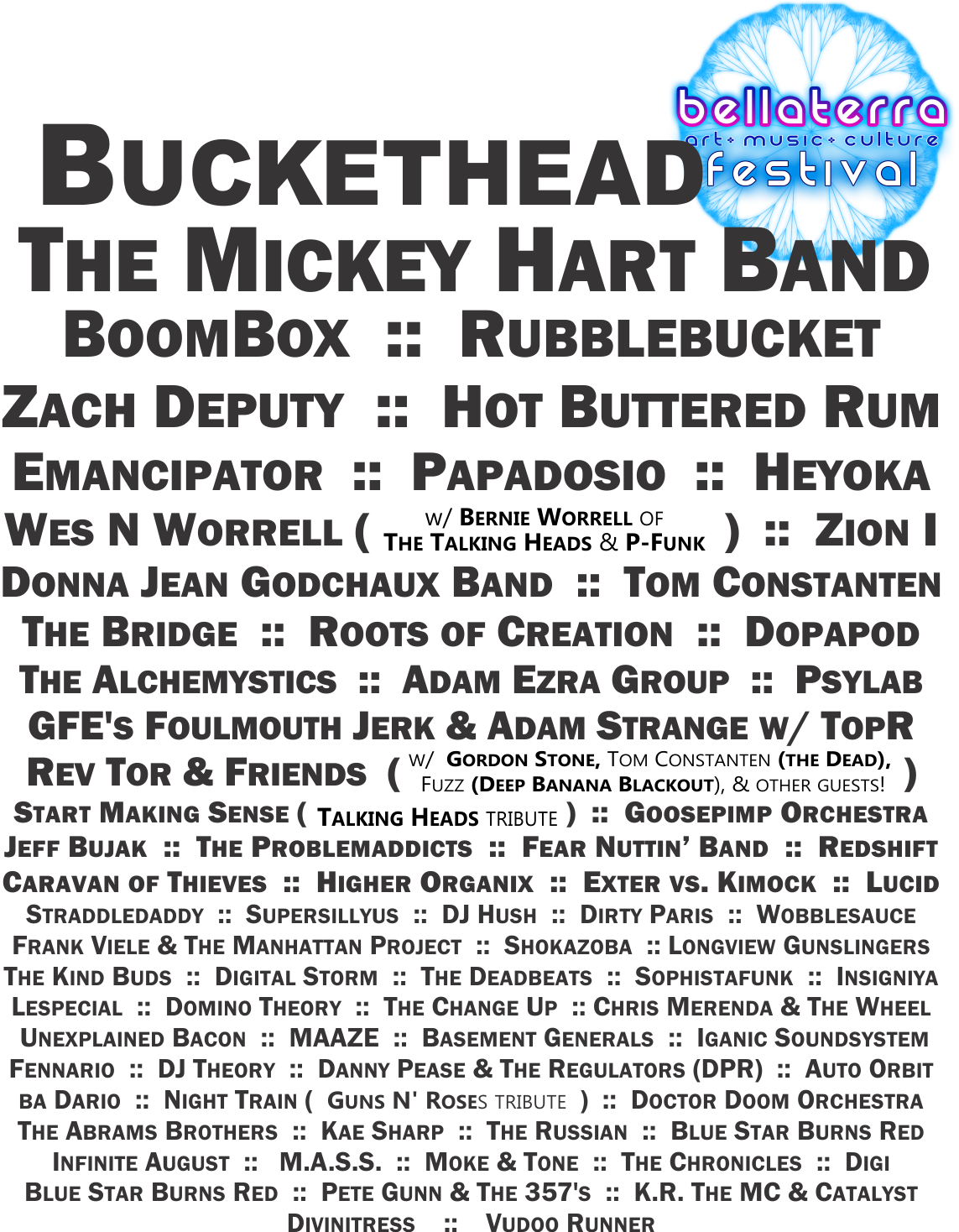 Also featuring art installations, 50' x 8' graffiti murals with live painting, Vernville gaudy lounge, miniature golf, community campfire w/ late night acoustic jams led by TBD musical acts, silent disco, contests, full service diner on site, vendors, workshops, non profits & activist opportunities, interactivie performance art (by One World Puppets and others), family camping, kid's tent, & a whole lot more!

TICKET TYPES
1.     Weekend Ticket & Camping Pass – Allows entry Thursday, August 18, 2011 at 9:30 AM and includes camping for the entire duration of the festival. Early admission is allowed at 12:00AM on Thursday, August 18, 2011 (Wednesday night when the clock strikes midnight) for a fee.
Pricing for Weekend Ticket & Camping Pass:
$80.00 Earlybird Until June 10, 2011
$100.00 Advance Until July 22, 2011
$115.00 Presale Until August 17, 2011
$125 at the gate
2.     Two Day Ticket & Camping Pass – Allows entry Friday, August 19, 2011 at 9:30 AM and includes camping for the remaining duration of the festival.
Pricing for Two Day Ticket & Camping Pass:
$70.00 Earlybird Until June 10, 2011
$80.00 Advance Until July 22, 2011
$90.00 Presale Until August 17, 2011
$100.00 at the door
3.     Single Day Ticket – Allows entry for one day only from 9:30 AM until 3:30 AM (in the early morning hours of the next calendar day).
Pricing for Single Day Ticket:
$55.00  Advance
4.     VIP Weekend Ticket & Camping Pass – Allows entry Thursday August 18, 2011 at 12:00AM (rather than 9:30 AM; no early admission fee). This ticket includes access to all VIP benefits and amenities listed below:
VIP Parking & camping area w/ round the clock security

VIP Pizza Party w/ private show by select artists

VIP Pancake Breakfast w/ private show by select artist

VIP Backstage Lounge w/ private bar, snacks & refreshments

VIP Viewing areas of stages

VIP & Backstage Only flush toilets

Free showers

\

Discounted drinks from beer tent

Goodie Bag w/ promotional gifts

Express admission line (shorter wait than general admission lines)

No early admission fee for entering at 12:00AM on Thurs. 8/18/2011 (Weds. @ midnight)

Bella Terra Festival VIP laminate

Bella Terra Festival T-shirt

Bella Terra Festival poster

Bella Terra Festival sticker

VIP Bella Terra Festival itinerary & informational packet upon arrival
All VIP Weekend Tickets ONLY include RV parking if you choose to bring one (you still must register your RV in advance by calling our office at 413-464-6806 to make the appropriate accomodations; otherwise, you risk not having a space to park your RV). Also, children ages 14 and under may accompany a parent/guardian with a VIP pass into all VIP extra activities and amenities.
5.     VIP Single Day Tickets – Allows entry for one day only from 9:30 AM until 9:00 AM the next morning. This ticket includes camping and access to all VIP benefits and amenities listed above that are occurring on that particular day (i.e. Pizza Party will happen only one day, as will the pancake breakfast; all items that are not day specific will be included regardless of date).
6.     RV Parking Pass (Add on) – Allows any RV or any other similarly oversized vehicles to enter the festival premises. Only one pass is needed per vehicle (not one per person). Note that VIP weekend tickets include this in the price; single day VIP tickets do not admit an RV.
7.     Kid Tickets - Children ages 14 and under are admitted free of charge, and children ages 15 and 16 are $40 for a weekend ticket and camping pass, $30 for a two day ticket and camping pass, or $20 for a single day, available at the gate only. If your child appears to be older than 14 but is not, please bring a verification of his or her age. All children must be accompanied by a parent or guardian to enter the festival, and must be under the supervision and is the responsibility of a parent or guardian during the festival duration.
WAYS TO BUY
1.     Online
Tickets may be purchased online through Eventbrite on this page.
2.     Over the phone
Call the Bella Terra Festival office and purchase tickets over the phone with a credit card.
Phone:  (413) 464-8183
Hours:  10:00AM – 7:00PM
3.     By Mail
Compose a letter containing the type of quantity of each ticket you wish to buy along with your contact information, then send it along with a self addressed stamped envelope and a money order or cashier's check to:
Bella Terra Festival
1270 North Street
Pittsfield, MA 01201
Your tickets will be sent within 15 days of receiving your order. We will notify you by phone when they are sent. If you do not receive your tickets within 45 days of sending an order, or have not received them by August 1, call us to find out if we received your order and what your order status might be.
4.     In Person…
You may purchase tickets in person from a ticketing outlet, select artists who will be performing, or at any stop on the Road to Bella Terra Pre-Party Tour. You can also call our office and make an appointment to pick up.
RETAIL OUTLETS
New York:
Gardner's Ice Cream & Coffee, NY-22, Stephentown, NY
Massachusetts:
Brighter Daze, Main St., Great Barrington, MA
The Earth Shoppe, Berkshire Mall, Lanesboro, MA
NBO (Northampton Box Office), Main St., Northampton, MA
Bella Terra Festival Office, 1270 North St., Pittsfield, MA (by appt. only 413-464-8183
ARTIST TICKET SELLERS
The Alchemystics
Big Rooster
Blue Star Burns Red
The Change Up
Chris Merenda & The Wheel
The Chronicles
Danny Pease & The Regulators (DPR)
Digi
Digital Storm
Doctor Doom Orchestra
Fear Nuttin' Band
Frank Viele & The Manhattan Project
The Kind Buds
KR The MC
Lady Sasquatch
Lonview Gunslingers
Maaze
M.A.S.S.
Pete Gunn & The 357's
Problemaddicts, The
Redshift
The Russian
Straddledaddy
Unexplained Bacon
Wobblesauce
Bella Terra Pre-Party Tour Dates
w/  The Alchemystics, Wobblesauce & The Problemaddicts
7/20/11 – Allston, MA @ Wonderbar for Wobble Wednesdays
7/21/11 – Burlington, VT @ Club Metronome
7/22/11 – Northampton, MA @ Pearl St. Night Club
7/23/11 - Albany, NY @ Red Square w/ Dirty Paris, Alchemystics, + Problemaddicts
+ more dates TBA! See website for complete details!

Terms & Conditions/Privacy Policy
Purchase and/or use of this ticket signifies acknowledgment and  agreement to the following. NO REFUNDS OR EXCHANGES. All ticket sales are final. Bella Terra Festival is not responsible for lost, stolen, or duplicate tickets. Purchaser agrees to all rules as outlined on event website, event program, signs, announcements or other public declaration. Ticket user assumes all risks of personal injury incidental to the event, whether occurring prior to, during or subsequent to the event. Ticket may not be used for advertising or promotional purposes without express written consent of Bella Terra Festival, Inc. Ticket user consents to the use of his/her image or likeness for any visual display, transmission or recording of the event by venue, artist or promoter. Artist lineup and/or schedule of programming is subject to change without notice. This ticket is a revocable license. Bella Terra Festival reserves the right to refuse admission or eject any person from the venue at the discretion of event management. Any personal information collected by Bella Terra Festival will be used exclusively by Bella Terra Festival and will not be distributed

When & Where

Gardner's Farm
15848 Route 22
Stephentown, NY 12168


Thursday, August 18, 2011 at 9:00 AM (EDT)
Add to my calendar
Organizer
Bella Terra Festival
   Bella Terra Festival seeks to offer an unparalelled experience to the fans of the live music scene and greater arts community by showcasing uniquely integrated and multidisciplinary programming – a combination of diverse artistic styles that blends traditionally unrelated disciplines into one smooth flowing and cohesive arrangement of performances and exhibitions. Featuring musicians and artists from many genres and backgrounds (ranging from legends who are on top of the scene to the most promising up-and-comers), Bella Terra Festival provides a balance of programming that entices music/art enthusiasts and casual fans alike. In all, more musical acts and 30+ artists will be appearing on 3 stages and at other locations throughout the festival.
    Bella Terra isn't all fun and games. We also feature edu-tainment programming including workshops and speaker/discussions focusing on important social, political and environmental issues. Recognizing that changing one's own life for the better goes hand in hand with improving the world around us, Bella Terra advocates that each person pursue his or her own dreams, open their minds and realize their maximum potential while living in harmony with the universe.
   Bella Terra celebrates a balanced existence, positive outlook, progressive lifestyle, grassroots organization, activism, open mindedness, global unification, creativity and self expression through artistic mediums, Music and art can be a great platform to promote awareness and sustainability, and Bella Terra Festival uses music and art to help spread our message.
BELLA TERRA FESTIVAL 2011