Description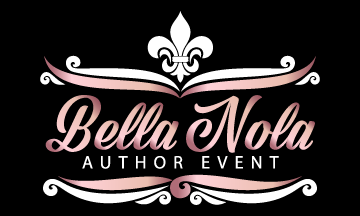 Come join us in The Big Easy for a weekend of fun filled with books, laughter, photos, and a good time with some of your favorite authors.
The signing will take place on Saturday, February 29th, 2020. VIP Admission is from 10:30 AM to 11:30 AM. Authors will break for lunch from 11:30 to 1:15. General Admission starts at 1:30 PM and ends at 5:00 PM.
These events are for those 13 years and older, no exceptions.
PLEASE read ticket information carefully!
VIP and General Admission tickets will go on sale Saturday, March 30th, 2019 at 11:00 AM CST. ALL tickets are NON REFUNDABLE. If you purchase tickets and can no longer attend, you may SELL or TRANSFER your ticket to someone else as long as you send me your name and email address along with the other person's name and email address. Please do not purchase a ticket if you do not agree to comply with the no refund policy. This policy is due to people requesting refunds after I have already used the funds to pay the hotel for the event space.
***Should I choose to do any future sales, holiday specials, or promotions for tickets, no refunds for the difference in amount will be refunded. Example: If you purchase a ticket for $40 and I decide to have a promotion or a sale three months later offering that same ticket for $35, I will not refund you $5. The purpose of sales and promotions is to sell more tickets. As an event organizer I do not know how ticket sales will go from year to year. The line up is always different, so the event won't sell the exact amount of tickets each year. Ticket sales are based on how many readers want and choose to attend the signing. I apologize for any inconvenience.***
FAQs
Are there ID or minimum age requirements to enter the event?
Yes. All persons must have a valid ID and be 18 or older to attend unless given special permission by event organizer. Children must be 13 or older unless given special permission by event organizer.
What are my transportation/parking options for getting to and from the event?
I recommend using an uber for the cheapest prices but taxis are available. Valet parking will be available at the hotel for anyone coming to the event on Friday and/or Saturday. There are also various parking lots and parking garages in the french quarter and downtown that are within walking distance to the hotel. The hotel has agreed to give us discounted parking for up to 9 hours to those only attending the signing on Saturday.
What can I bring into the event?
You may bring a maximum of 10 books/personal items per author to sign at one time. If you have more than 10 books/personal items that you would like signed by an attending author, you may get back in line for that author at a later time. This allows for everyone to have the same chance at meeting all of the authors. You can bring books, iPad/Kindle/Nook cases, and items from home, or purchase them from the authors at the signing. You may also leave the signing and come back as long as you have your wristband on. The 8 books/items from home rule does not apply to any pre orders or to any books that you purchase from authors the day of the signing. Please do not bring wagons. Wagons are not allowed inside the event/signing room. You may bring a fold up/collapsable rolling cart. You can have two if you need. These carts are easier to manuver around the room and less likely to roll over someone's feet than a wagon. If you bring a wagon, you must leave it in your hotel room. Wagons cannot be left in the hallways or waiting/lobby area outside of the event/signing room.
How can I contact the organizer with any questions?
You can e-mail me at nolaauthorevent@yahoo.com or nolaauthorevent@gmail.com with any questions you may have.
What's the refund policy?
PLEASE READ THIS SECTION CAREFULLY!
VIP and General Admission tickets are NON REFUNDABLE but may be transferred or sold to another attendee.
Do I have to bring my printed ticket to the event?
You do not have to bring your printed ticket to the event, but you do have to have a copy of the ticket on your phone via e-mail if you choose not to bring a paper copy.
Can I update my registration information?
Yes, contact me at nolaauthorevent@yahoo.com to update your contact and/or registration information.
Is my ticket transferrable?
Yes. Tickets may be transferred. Please e-mail your name and paypal e-mail address along with the name and e-mail address of the person you are selling/transferring your tickets to, the number of tickets you are transferring, and the type of ticket purchased/transferred to nolaauthorevent@yahoo.com so that I can switch your information. Tickets must be transferred no later than 02/28/2019 at 4:00 PM CST.
Is it ok if the name on my ticket or registration doesn't match the person who attends?
Yes. As long as you and the person/persons you purchased tickets for have a valid ID, this is fine. For example, if you purchased tickets under your husband's paypal name and e-mail, you just need your ticket and a valid ID. Anyone that you purchased tickets for must check in with you at registration and have a valid ID as well. If you purchased the tickets for someone else but are not attending yourself, please contact me so that I can get the correct information switched over.
List of Announced Attending Authors:

AJ Alexander
Natalie Bennett
Christine Besze
KL Bone
Jess Bryant
Roux Cantrell
Kelsey Cheyenne
Grahame Claire
TR Cupak
MC Decker
Diana Marie DuBois
Miranda Elaine
LK Farlow
Delaney Foster
Rebecca Gallo
Kym Grosso
NE Henderson
Amelia Hutchins
Emery Jacobs
Jiffy Kate
Cora Kenborn
Amie Knight
Harlow Layne
Leigh Lennon
Mia London
Anna Lores
Maria Luis
Erica Marselas
HJ Marshall
Elizabeth O'Roark
Lexi Ostrow
CJ Pinard
Harloe Rae
Jill Ramsower
Jennifer Rebecca
BB Reid
KD Robichaux
SE Rose
Betty Shreffler
SM Soto
Nikki Sparxx
Charisse Spiers
Ryan Stacks
Amy Stephens
CA Szarek
Reece Taylor
Lynda Throsby
Lauren Tisdale
Brenda Trim
QB Tyler
SR Watson

Mandy L Woodall
Attending Models:
Andrew Biernat accompanying Kym Grosso
Ryan "Stacks" Harmon accompanying SR Watson