Bell Blvd Food & Music Fest (Restaurant Stroll) 2019

Sunday, May 19, 2019 from 2:00 PM to 6:00 PM (EDT)
Event Details
The second Bell Blvd Food and Music Fest is on May 19th, 2 pm-6 pm. It will take place on Bell Blvd between 38th and 43rd Aves as well as on 41st Ave.
Explore over 35 of Bayside's best restaurants for under a $1 per restaurant!
Online tickets for tastings are $30 for adults and $12 for children under 12 years old.

FOOD (requires tickets)
Cuisine options include American, Italian, Chinese, Japanese, French, Spanish, Irish, Greek, Indian, Korean, Colombian, Cajun, Vietnamese, Japanese and Tex Mex and more. New styles of food, as well as traditional favorites, are on offer. Some of the bars and pubs will feature signature cocktails and special beers.

MUSIC (free for all)
With live music on every block, the diversity of music almost rivals the array of food and drink. Rock, Jazz, country, American Songbook, Kpop to name a few.
FUN (free for all)
Skee ball, minigolf, shuffleboard and beach ball volleyball in the middle of the street (which will be closed to vehicles). A new 8' wide spirograph built by the Bayside HS Key Club and NY MakerSpace will also make its debut at the event and be available for play.
2019 Participants
Aperitif Bistro
Avli Cafe
Avli Little Greek Taverna
Bareburger
Bayside Dumpling House
Bell Garden
Big Green Market
Bourbon Street
Brian Dempsey's
Donovan's Grill
Fiamma 41
Hatfield's
Krave It
Kung Fu Tea
Local Bar and Grill
Maggie May's
Mahjong Cafe
Maria'sMediterranean
Masala Box
Momo Ash
Monahan & Fitzgerald
New Golden Wine & Liquor
Nippon Cha
OSP
Papazzio
Pour House
Press 195
Red Mango
Sangarita's
Spanglish
Super Room
Taco Han
Tanko
Taverna Kyclades
Thai 101
Uncle Jack's Steakhouse
Uno Pizzeria
VIPizza
TICKETS: bellblvdfoodmusicfest.eventbrite.com (Advanced discounted tickets are limited. Same-day tickets will cost $40 for adults and $15 for children)
Free entrance for music and activities.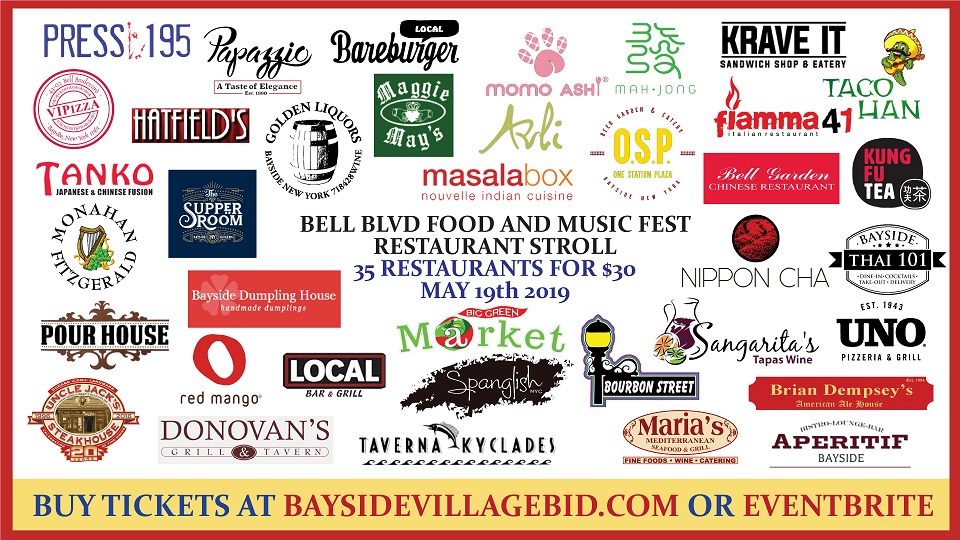 Visit www.baysidevillagebid to learn more about us. See you on May 19th!
Save This Event
When & Where

Along Bell Blvd as well as 41st Ave
Bell Blvd and 38th Ave
Bayside, NY 11361


Sunday, May 19, 2019 from 2:00 PM to 6:00 PM (EDT)
Add to my calendar
Organizer
The Bayside Village BID support and promotes small business and community along Bell Boulevard between Northern Boulevard and 35th Avenue in Bayside Queens.