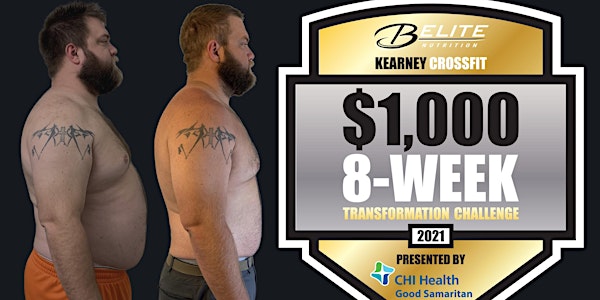 BELITE Nutrition / CHI Fall Body Transformation Contest
8 weeks to get in the best shape of your life! There is one Grand Prize winner of $1,000!
Refund Policy
Contact the organizer to request a refund.
Eventbrite's fee is nonrefundable.
About this event
How to win:
Scan in at Kearney CrossFit or the CHI Wellness Center on or after September 20th to start. Scan on or before November 12 to finish. Simply lose the most % of your own body fat. For example:
If you start at 30% body fat and finish at 20% = 33% lost
That's the equivalent as starting at 21% and finishing at 14% = 33%
That's also the equivalent of starting at 45% and finishing at 30% = 33%
That's also the same as starting at 12% and finishing at 8% = 33%
Our coaches have decades of experience, have worked with hundreds of nutrition clients, trained thousands of people and have cut to 6% body fat themselves. We can assure you that this contest is fair across the board.
*You get penalized for losing Skeletal Muscle Mass. For each pound of SMM lost over 1 (0-.9 is penalty free), you are docked 2% fat loss. So, if you lost 33% body fat, but also lost 5 pounds of muscle, you would only get credit for 23% fat lost. This is done to ensure healthy weight loss and no crash diets to simply lose weight in a severe caloric deficit.
Pick from 1 of 2 packages:
1. Pay to Play: $50 and unlimited participants
2. Platinum: $500 and limited to just 10 participants
Pay to play gets:
InBody 570 scans to start and finish contest
Short consult with a coach to explain scan and help set you up for success moving forward
BELITE Nutrition Meal Prep Guide
25% off all supplements at BELITE Nutrition (inside Kearney CrossFit)
Access to exclusive Facebook and email group for contest participants only. Here you will get tips on nutrition and fitness, access to coaches to ask questions and more!
Discounted nutrition planning through BELITE Nutrition - No set up and consultation charge ($150 value)
Automatically entered into drawings for weekly giveaways, prizes, & mini-contests
Platinum all of the things that Pay to Play gets PLUS:
Free gym memberships to Kearney CrossFit and to the CHI Wellness Center (not valid for current members)
Swag bag full of samples, tshirts/tanks and all kinds of cool stuff from our partners
2 free massages at the CHI Wellness Center
Theragun full body session at Janssen Chiropractic
3 Pilates Reformer sessions at the CHI Wellness Center
Full nutrition planning through BELITE Nutrition ($300 value)
2 personal training sessions with a coach at Kearney CrossFit
24 hour access to Trevor Brown - Owner of Kearney CrossFit & Founder of BELITE Nutrition
Full accountability throughout the contest. Bi-weekly check-ins on the InBody 570. Daily text messages and motivation to keep you fired up and going! You will be treated like one of our personal training clients.
*Option to purchase personal training at a discounted rate
For more information: Click HERE
BELOW ARE THE RESULT FROM OUR 22 PERSON PILOT TEST GROUP. THEY ALL DID OUR "PLATINUM PACKAGE" FOR 12 WEEKS.